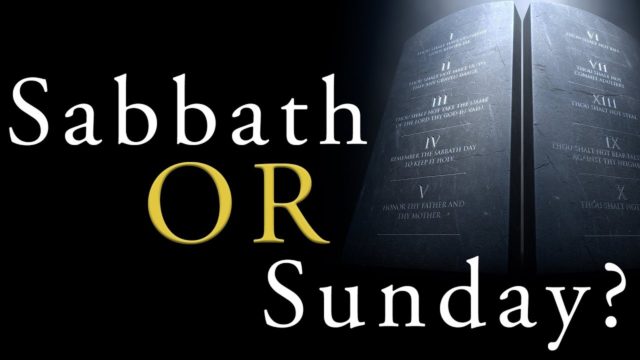 Recently I was contacted by someone who seems quite openminded and who asked me some questions about why we worship on Sunday rather than the Sabbath.
In particular, this person was wondering why that should be the case if the only person in the Bible who seeks to change the Sabbath is the Antichrist.
I responded as follows . . .
When you refer to the Antichrist changing the Sabbath, I assume that you're referring to Daniel 7:25, where a coming king will "think to change times and seasons."
Concerning this prophecy specifically, I'd make several points:
1) It does not specifically mention the Sabbath, but this is almost certainly included in the meaning of changing times and seasons, for reasons we will see below.
2) Prophecy can refer to more than one thing (i.e., have more than one fulfillment). Thus in Revelation the Beast from the Sea's seven heads are both seven mountains and seven kings (Rev. 17:9-10).
We see the same thing in other prophecies, which can have more than one fulfillment. For example, Isaiah's prophecy of Emmanuel had a near-term fulfillment in the birth of a child in the time of King Ahaz–something that is obvious because the sign was given to him as a sign that the alliance of kings against him would not succeed in toppling him from his throne (see Isaiah 7:1-16).
For Ahaz, the child Emmanuel would be a sign that God was with his people against this alliance of kings. But the prophecy also has a later fulfillment in Jesus Christ, who was God with us in an even more literal sense.
3) Because prophecies can have more than one fulfillment in history, it is important to identify the original historical fulfillment before exploring possible later fulfillments.
4) In the case of Daniel 7, scholars of multiple persuasions (Catholic, Protestant, Jewish, other) hold that the most likely original fulfillment of this vision is to be found in the kingdoms leading up to the triumph of Alexander the Great in the 300s B.C. (who is also clearly in focus in chapter 8 of the book) and the kingdoms that came about in the wake of his empire. This does not mean that it does not also have one or more later fulfillments, but this is what the original fulfillment involves.
5) In particular, Daniel 7:25–and other passages in Daniel–appear to be referring originally to the post-Alexander king Antiochus IV (i.e., Antiochus Epiphanes). He was king of the Seleucid Empire, which was one of the kingdoms that grew out of Alexander the Great's conquests, and he persecuted the Jewish people in the 160s B.C.
Specifically, Antiochus tried to compel them to give up the Jewish faith and adopt the Hellenistic (Greek) religion. This meant compelling them to give up celebrating Jewish feasts, including the Sabbath, and this is what Daniel 7:25 apparently is referring to when it says this king will "think to change times and seasons."
The "think" is important, because Antiochus did not succeed. The Jewish people resisted him, won their freedom, and retained their ancestral faith and its practices–as chronicled in the books 1 and 2 Maccabees.
6) It is possible that a future dictator may also try to compel the Jewish people to give up their faith–including its holy days–and this future dictator may be the same as the final Antichrist, but we must be careful about such speculation as the prophecy is not repeated in the New Testament and not every prophecy has a later fulfillment.
At least, I couldn't prove that they all will have a fulfillment at the end of the world, so I have to leave this proposal as a possible speculation but only a speculation.
So, you may well be right that the final Antichrist will attempt to force the Jewish people to drop the Sabbath, but I can't say this for certain, myself.
However, this is an independent issue of what liturgical calendar Christians, and especially Gentile Christians, should follow.
The Sabbath–along with the monthly New Moons and the annual feasts (e.g., Passover, Tabernacles)–was part of the liturgical calendar that God gave to the Jewish people before the time of Christ.
It was never binding and was never meant to be binding on Gentiles, as Jewish scholars have always held. (In fact, Gentiles were even positively prohibited by Jewish law from being able to do things like keep Passover, as circumcision was required for eating the Passover lamb.)
The uniqueness of the Sabbath to the Jewish people is due to the fact there is nothing in natural law/human nature that demands that one day in seven (as opposed to one day in five or one day in ten) be set aside for rest and worship or that it must be the seventh day in particular (rather than the first or the third). Since God did not build this into human nature/natural law, such a law could only come from a divine mandate, and God only mandated this for the Jewish people, not for all peoples.
When the early Church began making significant numbers of Gentile converts, one of the questions that arose was whether they needed to be circumcised and become Jews in order to be saved (cf. Acts 10-11, 15, Gal. 1-2). The answer was that they did not.
The Council of Jerusalem (Acts 15) ruled on this question, and even though it involved a few points to help Jewish and Gentile Christians live together (Acts 15:29), you'll note that keeping the Sabbath was not one of these. The Jerusalem Council thus recognized that Gentile Christians did not need to be circumcised and adopt Jewish practices. Though a few points were asked of Gentiles for the sake of harmony with Jewish Christians, observing the Jewish ceremonial calendar was not among them.
St. Paul sheds even more light on the subject, indicating in his letters that–even though he is a Jew–he is not bound by the Jewish Law (1 Cor. 9:19-23), because Christ has fulfilled the Jewish Law and so put an end to it. He indicates this in various passages, such as Romans 14:1-6, where he writes:
As for the man who is weak in faith, welcome him, but not for disputes over opinions. One believes he may eat anything, while the weak man eats only vegetables. Let not him who eats despise him who abstains, and let not him who abstains pass judgment on him who eats; for God has welcomed him. Who are you to pass judgment on the servant of another? It is before his own master that he stands or falls. And he will be upheld, for the Master is able to make him stand. One man esteems one day as better than another, while another man esteems all days alike. Let every one be fully convinced in his own mind. He who observes the day, observes it in honor of the Lord. He also who eats, eats in honor of the Lord, since he gives thanks to God; while he who abstains, abstains in honor of the Lord and gives thanks to God.
Here Paul takes up two examples of practices that could affect different groups of Christians: keeping kosher laws (not eating unclean foods) and observing the Jewish calendar (honoring certain days). He characterizes some–who believe that they cannot eat certain things and must observe certain days–as "weak in faith," and others–who recognize they are not bound by these laws–as strong in faith, by implication (for they recognize Christ has eliminated the need for such things by his fulfillment of the Jewish Law).
Rather than trying to get people to abandon their positions, Paul urges peace among Christians by letting everyone do what their conscience says they need to do to honor God.
Paul could not argue in this way if the "weak in faith" position was correct and it was mandated that Christians keep kosher and observe Jewish holy days. It is only because we are not bound by these things that he can allow those who are "weak in faith"–i.e., who have scrupulous fears that Jesus might not have freed us from these things–to continue to practice them rather than violate their consciences.
If everybody was bound to avoid certain foods and keep certain days as a matter of divine law, Paul would have said so–as he does with other things that are matters of divine law. Thus, in 1 Corinthians 6:9-10, he warns that people who practice a variety of sins will not inherit the kingdom. He doesn't say, "You get to do these sins if your conscience tells you it's okay." He says "This is a sin; don't do it!"
Therefore, in Romans 14 the allowance of both positions–eating and not eating certain foods, observing and not observing certain days–is because neither is a violation of divine law. We have the liberty of eating all foods and treating every day alike because God has not mandated that we do otherwise.
Paul is even more explicit in Colossians 2:14-17, where he writes that God has "canceled the bond which stood against us with its legal demands; this he set aside, nailing it to the cross. He disarmed the principalities and powers and made a public example of them, triumphing over them in him. Therefore let no one pass judgment on you in questions of food and drink or with regard to a festival or a new moon or a sabbath. These are only a shadow of what is to come; but the substance belongs to Christ."
He thus indicates that the various regulations of the Mosaic Law concerning food and liturgical days (the annual feasts, monthly New Moons, and weekly Sabbaths being the three kinds of days on the Jewish liturgical calendar) were shadows that pointed forward to Christ, but now that Christ has come and fulfilled the Jewish Law, "nailing it to the Cross," even Jewish Christians–such as himself–are no longer bound by these, for God has "cancelled the bond which stood against us with its legal demands."
Consequently, he says "let no one pass judgment on you . . . with regard to a festival or a new moon or a sabbath."
The Sabbath thus is not binding, even on Jewish Christians, because of what Christ did on the cross.
In the first century and for a time thereafter, many Jewish Christians did continue to observe the Sabbath, as Paul indicated was possible for them in Romans 14. However, this was not the day that Christians held their religious gatherings on.
Instead, they observed the first day of the week, because it was the day on which the Lord Jesus rose. Thus, we see Paul recommending that collections be taken up in the church of Corinth on this day:
Now concerning the contribution for the saints: as I directed the churches of Galatia, so you also are to do. On the first day of every week, each of you is to put something aside and store it up, as he may prosper, so that contributions need not be made when I come (1 Cor. 16:1-2).
This day soon came to be known as "the Lord's Day," because it was the day on which the Lord Jesus rose. Thus, we see St. John writing:
I was in the Spirit on the Lord's day, and I heard behind me a loud voice like a trumpet (Rev. 1:10).
And from the first century forward we see the early Christians continuing to celebrate the first day of the week–the Lord's Day–rather than the Sabbath, as illustrated by the quotations from early Church documents listed here:
https://www.catholic.com/tract/sabbath-or-sunday
In time, the Church used the power of the keys that Christ had given to Peter to "bind and loose" (Matt. 16:18) to institute a new Christian liturgical calendar, built around the weekly observance of the Lord's Day.
It is this exercise of the keys that is the reasons Christians today are bound to observe the Lord's Day–not because one day intrinsically requires observance compared to other days.
However, the Church did not "change" the Sabbath. The Sabbath is when it always was: the seventh day of the week. It's just that Christians are not required to observe it, as it was something that pertained to the Jewish people prior to the time of Christ. Instead of celebrating the Sabbath, Christians celebrate the first day of the week in honor of Jesus' resurrection from the dead.
For more on the Church's official teaching, see here:
https://www.ncregister.com/blog/did-the-catholic-church-change-the-sabbath
I hope this helps, and God bless you!
Join Our Telegram Group : Salvation & Prosperity