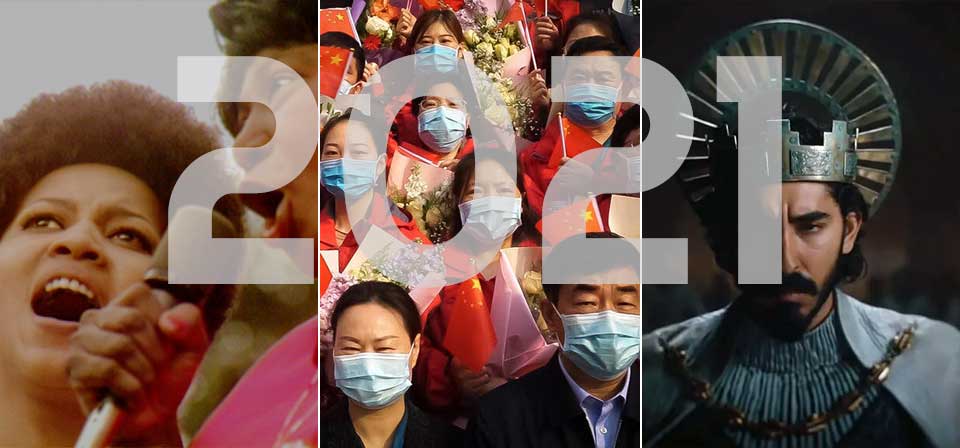 Life isn't exactly back to normal — whatever "normal" may mean now, or in the future — either for the movies or for me. I did see more movies in 2021 than in 2020, but I still did less reviewing than in previous years. On December 31, 2020, I wrote to a friend confiding my thoughts about leaving the National Catholic Register, and just before 2021 ended I said farewell to the publication that had been my home for most of my career. In the interim, I've written for a number of venues (Catholic Herald, Catholic World Report, Bright Wall/Dark Room, Slate), and I hope and expect to continue to do so in 2022. This piece, though — my first post-Register year-end piece — I wrote just for me, and for you, though with no publication deadlines driving me I'm later than ever getting the thing done.
What kind of year was it for movies? I've heard some folks complain that 2021 wasn't a great movie year, but I've come to the point where I believe there are no good or bad movie years, just years in which people have or haven't watched enough movies. (A friend who watches many times the number of movies I do wrote that he could have done a top 100 films for 2021; I believe him.) I kept watching 2021 movies until it was a good movie year; if I had watched more movies, it might be even better. There are still so many films I haven't seen.
On Twitter I joked that 2021 was a good year for acclaimed medieval dramas based on classic English poetic works full of surreal imagery, witches, ghosts, temptation, and ambitions for the throne gone wrong, bookended by beheadings and a crown fallen to the ground.
It was not, to be sure, a great year for theatergoing. Movie screens in the US were once again dominated by Marvel characters, who accounted for five of the top six films (counting the non-MCU Venom sequel), with the series-spanning, retconning Spider-Man: No Way Home towering far over everything else. Pandemic conditions generally prevailed, and — with a few exceptions, like Denis Villeneuve's Dune — even critically praised, high-profile Hollywood non-franchise projects flopped at the box office: In the Heights, King Richard, The Last Duel, West Side Story. Still, good movies are good movies, however and whenever audiences find them. I suspect that 25 years from now Encanto will be mostly forgotten, while 75 years from now people will be watching and writing about West Side Story.
Ah, Encanto. I wish I could share the love, or find anything in the year's crop of animated and family films, to celebrate. Even The Mitchells vs. the Machines, my favorite animated film of 2021, didn't quite crack my top 30 — and after that it was all downhill. Luca and Encanto were fitfully charming, but the first had too much plot and the second too little. Raya and the Last Dragon was just plain muddled, and, like Encanto, brought cheap grace to an overly hasty redemption of the antagonist. And the less said about the live-action Jungle Cruise, the better.
A surprising mini-renaissance of black and white cinematography in mostly critically lauded films included Belfast, C'mon C'mon, The French Dispatch, Passing, and The Tragedy of Macbeth. I liked or loved all of these films, though one hovers just outside my top 30. (Among other releases utilizing B&W, I did not see the not-lauded Malcolm and Marie. Whether the critically beloved farmyard documentary Gunda counts for 2020 or 2021 depends on where you live; if I ever go back and do a 2020 list, I will honor it there.)
2021 was a notable year for deaf representation and onscreen sign language. While Sian Heder's Sundance crowd-pleaser CODA, about a hearing girl with deaf parents and a deaf brother, gave more prominence to deaf characters and sign language (specifically American Sign Language, or ASL) than any other film I saw, Millicent Simmonds reprised her role in A Quiet Place Part II, and Marvel's Eternals featured deaf actress Lauren Ridloff (who played a teacher in the previous year's hearing-loss drama Sound of Metal) in a signing role as super-speedster Makkari. Then there was the acclaimed Japanese drama Drive My Car, which features an onscreen stage production of Chekhov with a diverse cast including a deaf actress using Korean Sign Language.
It was a good year for documentaries. Every year is a good year for documentaries. Four of my top ten are nonfiction films, and two more in the runners up are easily top-ten caliber. Had I seen more documentaries, I could probably do a top 30 list entirely of nonfiction films.
After my 2020 hiatus, I find myself looking at my favorite 2021 films in despair of putting them in any kind of meaningful order. One voice in my head urges consistency and continuity: Go ahead and pick your favorite, coward!
On Twitter I joked that 2021 was a good year for acclaimed medieval dramas based on classic English poetic works full of surreal imagery, witches, ghosts, temptation, and ambitions for the throne gone wrong, bookended by beheadings and a crown fallen to the ground. This was of course a dual reference to a pair of A24 films, David Lowery's The Green Knight and Joel Coen's The Tragedy of Macbeth. I loved the latter and did not love the former — but the former took my mind prisoner and wouldn't let me go until I saw it three times and wrote over 8,000 words on it, plus footnotes. For decades being a serious Arthurian buff and a film critic has meant a series of variations on two themes: "this has basically nothing to do with King Arthur" and "also it's not very good." With The Green Knight, I had so much more to say — so much so that in an weird way I felt it would be disingenuous not to acknowledge it here.
I've gone back and forth over the years on ranking my top 10 lists. My longest and most recent streak, from 2011 to 2019, was to rank them, and each year it felt natural to do so. Yet, after my 2020 hiatus, I find myself looking at my favorite 2021 films in despair of putting them in any kind of meaningful order. One voice in my head urges consistency and continuity: Go ahead and pick your favorite, coward! But another voice, which this year at least I find more persuasive, says that in one way or another all ten of these are my favorite, and for that matter some (most?) of the films in the runners-up list are there instead of in the top ten almost by accident. The same is true of the honorable mentions in relation to the runners-up, although from the first list to the third there is definitely a real gap. (I've never ranked the second two lists.)
So here are my top ten films, and my runners-up and honorable mentions, all in alphabetical order. (To underscore the lack of priority within the top ten, for the banner image above, instead of my usual top 3 films, I've chosen one film from each of the three lists — and, to prevent anyone from inferring any kind of preferential principle from those selections, my "honorable mention" pick is the one film that I included in spite of not really liking it! Do I think you should see it, in spite of my complicated feelings about it? I guess I do.)
SDG's Top 10 Films of 2021 (unranked)
C'mon C'mon
Tender and observant, Mike Mills' character study follows a lonely radio journalist named Johnny (Joaquin Phoenix) who reconnects with his semi-estranged sister (Gaby Hoffman) and finds himself on the hook watching her precocious, quirky nine-year-old son Jesse (Woody Norman) while she travels on emotionally fraught family business. While all of these people are broken or wounded in different ways, C'mon C'mon is less about healing per se than learning, caring, and just being there. Mills shapes potentially mawkish material with a sensitive hand, using Johnny's learning curve as a caregiver to develop his relationship with Viv as much as with Jesse and challenging Jesse as much as Johnny to adapt to the new situation. Johnny tells Jesse that recording can make mundane life immortal; C'mon C'mon does exactly that. Teens and up.
Dune: Part One
No 2021 film benefited from, even demanded, the big-screen experience more than Denis Villeneuve's adaptation of the first half of Frank Herbert's landmark novel. Villeneuve's penchant for monumental imagery, well established in the likes of Arrival and Blade Runner 2049, has never had a bigger canvas, and the year's other effects-driven tentpole movies look paltry by comparison — though he also excels in small, precise moments, like Timothée Chalamet's Paul Atreides stepping very slowly into a web of holographic trees in order to confuse the sensors of a deadly hunter-seeker drone. As emotionally chilly as it is aesthetically overwhelming, Dune creates immersive worlds both persuasive and alienating: worlds where no one would want to live, but are fascinating to visit. Teens and up.
A Hero
Everyone is the hero in their own story: a fact the brilliant Iranian filmmaker Asghar Farhadi (A Separation) understands acutely. His latest morality tale, and one of his best, follows a man named Rahim (an extraordinary, subtle Amir Jadidi) on a weekend furlough from debtors' prison as he tries to decide what to do with a found bag of gold coins. "No good deed goes unpunished" is a recurring theme in discussion of the film, but what if the good deed is more complicated than it seems? What if the celebration of the seeming good deed serves other agendas? Like most of Farhadi's characters, Rahim is basically trying to do the right thing — but the devil's in the little bit of wiggle room in that "basically." And what about the grace of God? Ah, watch for it. Subtitled; teens and up.
Paper & Glue
Faces Places — the late Agnès Varda's collaboration with guerrilla artist JR, and one of my favorite films from 2017 — celebrated the dignity of overlooked people with giant murals of faces pasted on the sides of buildings and other large structures. JR's new project reveals even more inspiring and more radical possibilities in his work: bringing together convicts of different racial and ethnic cohorts in a maximum-security prison; uniting individuals on both sides of the US/Mexico border for a celebratory shared meal defying the fence between them; bringing attention to the longsuffering residents of a dangerous Rio de Janeiro favela. In some cases the effect is momentous but momentary; in others there is lasting change. Watching this deeply moving film makes me want to live in the world JR's work reveals and brings into being; to be, in whatever way I can, part of revealing and bringing that world into being. Teens and up.
Petit Maman
An exquisitely low-key magical-realist fable about family bonds, time, and loss, Céline Sciamma's depiction of a privileged friendship between two young girls (identical twins Joséphine and Gabrielle Sanz) at an unexplained wrinkle in the fabric of reality effortlessly moves between grief, humor, joy, mischief, wish fulfillment, and catharsis. It's like Ponette meets Back to the Future by way of Hayao Miyazaki, which is not a sentence I could remotely have imagined writing before seeing this film. Subtitled; fine family viewing.
Procession
There are places in most of our minds — literal places from our past, including childhood — where pain or trauma live on. In documentarian Robert Greene's gut-wrenching Procession, a title both liturgical and therapeutic, six middle-aged men, all of whom report having been sexually abused as boys by priests of the Catholic Diocese of Kansas City–St. Joseph, revisit or recreate those places in order to change the script on the events connected with them through roleplay and filmmaking. Aided by drama therapist Monica Phinney, they scout locations to shoot reenacted memories, construct sets, or even track down the real locations associated with their trauma. What might it mean for an abuse survivor to take a sledgehammer to a replica of the rectory bedroom where he was molested? A powerful document of catharsis and mutual support, the film is also inevitably an indictment of the entrenched ecclesiastical culture of secrecy and clerical elitism that protected predators for so long, and still lingers in the Church today. Mature viewing.
The Rescue
In 2018, the same year that husband-and-wife documentarians Jimmy Chin and Elizabeth Chai Vasarhelyi released Free Solo — a documentary tribute to an emotionally isolated loner's pursuit of perfection through rock climbing — a catastrophic disaster brought together the world's greatest solo practitioners of another extreme niche sport, cave diving, as part of the massive, well-publicized international operation to rescue the 12 young soccer players and their coach trapped by monsoon flooding in Thailand's Tham Luang cave system. I admired Free Solo, but in The Rescue Chin and Vasarhelyi have a subject 10,000 times more compelling, and their film is a relentlessly electrifying ode to heroism, human solidarity, and ingenuity in the face of seemingly impossible odds. Intermittent subtitles; teens and up.
Summer of Soul (…Or, When the Revolution Could Not Be Televised)
Even if Ahmir "Questlove" Thompson had only done a Peter Jackson–style time-machine recovery of lost footage of the 1969 Harlem Cultural Festival — the so-called "Black Woodstock" — Summer of Soul would be must viewing for its dazzling concert footage of the likes of Mahalia Jackson, Stevie Wonder, and B.B. King. But while the film centers the performances, it also makes shrewd use of interview footage to provide crucial historical, cultural, and political context regarding the significance of this event and this music (which includes gospel songs like "Take My Hand, Precious Lord" and "Oh, Happy Day") to the Black community — and of the event's near-erasure from cultural memory. Teens and up.
The Tragedy of Macbeth
If any of Shakespeare's plays is a natural fit for the Coen sensibility, it's the one about a plotting couple who carry out a poorly considered murder, ultimately leading to more and more violent death, including their own. Working for the first time without his brother Ethan, Joel Coen approaches the Scottish Play in a spirit of discovery rather than reinvention, with thrilling results. The overtly artificial set design frequently suggests storyboarding come to life, and if visual motifs of fog and mist, translucent curtains and panels, and shadows and silhouettes evoke the murkiness of the last days of Denzel Washington and Frances McDormand's treacherous power couple, the sound design brings unnerving clarity, with the knocking sound that haunts Macbeth as an apocalyptic hammering: the protest of conscience, the wrath of heaven, the summons to hell. The whole cast is outstanding, notably Alex Hassell in an intriguingly pivotal interpretation of a thane named Ross. Teens and up.
West Side Story
Steven Spielberg's towering adaptation of the iconic Bernstein/Sondheim musical is like a magic trick: so classical in its approach, so precise in its art direction and costuming and such, that it feels like it could be a product of the same era as the 1961 adaptation, yet shaped by a 2020s social consciousness around culture, ethnicity, gender, class, and community. Joyous, vital, heartfelt, it's also a quintessentially Spielbergian visual experience, from the sinuous opening tracking shot over rubble from an urban-renewal demolition project to the lurid God's-eye shot of the Jets and the Sharks converging for the rumble, their long shadows crossing in mid-screen. Newcomer Rachel Zegler radiates innocent purity with a touch of independent assertiveness as Maria, while Ansel Elgort exudes earnest strength as Tony, here an ex-con who wants to keep his nose clean. Among standout decisions: giving "Somewhere" not to the leads, but to 89-year-old Rita Morino, the 1961 film's Anita, here standing in for the soda-shop owner Doc as his widow. Teens and up.
10 Runners-up (unranked)
CODA. Sian Heder's winning comedy-drama stars Emilia Jones as a hearing girl in a deaf family — a child of deaf adults, or CODA — with Marlee Matlin and Troy Kotsu as her proud, sometimes difficult parents. Teens and up.
Drive My Car. Ryusuke Hamaguchi's elliptical character study starts as a portrait of a complicated marriage before surprisingly revealing itself as a quiet, leisurely exploration of self-discovery, self-expression, and unlikely human connection.
The Father. Anthony Hopkins struggles movingly with confusion and disorientation as an elderly Londoner succumbing to progressive dementia in first-time director Florian Zeller's adaptation of his stage play. Teens and up.
In the Same Breath. Guerrilla documentarian Nanfu Wang (One Child Nation) brings her first-person interrogative method to the gap between the grim reality in Wuhan in the early days of the Covid pandemic and the bizarre, immersive world of Chinese propaganda, expanding her scope to cross-examine government mishandling and misinformation in the US as well as China. (Teens and up)
Judas and the Black Messiah. Daniel Kaluuya is a force of nature in Shaka King's historical drama as the charismatic Black Panther icon Fred Hampton, who was killed in 1969 by police in a predawn raid relying on information provided by Lakeith Stanfield's William O'Neal, an FBI informant.
King Richard. Will Smith triumphs as Richard Williams, the controversial visionary who launched his daughters Venus and Serena to tennis superstardom, in this inspirational sports drama, made with the cooperation and support of the Williams family. Might be okay for kids and up.
MLK/FBI. Sam Pollard's infuriating documentary is a powerful indictment of J. Edgar Hoover and the FBI's secret war against Martin Luther King, Jr. and the attempt to discredit or destroy him by any means necessary — a campaign regarding which we have increasingly detailed information, but for which no one was ever held accountable. Teens and up.
Pig. Nicolas Cage gives a committed performance in Michael Sarnoski's directorial debut, a melancholy, defiantly oddball fable that begins with a cruel crime and proceeds to take some roads very much less traveled. Might be okay for teens and up.
There Is No Evil. More literally There Is No Devil or Satan Doesn't Exist, Mohammad Rasoulof's underground Iranian film — shot in secret and smuggled out of the country — tells four stories of human agency and moral responsibility in connection with the injustice of the death penalty. Subtitles; might be okay for teens and up.
This Is Not a Burial, It's a Resurrection. Mosotho filmmaker Lemohang Jeremiah Mosese, who lives in Berlin, returns to his native African country for a surreal account, presented as oral tradition, starring Mary Kuksie Twala as grieving widow whose disappointment with God turns to desperate action when her village's connection to their native land is threatened by a dam project. Subtitles; might be okay for teens and up.
10 Honorable Mentions (unranked)
Acasă, My Home, Radu Ciorniciuc's engrossing documentary about a large family leading a seemingly idyllic, solitary existence in sprawling wetlands that turn out to be Romania's Vacaresti Nature Park in the Bucharest Delta, and how that doesn't work out for them. Teens and up.
Azor, a low-key, intelligent political thriller from Andreas Fontana in his non-documentary feature debut, starring Fabrizio Rongione as an urbane Swiss banker trying to do business in Argentina amid political instability and intangible menace. Shades of Graham Greene. Intermittent subtitles; teens and up.
The French Dispatch, maybe Wes Anderson's Wes-est movie ever, a complex anthology of quirky stories revolving around a French foreign bureau of a New Yorker–style magazine. Adults.
The Green Knight, an Arthurian fever dream from David Lowery, about which I have so many, many thoughts. Might be okay for teens and up.
The Last Duel, Ridley Scott's he-said/he-said/she-said medieval drama starring Matt Damon, Adam Driver, and Jodie Comer in a not-quite-Rashomon-esque story of sexual and judicial violence. Adults.
Mass, a melancholy four-person chamber drama from first-time feature director Fran Kranz, about two grieving couples who lost sons in a school shooting — one of them being the shooter himself. Might be okay for teens and up.
Passing, starring Tessa Thompson and Ruth Negga in first-time feature director Rebecca Hall's sensitive adaptation of Nella Larsen's 1929 novel about a friendship between two light-skinned Black women, one of whom has a White husband who is unaware of his wife's mixed racial ancestry. Teens and up.
Pray Away, Kristine Stolakis's painful but compassionate documentary about the rise and fall of Exodus International and the conversion-therapy model among gay and same-sex-attracted Evangelical leaders and believers. Mature viewing; might be okay for teens and up.
A Quiet Place Part II, John Krasinski's effective sequel to the outstanding 2018 postapocalyptic horror film, this time with Millicent Simmons' deaf Regan taking the lead as she, Emily Blunt's young widow, and younger brother Noah Jupe carry on without Krasinski's character. Teens and up.
Spider-Man: No Way Home, a sloppy but poignant cinematic retcon mashup from three-time MCU Spidey director Jon Watts that plays in sneakily satisfying ways with the redemptive possibilities of messing with space-time. Might be okay for kids and up.
Join Our Telegram Group : Salvation & Prosperity