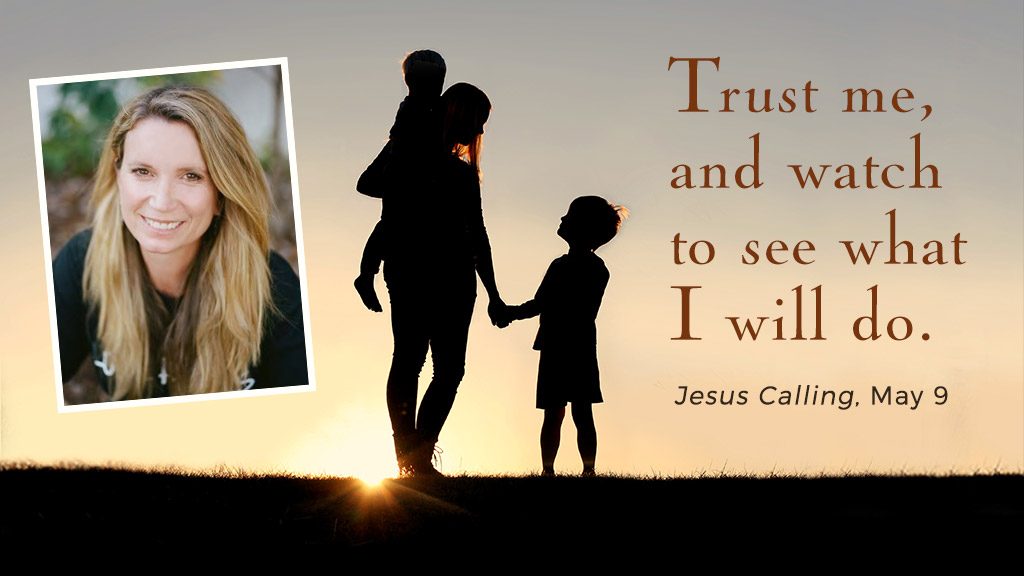 By Becca Stevens
Babies and toddlers are precious, but those years are so hard.
If I hadn't consecrated time for a daily devotional at the start of each day, I don't think I would have made it. Early each morning, I found the peace I desperately needed to hear from God in the bathtub. I lit a candle, read a Psalm, and soaked in the silence for 20 minutes. Those 20 minutes each day saved my spirit so I could be a good mom, wife, pastor, and entrepreneur.
"Because you are human you will continue to make mistakes. Thinking that you should live an error-free life is symptomatic of pride. Your failures can be a source of blessing, humbling you and giving you empathy for other people in their weaknesses. Best of all, failure highlights your dependence on Me. I am able to bring beauty out of the morass of your mistakes. Trust me, and watch to see what I will do."
Jesus Calling, May 9
Finding peace each morning helped me withstand some of my better mom-fail moments, like the time I heard my toddler's name on the loudspeaker at Walmart.
During that season of diapers, nursing, and perpetual exhaustion, I remember taking my two sons, a four-year-old and an infant, on a shopping trip to Walmart. As we walked around, the baby started screaming to be fed. In desperation I walked to the clothing section, climbed into one of the circular racks, and began to nurse the baby. I told my older son to pretend we were in a tent so I could feed his brother for a couple of minutes.
And, of course, my four-year-old bolted.
In a stern voice I called for him to return and then thought, He'll be back. He's just playing.
A few minutes later I heard his name called over the loudspeaker as a lost child. I crawled out from my hiding place while my baby screamed because I had stopped feeding him. Red-faced, disheveled, and feeling like a pretty pathetic mom, I hurried to the service counter to retrieve my son. As security questioned me about what had happened, I couldn't help but wonder if I was experiencing the lowest point of my parenting.
Spoiler alert: It wasn't the lowest point.
Find Peace in the Hard Places
Motherhood seems to serve up a never-ending dose of humility. Those of us who survive learn to find joy and humor in mothering, but I will admit it took a while for the sting of my Walmart fiasco to fade. I still had an important lesson to learn: I need to approach every motherhood moment with self-compassion and a heart willing to learn from my mistakes. It is the only way to find peace in the hard places.
All moms have Walmart moments. If you haven't, I promise yours is coming. In a world that seems to demand perfection from moms and then condemns us when we fail, it takes a whole lot of humor, courage, and love to make it through.
Don't Berate Yourself—Learn from Your Mistakes
We all stumble along the road of motherhood, but our failures shouldn't keep us from moving forward. There is no shame in making mistakes; the problem occurs when we choose to condemn ourselves rather than learn from them. God doesn't want us to allow even our worst mom moments to keep us broken.
Motherhood offers us so many opportunities to learn to rest in God's mercy, forgive ourselves, forgive others, and even learn something along the way. I love the psalmist's cry: "Though he may stumble, he will not fall, for the LORD upholds him with his hand" (Psalm 37:24 NIV). No matter how heartbreaking or humiliating your mom mistakes are, they do not mark the end of the journey. You are still being upheld by God's loving hand.
That day as I faced Walmart security with a screaming infant in one arm and my free hand holding tight to the "runaway toddler," I was sure I had reached an all-time, epic mom-fail moment. In reality there were a million more funny and humbling moments in my future of parenting. Each one has given me undying admiration for new moms, and reverence for the older moms who made it to the other side!
So this Mother's Day, here's to Walmart moments, shopping mall meltdowns, forgotten permission slips, and every other mom-fail in-between. We may stumble, but we won't fall. We are forever upheld by God's loving hand.
***
Becca Stevens is an author, speaker, Episcopal priest, justice entrepreneur, and founder and president of Thistle Farms.
Becca is a graduate of the University of the South and Vanderbilt Divinity School. She has been conferred three honorary doctorates and has received numerous humanitarian awards, including being named a 2011 White House "Champion of Change" and a 2016 CNN Hero.
Becca and her husband, Grammy-winning songwriter Marcus Hummon, live in Nashville with their three sons.