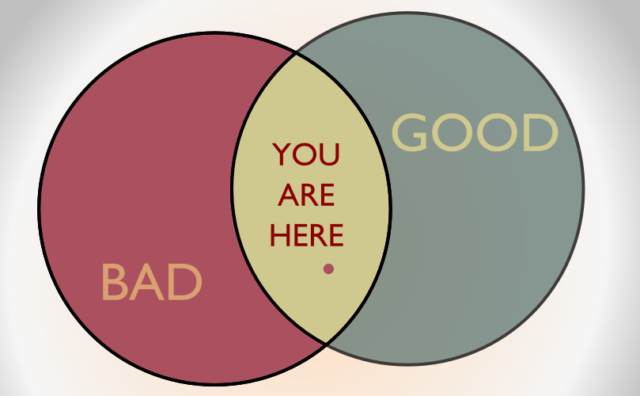 A reader writes:
I have been really hurting due to a question that I can't seem to find an answer to wherever I look. Wherever I go, I can't find a Christian that will answer my questions. I am Catholic, but this particular question causes me pain, because morality is the bedrock that my framework is built upon.
My question is, how do I know that Morality is real?
I heard that morality is just a herd mentality to ensure human survival. Like, for example, I don't kill him, so he doesn't kill me, a herd mentality. Homosexuality is wrong because it doesn't ensure human survival. It's a sort of empathy-like survival mechanism.
This does mean that if you do something wrong, since there would be no Objective Morality, that there is nothing actually wrong about it, and you could technically do whatever, and it would just be atoms moving across space-time, a scary thought indeed.
How do I beat moral nihilism? What are some arguments against it? What if someone is willing to accept it, because facts don't care about your feelings? How do you show its real? What evidence is there? I still believe, but it hurts to have my framework attacked.
Those attacking the objective reality of morality based on its survival value are making a fundamental mistake, which is pitting objective morality and survival value against each other. They do not need to be seen in opposition and should be seen as in harmony.
According to the standard Christian understanding (and, specifically, the Catholic understanding), morality is rooted in human nature. For example, we need lifelong marriages because our offspring are born helpless and take 2 decades to mature. Therefore, they need care for decades, and thus the parents need to stay together for decades, which amounted to a full human lifespan before modern medicine. Therefore, human nature implies lifelong marital unions.
This would be different if God had designed us to be creatures like fish, which essentially fertilize their eggs and then leave them to their fate. No lifelong marriages would be needed.
We therefore must understand the rules of (human) morality in terms of human nature. They are given to us by God to help us survive and thrive, based on the way our natures work. Therefore, being a moral person has survival/flourishing value.
However, this is exactly what we would expect of a loving God in giving us his laws. They would be based around our nature and be meant to promote our good. They would thus draw upon our nature as human beings and make explicit the best ways for humans to survive and thrive.
God's law for man thus is not an alien standard imposed on us that has nothing to do with human flourishing. Instead, on the Christian view, it is designed to promote human flourishing, based on our nature.
And this is what Scripture indicates: God gave man laws for man's own good. The law is designed to help us. Following it is good for us.
This is explicit in various passages in the Bible. It's also implicit in other passages. One that I find particularly interesting is James 1:22-25, which compares a person who hears God's law and does not do it to a man who looks at his face in a mirror and then forgets what he looks like. The analogy James uses shows how God's law reveals our own nature to us. If we forget God's law, we forget our own nature.
The fact that morality has survival value thus is not contradictory to the biblical view of morality. It is built into the biblical view of morality. The biblical view presupposes that morality has survival value, and the two should not be put in opposition to each other.
When it comes to evidence for the objective existence of morality, we have the testimony of the human heart. Humans have a powerful intuition that some things are Just Right and other things are Just Wrong. Our hearts tell us that morality is objectively real (and they tell us this because God built it into us).
Even those who claim not to believe in objective morality inevitably slip back into assuming that it is real. They invariably fall back into the assumption that some things are just evil–whether it's racism, sexism, torturing babies for fun, or whatever else it may be. They may be able to momentarily suspend their belief in objective morality, but they inevitably slip back into the view that it is real. So strong is the testimony of the human heart.
Further, belief in objective morality is a human universal. It appears in all world cultures in all periods of history. This only happens with things that are built into human nature, and so belief in morality is part of human nature.
We thus have powerful evidence from the human heart that morality is objectively real.
Furthermore, by believing in morality, we are simply going along with our nature (rather than fighting against it).
Finally, a critic of morality would have absolutely no grounds for trying to guilt us or cause us anxiety for our belief in morality, because if the critic was right then–on the critic's own principles–we wouldn't be doing anything wrong by believing in morality, because there would be no objective right or wrong.
And we'd be happier for just going with what human nature tells us–that morality is real.
We'd also reap the survival and flourishing benefits of leading a moral life.
I hope this helps, and God bless you!
Services Marketplace – Listings, Bookings & Reviews