Los Angeles District Attorney George Gascon apparently violated his own office's policy while announcing murder charges Wednesday against a Torrance, California, man accused of killing a Roman Catholic bishop days earlier — in an ethical blunder that critics say could damage the integrity of the case.
During his press appearance on Ash Wednesday, answering a reporter's question in Spanish, he said investigators had ample evidence against the suspect — including a confession.
"He admitted he had committed the murder," Gascon said of the suspect, Carlos Medina, according to translations of his news briefing. "We recovered the firearm that we believe was used. We have other evidence — cameras and other things — that indicate that he was in the location that the murder took place."
Medina is accused of gunning down Auxiliary Bishop David O'Connell. The DA's own policy handbook states that prosecutors are not allowed to discuss confessions, admissions or any other statements made by people they're accusing of crimes because it could compromise the case.
LOS ANGELES DA GEORGE GASCON ANNOUNCES MURDER CHARGE AGAINST HOUSEKEEPER'S HUSBAND IN BISHOP'S KILLING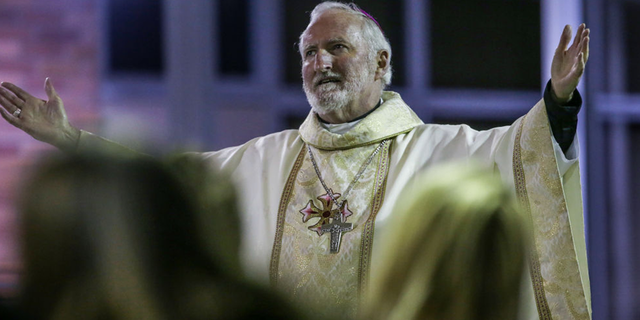 It comes from the Los Angeles District Attorney's Legal Policies Manual, in the same section on communications to the media that bars prosecutors from discussing a suspect's prior offenses, the identities of witnesses, victims and juvenile suspects, "inflammatory" statements that could jeopardize the suspect's right to a fair trial and other sensitive information.
"It cannot be more simply stated, George Gascon is a DA who either doesn't know the basic ethical rules that govern the agency he leads, or doesn't care to follow them."

— John Lewin, deputy district attorney
The policy predates Gascon's election but has remained in place as he updated other parts of the handbook.
A similar rule in the state bar's code of professional conduct also bars prosecutors and defense attorneys from making comments that could have a prejudicial effect on a case.
WATCH: LA DA George Gascon delivers remarks at news conference on murder of Bishop O'Connell
CALIFORNIA MAN WANTED IN MURDER OF AUXILIARY BISHOP DAVID O'CONNELL IS TAKEN INTO CUSTODY, SOURCES SAY
"It cannot be more simply stated, George Gascon is a DA who either doesn't know the basic ethical rules that govern the agency he leads, or doesn't care to follow them," said John Lewin, a longtime deputy district attorney in the county in the major crimes division. "I don't know which of those possibilities is worse."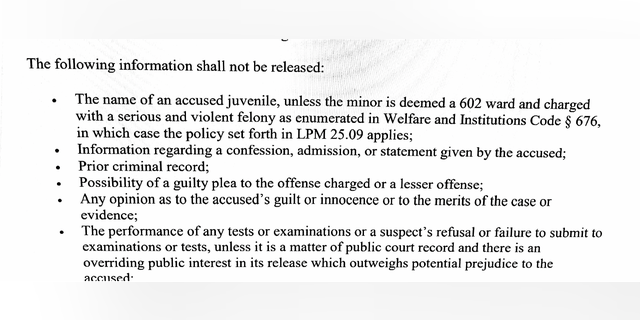 Prosecutors have strict ethics rules in place regarding what they can discuss before trial, he said, that "even a first-year lawyer understands" in order to avoid the possibility of prejudicing the jury pool, which could be a violation of the defendant's rights.
"This is especially true when it comes to discussing evidence in a case, particularly a suspect confession, when it has not been legally ruled upon," Lewin said. "What if a court decides that the confession will not be admitted to trial? You can't put that genie back into the bottle."
Gascon's office did not respond to Fox News Digital's request for comment.
CALIFORNIA VIOLENT CRIME TRIPLED AS SUSPECTS WALKED FREE WITHOUT BAIL: REFORM STUDY
Prior to the news briefing, Gascon was in court — but not to prosecute a case.
WATCH: Los Angeles DA George Gascon reportedly retaliating against recall supporters
He took the stand in a civil lawsuit brought by another deputy district attorney who has accused him of retaliation and admitted he'd never directly handled a felony prosecution and was unfamiliar with how the state law works governing attempted assault. Gascon has worked in California law enforcement for decades.
John McKinney, another deputy district attorney, said the rule is in place to protect a defendant's right to a fair trial.
"By disclosing a defendant's confession in an open criminal case, George Gascon has not only committed a blatant violation of LADA policy, but has also potentially violated the due process rights of the accused," he told Fox News Digital. "Gascon continues to demonstrate his incompetence in ways that hurt victims, defendants, and the fair administration of Justice."
WATCH: Violent crime surges in Los Angeles under DA George Gascon
Lewin and McKinney, seasoned prosecutors who have convicted high-profile murderers, including Robert Durst and the man who gunned down Grammy-winning rapper Nipsey Hussle, were both demoted last year. They say the punishments came in retaliation for their public criticism of Gascon and his reluctance to prosecute criminals to the fullest extent of the law.
SENIOR LA PROSECUTORS SAY THEY WERE DEMOTED BY DA GASCON AFTER PUBLICLY CRITICIZING HIM
Medina, the 65-year-old husband of Bishop O'Connell's housekeeper, is accused of gunning down the priest on church property Saturday.
O'Connell, 69, was named an auxiliary bishop of the Archdiocese of Los Angeles by Pope Francis in 2015.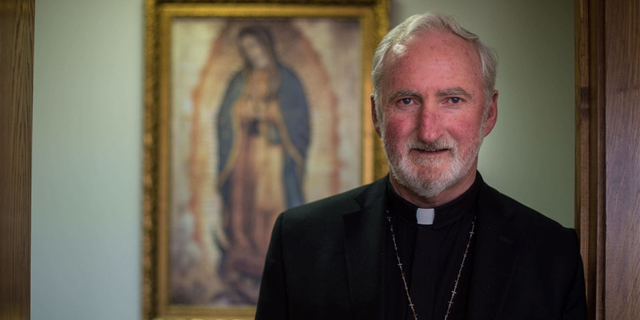 Gascon told reporters Wednesday that O'Connell had served the community for nearly 50 years, working with marginalized groups, including immigrants and communities stricken with gang violence.
O'Connell, an immigrant himself from Ireland, was a fluent Spanish speaker, Gascon said. He served the archdiocese, home to more than 4 million Catholics, tirelessly.
Deputies found the bishop dead at his church-owned residence Saturday afternoon, according to Los Angeles County Sheriff Robert Luna. There were no signs of forced-entry, but he had a bullet wound in his chest.
CLICK HERE TO GET THE FOX NEWS APP
"This man, this bishop, made a huge difference in our community," Luna told reporters Monday. "He was very loved, and it's very sad that we're gathered here today to talk about his murder in this way."
Fox News' Haley Chi-Song and Anders Hagstrom and The Associated Press contributed to this report.
Services Marketplace – Listings, Bookings & Reviews