Calls for police to release the "manifesto" that authorities say was written ahead of Monday's Nashville school shooting has prompted concern among LGBTQ+ groups, who caution against the publication of such a document.
While many details remain to be unveiled about the massacre at The Covenant School this week, police have identified the shooter as 28-year-old Audrey Hale. On Monday, Hale, armed with two assault-style weapons—a rifle and a pistol—as well as a handgun, fatally shot three children and three staff members at the school before being killed by police.
Speaking at a press conference hours after the shooting, Metropolitan Nashville Police Chief John Drake, who said the shooter identified as transgender, confirmed that officials were in possession of a "manifesto," a map detailing how the incident would take place and writings "that pertain to this date, the actual incident."
Some conservatives, like Tennessee Republican Representative Tim Burchett, have called for the release of the document, arguing that doing so would give the public critical information about the perpetrator's state of mind.
"We need to know what was going through this person's head, and the manifesto should be made public," Burchett told Fox News Digital in a Monday statement.
But groups advocating for LGBTQ+ rights disagree.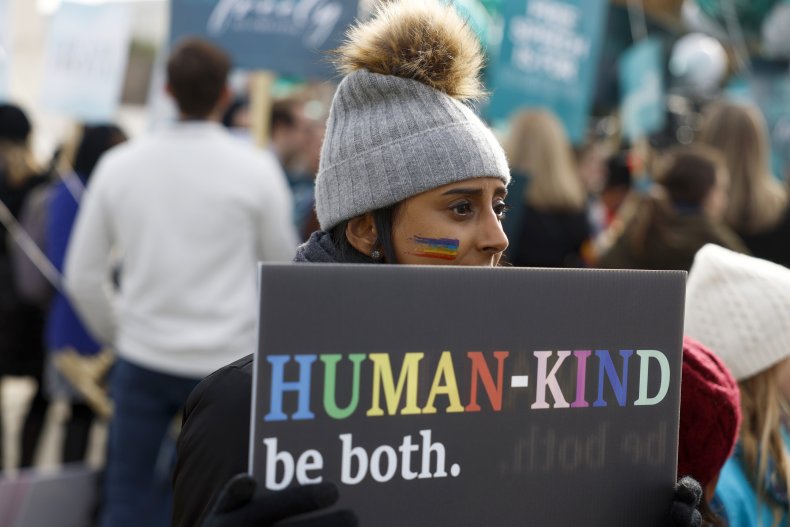 "It should not be published," Jordan Budd, the executive director of Children of Lesbians and Gays Everywhere (COLAGE), told Newsweek. "The focus should be on how this was able to happen in the first place. There should not be such easy access to deadly weaponry."
Charles Moran, the national president of Log Cabin Republicans, a GOP organization that advocates for equal rights for LGBTQ+ Americans, also told Newsweek that there are "serious consequences" for the public release of the manifesto.
"While it would certainly give insight into the motivations of this deeply troubled individual that could help shed light into root causes, we know from tragedies like this that additional glorification of the shooter could inspire others to take similar violent acts for attention," Moran said.
Laura McGinnis, a spokesperson for PFLAG, agreed, telling Newsweek that publication of these documents could increase the risk of contagion. She said that while the manifesto could help law enforcement and policymakers identify potential warning signs to prevent future tragedies, ultimately, "the contents don't change the outcome of the tragedy."
"Regardless of the shooter's intentions, the real issue here is the ease of access to deadly weapons in Tennessee and elsewhere," Budd said, adding, "All children, no matter who their parents are or how they identify, should feel safe and supported at school. That includes a world free from gun violence."
Moran said that Log Cabin would defer to authorities on whether the manifesto should be shared with the public.
On Tuesday, a spokesperson for the Metropolitan Nashville Police Department told the Daily Caller News Foundation that it had no intention of releasing the documents anytime soon, saying, "We will not be releasing the manifesto during an open investigation."
Moran said he anticipates that the document would "eventually" be published "given the politically charged nature of gun violence and mental illness."
Some social media users have also argued against the release of the manifesto.
"So yesterday's school shooter has a MANIFESTO. My MANIFESTO is don't publish it," one Twitter user wrote on Tuesday. "Feck whatever gender that s***bird was. I still haven't figured out if we're talking MtF or FtM and ultimately it doesn't matter. Just an a****** unhappy with the way the world is."
"I hope they don't publish her manifesto. That only encourages others," another tweeted.
Amid a flurry of attention on Hale's gender, prominent conservatives like GOP Representative Marjorie Taylor Greene and Fox News anchor Laura Ingraham have suggested that gender-affirming drugs played a role in the mass shooting.
Police have consistently stressed that they are not ready to conclusively point to a motive for Hale at this time.
LGBTQ+ groups, however, have cautioned against making the shooter's transgender identity central to the tragedy.
On Tuesday, the Human Rights Campaign referred Newsweek to their initial statement on the shooting, which reads: "We still don't know all the facts about what happened in Nashville. We do know that every study available shows that transgender and non-binary people are much more likely to be the victims of violence, rather than the perpetrators of it."
"Regardless of the reason for this shooting, the use of violence is reprehensible and we renew our call for common-sense gun safety legislation," the statement said.
"The tragedy of gun violence is overwhelming, and it is the ready access to guns to inflict irrevocable pain that cannot be undone that is the problem," PFLAG also told Newsweek in a statement. "Our hearts are broken for the loss of each of these people, and we mourn with our community."
In a press release on Monday, the MNPD also revealed the names of the six individuals that were killed. Three of the victims—Evelyn Dieckhaus, William Kinney and Hallie Scruggs—were all 9 years old. The three adults were identified as Mike Hill, 61, Cynthia Peak, 61 and Katherine Koonce, 60.
Services Marketplace – Listings, Bookings & Reviews