Their supplication is ever applicable today …
In early March of 2016, a terrorist attack at a convent and nursing home in Yemen left 16 dead. Four of the victims were Sisters of the Missionaries of Charity, the community founded by Mother Teresa. I found a hand-written prayer card this morning commemorating the tragedy. It was tucked inside my journal, and I quickly taped it to the fridge, as hardships at home and in the news headlines have left me sad to the point of distraction.
I've been saying the prayer after Mass and before breakfast, as was the habit of the nuns who were killed — which is also how we know that, according to the time of day they were murdered, it's the last prayer they said. I'm finding the words simple and goal oriented; a good way to stay focused:
Lord, teach me to be generous. Teach me to serve you as you deserve; to give and not to count the cost, to fight and not to heed the wounds, to toil and not to seek for rest, to labor and not to ask for reward.
I was given the prayer card by Sister Maria, a Missionary of Charity who was stationed with several other nuns at my parish at the time. This devout woman handed me a copy of the prayer with a serene look on her face when I expressed sadness about what had happened in Yemen. I remember finding Sister Maria's peace and joy mind-boggling: "Don't shed a tear," her smile serene, "they're receiving their reward!"
The nun then quickly turned the conversation to me – patting my hand, telling me I looked "too thin" and asking with great concern if I'd been taking care of myself. She then inquired about my sister in a way I could tell she had taken my prayer request from a few weeks ago to heart; she even remembered Jenny's medical diagnosis and her middle name! In short, Sister Maria not only handed me the prayer of these martyr-nuns, she embodied it.
Martyr-nuns of Yemen, pray for us!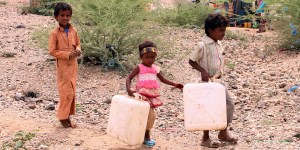 Join Our Telegram Group : Salvation & Prosperity