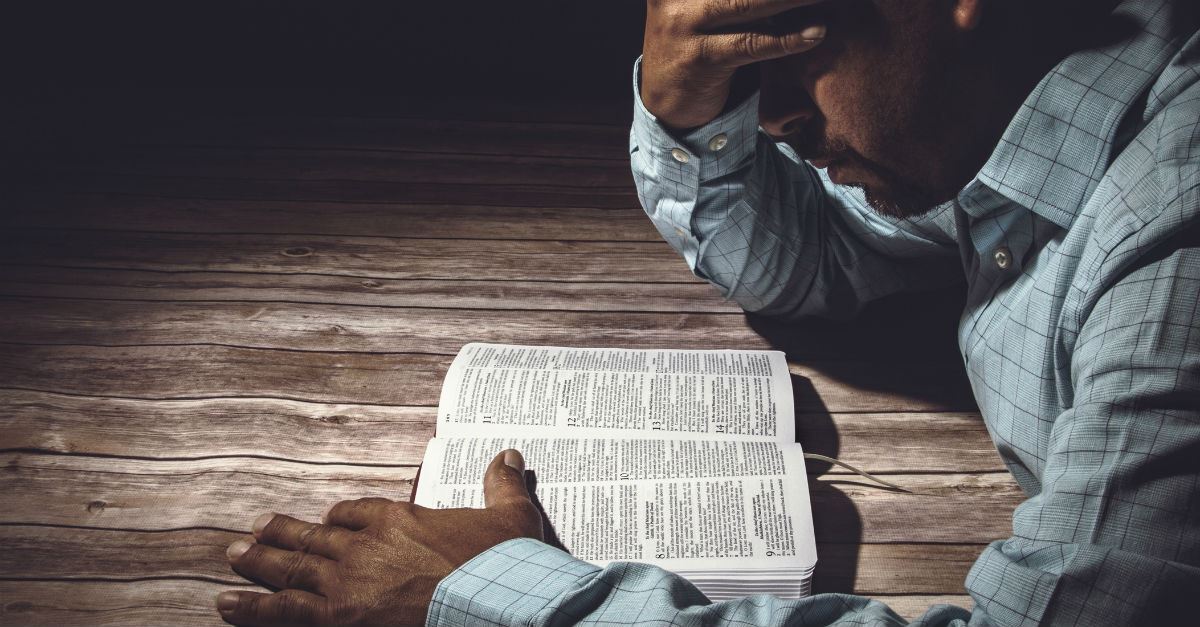 Because there are many opinions about healing, and those who use healing in self-serving ways, it's important for Christians to go to the Bible for direction and guidance. Christians should want to approach healing in a biblical way, and in Scripture we discover the source and purposes for healing, as well as instruction and models for asking in faith.
Here are nine things the Bible says about healing and praying for healing.
1. Healing comes from God.
No Scripture condemns the legitimate use of doctors or medical science, but one of the names of God is Jehovah-Rapha meaning "the Lord who heals."
The Father has the power to heal the whole person.
Healing also comes through the agency of the Holy Spirit working through believers' spiritual gifts (Acts 3:1-13a).
Jesus healed "every disease and sickness among the people" in Galilee (Matthew 4:23), Judea (Matthew 19:1-2), and everywhere He went (Mark 6:56) to authenticate His Messiahship (John 7:31) and give Israel a taste of the kingdom (Luke 11:20).
2. The gift of healing is biblical.
The Holy Spirit gives gifts to the Church (1 Corinthians 12:8-11), like the gift of healing (1 Corinthians 14:1). God knows best and He distributes the gift of healing according to His will (Hebrews 2:4).
Besides honoring God and glorifying Jesus, healing is also for the common good of the Church (1 Corinthians 12:7). Healings are also a strong sign the reign of death will come to a redemptive end (Romans 5:17; 8:20-21).
Jesus healed while proclaiming the gospel of the kingdom (Matthew 4:23) and gave His disciples and others power and authority to heal diseases as they also proclaimed the kingdom of God (Luke 9:1-2; 10:1-9).
It's wise to distinguish between physical and spiritual healing. For example, Isaiah 53:5(quoted in 1 Peter 2:24) is often misapplied. The context of this passage is spiritual healing, not sickness or disease.
3. God may say 'no.'
In the Old Testament, when Moses cried out to God to heal Miriam's leprosy, the Lord did not heal her immediately (Numbers 12:1-15). Ahaziah was refused healing because he consulted with a pagan deity (2 Kings 1:1-17a).
In the New Testament, Paul left Trophimus sick in Miletus (2 Timothy 4:20b), had to deal with his own continuing affliction (2 Corinthians 12:7-9), and counseled Timothy to "drink a little wine" to help with ongoing ailments (1 Timothy 5:23).
God doesn't give bad things to His children (Matthew 7:7-11). The One who sent Jesus for us will graciously give us "all things" we need to do His will or honor Him (Romans 8:32). But as a loving Father, He may say "no" to healing and instead use afflictions directly to sanctify us.
4. Christians can hinder their healing.
Christians can hinder their own healing in at least five ways.
1. Christians may have unconfessed sin.
James 5:16 says, "Confess your sins to each other and pray for each other so that you may be healed…." Confession is important preparation to healing.
We must take care with this, however. Some believe all sick people are guilty of secret sins. That idea discounts Scriptures like John 9:1-3 where Jesus made it clear neither a blind man's nor his parents' sin caused his blindness. Critics can act like Job's friends who didn't tell the truth about God to Job—and God rebuked them (Job 42:7-9).
2. Christians may neglect healing by failing to ask for it (James 4:2b).
In John 5:6-7, Jesus looked into the heart of a lame man and asked, "Do you want to get well?" A strange question for a man who had been lame for 38 years! Maybe Jesus saw he was reluctant because he was addicted to the attention and charity he received. Perhaps his lameness became entwined with his identity.
Sometimes the Lord wants to heal us, but we haven't bothered to ask him!
3. Christians may fail to surrender to God's purposes.
Believers' humility and readiness to receive what God has for them helps them cooperate with the truth of Romans 8:28-29. As believers pray for healing, they must believe that all things are somehow woven together into the Father's good and holy plan to conforming them to the image of His Son.
Some may feel it's a cop-out to pray a surrendered "your will be done" in regard to healing; but even Jesus qualified His prayers, and He wasn't sinning (Luke 22:42).
4. Christians may hinder healing through lack of faith.
Lack of faith can hinder what God wants to do (Matthew 9:20-22; Matthew 9:29; Mark 6:5-6; Luke 17:19; Acts 3:16; James 5:15). He is more inclined to respond to prayers of faith in powerful, sometimes unexpected ways, as He did with Elijah in James 5:17-18.
5. Christians may come to God with timid prayers.
Christians need to pray with confidence, trusting God's goodness and grace (Matthew 7:11), and pray with conviction that God will reward those who pursue Him (Hebrews 11:6).
5. There may be questions to ask yourself.
It's important not to question people or beat them up over a perceived "lack of faith." Only God knows the human heart, and He is the righteous Judge (Psalm 139:1-2; 50:6).
But regarding healing, Christians might ask themselves some questions:
– Do I have courage to ask God for healing in faith?
– Do I have the kind of pleasing faith that honors God?
– Do I believe God won't answer me?
– Am I afraid I'll make God look bad if healing doesn't come?
– Am I afraid of my image and reputation—do I think I might look unspiritual if nothing changes?
The key to greater faith is intimacy with God, rooted and grounded in Christ (Colossians 2:7). It's not about personal reputation.
6. Church leaders have an important part to play.
Many Christians forget they can call on church elders to pray—a biblical truth not taught or practiced in many churches.
In James 5:14-16, the elders of a church were called in to visit a sick person under their spiritual care. They anoint the sick person with oil and offer up prayer "in the name of the Lord." If the person's illness was the direct result of personal sin, the elders called for confession and repentance.
7. Satan opposes healing prayers.
Sickness and death are consequences of the fall (Genesis 2:17; 3:19b; Romans 5:12). Satan is a murderer and liar (John 8:44) who wants to steal Christians' health and tell them lies about God's goodness. Some illnesses are directly caused by spiritual or demonic influences (Luke 13:10-13; Acts 10:38; 2 Corinthians 12:7; Mark 1:34).
Christians who want to press forward in praying faith must stand against Satan's evil schemes (Ephesians 6:12-13) and resist him in prayer while submitting to God (James 4:7).
8. Both healing and suffering can serve a higher purpose.
God may use physical suffering for a higher purpose than we understand (Isaiah 55:8-9). God sometimes heals to bring glory to Himself and encourage others to put their faith in the Savior. We see this with the death of Lazarus and Jesus raising him back to life (John 11:1-45).
Other times, healing does not come. But even with impending death, there can be a higher purpose. A dying believer can point the living toward the Father and His message of hope in Christ.
9. Ultimate healing awaits in heaven.
For the believer, death brings ultimate healing—no more death, sorrow or pain forever (Revelation 21:4). To be absent from the body is to be present with the Lord (1 Corinthians 15:55-57).
Believers can hate sickness and disease—just as God does—while longing for that day when they'll be safe in heaven from the ravages of pain and all disease.
Healing Scriptures
Below are several Bible verses about healing selected from references in this article.
"But he was pierced for our transgressions, he was crushed for our iniquities; the punishment that brought us peace was on him, and by his wounds we are healed" (Isaiah 53:5).
"The LORD is close to the brokenhearted and saves those who are crushed in spirit" (Psalm 34:18).
"Praise the LORD, my soul, and forget not all his benefits— who forgives all your sins and heals all your diseases" (Psalm 103:2-3).
"The LORD sustains them on their sickbed and restores them from their bed of illness" (Psalm 41:3).
"'Neither this man nor his parents sinned,' said Jesus, 'but this happened so that the works of God might be displayed in him'" (John 9:3).
"Is anyone among you sick? Let them call the elders of the church to pray over them and anoint them with oil in the name of the Lord. And the prayer offered in faith will make the sick person well" (James 5:14-15).
"'He will wipe every tear from their eyes. There will be no more death' or mourning or crying or pain, for the old order of things has passed away" (Revelation 21:4).
Check out this free PDF download from iBelieve.com Hope for Healing: A Complete Guide for Biblical Healing and Prayer
Dawn Wilson and her husband Bob live in Southern California. They have two married sons and three granddaughters. Dawn assists author and radio host Nancy DeMoss Wolgemuth with research and works with various departments at Revive Our Hearts. She is the founder and director of Heart Choices Today, publishes Upgrade with Dawn, and writes for Crosswalk.com and Christianity.com. Dawn also travels with her husband in ministry with Pacesetter Global Outreach.
Photo Credit: Getty/Javier Art Photography