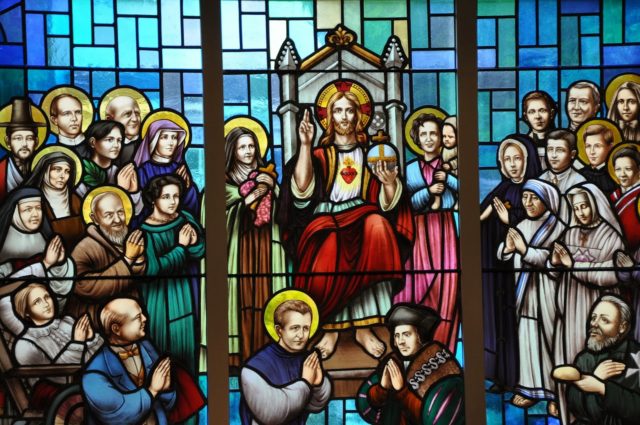 Any informed, English-speaking Catholic will tell you that the Church says it's both permissible and beneficial to pray to the saints.
But is he right? Is that what the Church actually says?
The answer is not what you might expect.
Discussions with Protestants
The topic of "praying to the saints" most commonly comes up in dialogue with Protestant Christians.
In the older branches of Christianity—Catholicism, Orthodoxy, and other forms of Eastern Christianity—it is common to ask the saints in heaven for their intercession.
However, in the 1500s, the emerging Protestant movement rejected this practice, and it is still widely rejected in Protestant circles today.
One key argument goes like this:
Prayer should be directed only to God.
The saints are not God.
Therefore, one should not pray to the saints.
The key premise in the argument is the first—that prayer should be directed only to God.
How might one support this?
A Biblical Argument
One way of supporting the premise would be to mount a biblical case, which might go something like this:
When we look in the Bible, we find that the word "pray" is used in connection with God rather than the saints.
We should model our language on the way the Bible uses language.
Therefore, we should use the word "pray" in connection with God rather than the saints.
One thing we need to be careful about when evaluating the first premise of this argument is what language we are talking about.
Just checking to see what an English translation for the word "pray" isn't enough. All that will tell you is how the English translators thought the word should be used, not how the biblical authors used the equivalent vocabulary.
We need to check the original languages—Hebrew, Aramaic, and Greek—to see what language the biblical authors used, and how.
To keep this post short(ish), we'll focus on the Greek. In biblical Greek, the main verb for "pray" is proseukhomai, which appears 102 times in the Greek Bible, and the equivalent noun for "prayer"—proseukhê—appears 61 times.
It so happens that in Greek, these words are used exclusively to refer to communication with God or the gods. They even have that meaning in the secular Greek of the period.
In this, the Greek is like contemporary American English, which also associates prayer exclusively with God or the gods.
The initial premise of this argument thus looks good!
What about the second? In other words . . .
How Closely Must Our Language Follow the Bible's?
In general, I think it's a good thing to model our language after the usages found in the Bible—at least when it comes to concepts related to the Christian faith.
I don't think we have any obligation to follow Greek usage on other terms.
For example, color terms often vary significantly from one language to another, and in dialects of ancient Greek, honey could be described as "green" (khlôros), but I don't think that creates an obligation for English-speakers to call honey green rather than yellow or golden.
However, it is generally a good idea to model the use of faith-related words to their biblical counterparts. Thus, we're fortunate that the English word "God/god" broadly corresponds to the Greek word theos (it corresponds less well to the Hebrew word elohim, which can refer to things we wouldn't call gods).
Despite my sympathy for the second premise, it has limits.
The fact that languages change over time is an unstoppable phenomenon, and even when Christians try to conform their usage to what's in the Bible, terms inevitably take on new usages over the centuries.
If we had to model our religious vocabulary strictly on biblical usage, one term we'd have to eliminate immediately is "Bible." The Greek term this is based on is biblion, which originally referred to a sheet of papyrus and then came to mean things like "letter," "document," and "scroll."
In no case did biblion mean what we refer to as "the Bible." That's a post-biblical usage.
Similarly, every theological community has developed religious vocabulary that differs from biblical usage in various ways.
Thus, in both Catholic and Protestant circles, the term "the elect" has taken on a theological meaning that refers to "those people who will be saved on the last day," despite the fact that this is not how the term is used in Scripture.
In Lutheran theology, the terms "Law" and "Gospel" have taken on technical meanings that differ significantly from the way these terms are used in Scripture. (To somewhat oversimplify, Law is conceived of as any divine command, while Gospel is understood as any divine promise; but in the New Testament the most prominent usage of "Law" is for the Mosaic Law or even the Old Testament more broadly, while "Gospel" is used for the message of what God has done through Jesus.)
One may regret that these usages have developed, but the fact is that they have—and that communities are using them.
Language change over time is inevitable. The question is what to do in response.
Avoiding Word Fights
On two occasions, St. Paul warns us against "quarreling about words":
Remind them of these things, and charge them before God not to quarrel about words, which does no good, but only ruins the hearers (2 Tim. 2:14).
If anyone teaches a different doctrine and does not agree with the sound words of our Lord Jesus Christ and the teaching that accords with godliness, he is puffed up with conceit and understands nothing. He has an unhealthy craving for controversy and for quarrels about words, which produce envy, dissension, slander, evil suspicions, and constant friction among people who are depraved in mind and deprived of the truth, imagining that godliness is a means of gain (1 Tim. 6:3-5)
For St. Paul, the most important thing is what is true, not the language that is used to express it.
Therefore, when a community of Christians has developed a theological usage that differs from the biblical usage, one should not fight about the terminology itself.
Complaining about an established usage is not going to change that usage. It's only going to generate heat rather than light.
Of course, it's fair to point out that the usage differs from what's in the Bible.
Pointing that out can actually be helpful! It can help people remember that they need to control for the fact their theological vocabulary is different and should not be read onto the biblical text.
But once the biblical text is correctly understood, we must allow each group of Christians to express that in the language that has become established in their community.
So what about English-speaking Catholics and "prayer to the saints"?
"Prayer" in English
Following the Norman conquest of England in 1066, numerous French words entered English, and one of them was what became "pray" in the early 1200s.
French is based on Latin, and so the term "pray" comes from Latin roots. Specifically, it comes from the verb precare.
Precare means things like "to ask," "to beg," "to implore," "to entreat," "to supplicate," etc.
In Latin, it is used in religious contexts—like when you're asking God or the gods for something—but it is also used when you're asking human beings for something.
Both usages carried over into English. Prior to the Protestant Reformation, English-speaking Christians would use "pray" to refer to making requests of God and of other human beings—including the saints.
In the latter case, what they were doing was asking the saints to intercede with God on their behalf—to serve as their "prayer partners" in heaven.
When the Reformation occurred, English-speaking Protestants objected to asking the saints for their intercession, and so the verb "pray" came to be more associated with requests directed to God.
In colloquial American English among Protestants, "pray" came to refer exclusively to speech directed toward God.
Still, the other usage survived in British English. If you read Shakespeare or watch period dramas set as late as the early 20th century, you'll see characters saying things to each other like, "I pray you," and all they mean is "I ask you."
So, if a young gentleman in a British drama says to a young lady, "I pray your hand in marriage," what it means is that he's asking her to marry him—not that he's worshipping her as a deity.
This is also where the word "prithee" comes from. It's a contraction of "I pray thee."
The human-directed usage even survives in American English in at least two contexts.
One is in legal settings. If you have a lawyer file a motion with a court, the motion will contain language that says, "My client prays that the court will do thus-and-so."
It doesn't mean that the client is worshipping the court. It means that he's asking the court to do something.
The other context in which the human-directed usage survives in American English is among Catholics.
They have simply retained a usage that was around before English-speaking Protestants started narrowing the verb to only God-directed communications.
Thus, it is natural for English-speaking Catholics to talk about "praying to the saints"—meaning asking for their intercession.
So, how should the two groups deal with this in conversation?
Back to the Word-Fight Issue
Per St. Paul's dictum, we should not fight about the usage of the English word "pray" and whether it should be associated only with God-directed communications.
Words mean what communities use them to mean, and the English-speaking community originally used "pray" to mean "ask," regardless of who was being asked.
Even though the Protestant influence on English has associated the verb exclusively with God-directed communication in many contexts, other established usages remain.
A Protestant might think it would be better for those to go away, but they remain for now, and spending time complaining about them will generate heat rather than light.
To generate light, we should recognize the different usages and what they mean and, having done that, talk about the underlying truths.
For example, a Protestant might say, "In my community, 'prayer' is a form of worship reserved to God. When you talk about praying to the saints, are you giving them more honor than they should have as human beings?"
Of course, an informed Catholic should say, "No, and here's why . . ." The discussion might then turn to what kind of honor human beings—especially saintly ones—should have.
Or, a Catholic might say, "In my community, 'praying to the saints' means asking them for their intercession. We teach that this is both permissible and beneficial."
And, rather than getting hung up on the word "pray," the discussion might then turn to whether it is permissible and beneficial to ask the saints for their intercession.
(As a side note, we also shouldn't quarrel about the word "saints." In various biblical and post-biblical usages, it can refer to the holy angels, to all Jews, to all Christians, to those Christians who are especially holy, to those Christians who are in heaven, and to those Christians who have been canonized as being in heaven. As before, we shouldn't fight about the usage of the word but correctly note which usage is being employed and continue the discussion on that basis.)
Responding to Our Two Initial Arguments
With all this in mind, we can respond to the two initial arguments that were made—and do so in a way that generates light rather than heat.
Concerning the biblical argument, it's true that the Greek term proseukhomai was used exclusively for God-directed communications, but that doesn't finally determine the way "pray" is used in English.
As a result, if you want to say—as in the first argument—that "Prayer should be directed only to God," you'll need to clarify what you mean by "prayer."
"Praying" to the saints is an established usage among English-speaking Catholics that means asking for their intercession.
The real question is not the term but whether it's permissible and beneficial to ask the saints for their intercession.
So much for discussions about the English verb "pray."
But there's a noteworthy fact that will surprise English-speakers, both Catholic and Protestant alike.
The Language the Catholic Church Actually Uses
This is the kind of thing that you won't notice unless you really live and breathe Church documents and think carefully about the language they do and don't use.
It took me a while to notice and then confirm it, but if you read the documents of the Catholic Church's Magisterium, they don't actually talk about "praying" to the saints.
Ever.
At least not in the documents that come from Rome. (I can't answer for every individual bishop and what he might write.)
To illustrate this, here's a screen cap of what you find when searching the Vatican web site for "prayer to the saints":

And here's what we find for "praying to the saints":

In both cases, we get no results. Zero.
It turns out that these expressions are used by English-speaking Catholics, but they are not used in official Church documents, and when those documents are translated into English, the translators are careful enough not to use colloquial English expressions like "prayer to the saints" or "praying to the saints."
So, what do they say instead?
One thing they do is speak of "the intercession of the saints," where the key Latin verb is intercedere ("to intercede").
Thus, in the sections of the Catechism of the Catholic Church that an English-speaking Catholic would turn to for information about "praying to the saints," you don't find that phrase. Instead, you find "intercession of the saints" (cf. CCC 956, 2683).
However, "intercession" refers to what they do for us. What language does the Church use for what we do with respect to them?
It speaks of "the invocation of the saints," where the key Latin verb is invocare ("to invoke," "to call upon," "to appeal to").
So, we invoke (appeal to) the saints to intercede (pray for us) with God.
That's the language the Church actually uses. "Praying to the saints" is just something we say colloquially in English.
A logical next question is: What term does the Church use in its official documents for when we talk to God?
The can be a number of them, but the key ones are the verb orare ("to speak," "to plead," "to supplicate," "to pray") and the noun oratio ("speech," "oration," "prayer"). These are the words you'll find if you look in the Latin edition of the Catechism in its section on prayer.
Interestingly, in Latin these terms don't have to be used just for communications directed to God, but they are often used that way—especially in ecclesiastical (i.e., church) Latin.
It's thus interesting that ecclesiastical language has a preferred set of terms for God-directed communications and a different set of terms for saint-directed communications.
In that respect, it's similar to Protestant American English.
One Last Thing About Word Fights
Given this, it could be tempting for some from the Protestant community to tell Catholics, "Hey! Your own Magisterium has a separate term for prayer that is directed to God and doesn't use 'prayer' with respect to the saints! You should change your usage to fit official ecclesiastical-speak!"
Except . . . if the Magisterium was concerned that this needed to happen, it would mandate the change, and it hasn't.
The Magisterium recognizes the organic way languages change over time, and—per St. Paul—it's not concerned about quarrelling over every linguistic usage.
The English "praying to the saints" is a historical usage with a long pedigree—going back to when the term "pray" first came into the English language, and the Vatican isn't concerned about it.
On the other hand, it's fair for Catholics—in discussing the overall issue with Protestants—to say, "You know, I understand why you might want to have a term for communications directed to God that's different from those directed to others. Both biblical Greek and ecclesiastical Latin have similar usages. English is different. 'To pray' originally just meant 'to ask,' and English-speaking Catholics have preserved this usage when it comes to the saints. But rather than quibble about English terminology, let's go to the real issue instead: Is it a good idea ask the saints in heaven to be our prayer partners? Let's not quarrel about words, which does no good, but only ruins the hearers (2 Tim. 2:14)."
Join Our Telegram Group : Salvation & Prosperity