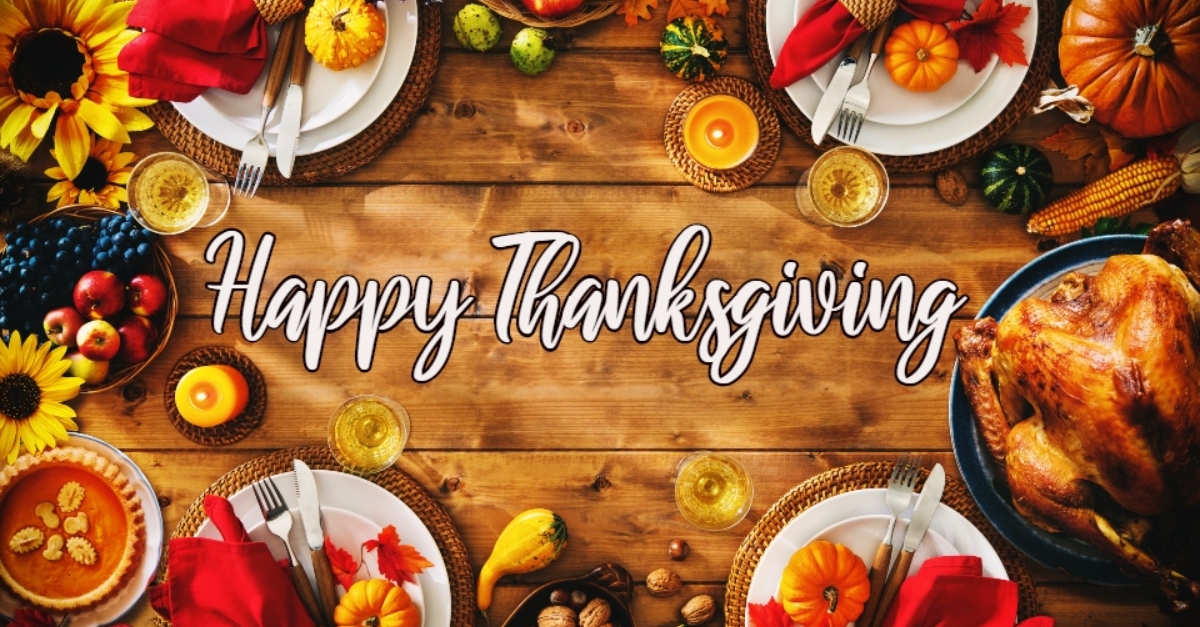 Thanksgiving Day is a national holiday in the United States, and Thanksgiving 2019 occurs on Thursday, November 28. However, Canadians celebrate Thanksgiving on a different date. In 1957, the Canadian Parliament proclaimed Thanksgiving to be the second Monday in October, which is called Columbus Day in the United States. For Christians, Thanksgiving not only has patriotic history, but it also has spiritual roots that go back to the Old Testament.
In the United States, Thanksgiving is historically a day to praise and thank God the Father for blessings and to ask Him to heal the wounds of the nation. It was also a national day of penitence to humbly repent for our sinfulness and disobedience.
Thanksgiving became a national holiday in 1863. During the Civil War, President Abraham Lincoln declared Thanksgiving "as a day of Thanksgiving and Praise to our beneficent Father who dwelleth in the Heavens. And I recommend to them that while offering up the ascriptions justly due to Him for such singular deliverances and blessings, they do also, with humble penitence for our national perverseness and disobedience, commend to His tender care all those who have become widows, orphans, mourners or sufferers in the lamentable civil strife in which we are unavoidably engaged, and fervently implore the interposition of the Almighty Hand to heal the wounds of the nation and to restore it as soon as may be consistent with the Divine purposes to the full enjoyment of peace, harmony, tranquility and Union."
The First Thanksgiving
Abraham Lincoln wasn't the first president to declare a national day of thanksgiving for the people of the United States. In 1789, George Washington proclaimed "a day of public thanksgiving and thanks" to thank God for his protection and as the source of all that is good. In his proclamation he wrote, "Now therefore I do recommend and assign Thursday the 26th day of November next to be devoted by the People of these States to the service of that great and glorious Being, who is the beneficent Author of all the good that was, that is, or that will be —That we may then all unite in rendering unto him our sincere and humble thanks — for his kind care and protection of the People of this Country previous to their becoming a Nation…"
The history of Thanksgiving in the United States is often traced back to 1621 when the Plymouth Colony settlers and the Wampanoag shared a meal celebrating the harvest. The celebration lasted for three days. Here's how settler Edward Winslow described their thankful hearts, "And although it be not always so plentiful, as it was at this time with us, yet by the goodness of God, we are so far from want, that we often wish you partakers of our plenty." The tradition of giving thanks continued spontaneously in the colonies.
Some historians link the pilgrims' Thanksgiving celebration to the holiday of Sukkot, also called the Feast of Tabernacles in Leviticus 23:33. Other scholars point out the Puritans' debate of having a fixed date to give thanks; instead, they would proclaim special days of prayer. While the link between Thanksgiving and Sukkot is uncertain, there is no doubt that God calls his people to give thanks.
A Thanksgiving Sacrifice
God set up a system for the Israelites to show their thankfulness through a specific thanksgiving sacrifice called a peace offering (Leviticus 7:11-15).
"And this is the law of the sacrifice of peace offerings that one may offer to the Lord. If he offers it for a thanksgiving, then he shall offer with the thanksgiving sacrifice unleavened loaves mixed with oil, unleavened wafers smeared with oil, and loaves of fine flour well mixed with oil. With the sacrifice of his peace offerings for thanksgiving he shall bring his offering with loaves of leavened bread."
The person who made this type of sacrifice was doubly blessed. First, he had a situation that caused him to want to give thanks to God, and second, he was able to celebrate the blessing by sharing a good meal with the priest and others.
"I will offer to you the sacrifice of thanksgiving and call on the name of the Lord." Psalm 116:17
Jesus taught His disciples to make sure they had been reconciled in their relationships before making a sacrifice.
"So if you are offering your gift at the altar and there remember that your brother has something against you, leave your gift there before the altar and go. First be reconciled to your brother, and then come and offer your gift." Matthew 5:23-24
Thanksgiving Allows Us to Give Praise and Thanks to God
"Enter His gates with thanksgiving, and His courts with praise! Give thanks to Him; bless His name! We give thanks to the Lord for His goodness and His love." Psalm 100:4
"Let us come into His presence with thanksgiving; let us make a joyful noise to Him with songs of praise!" Psalm 95:2
Our choice to give thanks should be based on God's name and His character — His righteousness, goodness, and love.
"I will give to the Lord the thanks due to His righteousness, and I will sing praise to the name of the Lord, the Most High." Psalm 7:17
God's steadfast love is the number one reason we should give thanks. "…'Give thanks to the Lord of hosts, for the Lord is good, for His steadfast love endures forever!' For I will restore the fortunes of the land as at first, says the Lord."
The phrase "Give thanks to the Lord, for He is good; for His steadfast love endures forever!" is found in six different verses (1 Chronicles 16:34, Psalm 107:1, Psalm 118:1, 29, Psalm 136:1, Jeremiah 33:11).
In case we missed how important this is, Psalm 136 repeats this three times:
Give thanks to the God of gods, for His steadfast love endures forever. 136:2
Give thanks to the Lord of lords, for His steadfast love endures forever. 136:3
Give thanks to the God of heaven, for His steadfast love endures forever. 136:26
"… I will give thanks to the Lord with my whole heart; I will recount all of your wonderful deeds." Psalm 9:1
"Praise the Lord! I will give thanks to the Lord with my whole heart, in the company of the upright, in the congregation. Psalm 111:1
"… O Lord my God, I will give thanks to you forever!" Psalm 30:12
"… will give thanks to you forever; from generation to generation we will recount your praise." Psalm 79:13
Thanksgiving Reminds Us to Be More Than Grateful
For many people, the Thanksgiving holiday is a time to be grateful. Interestingly, the word "grateful" is not in the King James Version of the Bible and listed only once in the New International Version (NIV) and the English Standard Version (ESV). Similarly, "gratitude" is only listed a couple of times in the NIV and once in the ESV.
What's wrong with being grateful? Gratitude is an attitude. Giving thanks is an action. Gratitude appreciates the blessings in one's life, but on its own, it is insufficient. Christians are called to be doers of the word (James 1:22). We have to go beyond being grateful and be intentional about giving thanks.
The Bible commands us to give thanks. "Give Thanks" appears in the Bible over 128 times in 62 verses. In the majority of these verses, "Give thanks" is an imperative. As believers, we are to actively give thanks to God for who He is and the great things He has done.
The command to give thanks is not based on our circumstances but on who God is. We are to thank God in anticipation of what He can do.
"Rejoice always, pray without ceasing, and give thanks in all circumstances; for this is the will of God in Christ Jesus for you." 1 Thessalonians 5:16-18
"Do not be anxious about anything, but in everything by prayer and supplication with thanksgiving let your requests be made known to God." Philippians 4:6
Thanksgiving Is a Response to God's Grace and Love
"…We give thanks, for your name is near. We recount your wondrous deeds." Psalm 75:1
"… Proclaiming thanksgiving aloud, and telling all your wondrous deeds." Psalm 26:7
"Let there be no filthiness nor foolish talk nor crude joking, which are out of place, but instead let there be thanksgiving." Ephesian 5:4
"… as grace extends to more and more people it may increase thanksgiving, to the glory of God." 2 Corinthians 4:15
"Say also: "Save us, O God of our salvation, and gather and deliver us from among the nations, that we may give thanks to your holy name and glory in your praise." 1 Chronicles 16:35
"We ought always to give thanks to God for you, brothers, as is right, because your faith is growing abundantly, and the love of every one of you for one another is increasing." 2 Thessalonians 1:3
Christian Meaning and Significance on Thanksgiving
As Christians, we can reclaim Thanksgiving — rather than just being a day where we eat too much and strategize our Black Friday sales plan of attack — we can go back to our historical and spiritual roots as we give thanks to God. We can follow Abraham Lincoln's example by repenting and asking for God's forgiveness for our personal sins and our nation's perverseness. We should seek to reconcile with others and apologize for the harm we have caused. Our actions should reflect our grateful hearts. We should thank God for the people that are in our lives. We can acknowledge God's blessings as we enjoy a meal with friends and family. We can share the grace that God has given us by serving the homeless or inviting people who have no place to go on Thanksgiving
Just having an attitude of gratefulness is not enough. We need to say "thank you" to God for the kind and wonderful things He has done for us. When we give thanks to God for the good things in our lives, we are honoring His provision, protection, and steadfast love. Saying "thank you" by praising Him, worshiping Him and honoring Him for what He has done for us is an appropriate response to God's kindness.
"We give thanks to you, Lord God Almighty, who is and who was, for you have taken your great power and begun to reign." Revelation 11:17
Sources
https://www.history.com/topics/thanksgiving/history-of-thanksgiving
https://obamawhitehouse.archives.gov/sites/default/files/docs/transcript_for_george_washington_thanksgiving_proclamation_1789.pdf
http://www.abrahamlincolnonline.org/lincoln/speeches/thanks.htm
https://www.jns.org/did-sukkot-help-shape-thanksgiving/
© iStock/Getty Images Plus/AlexRaths
---
Penny Noyes, M.Ed. is the author of Embracing Change – Learning to Trust God from the Women of the Bible and two books about Hezekiah. You can follow Penny on her blog and on Instagram @pennynoyes.