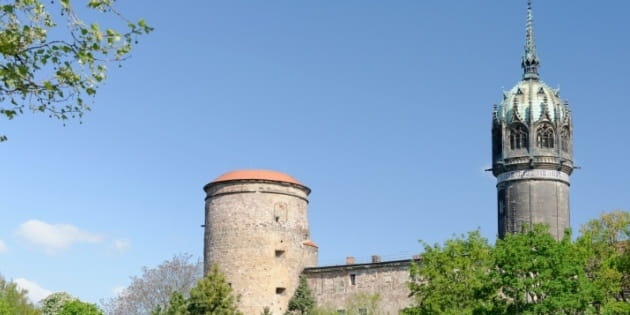 All too often, the textbooks focus solely on the men of the Reformation—Luther, Calvin, Cranmer, and others—and fail to take notice of the faithful women who served among, beside, and with the Reformers.
These women were dedicated to the gospel of Jesus Christ, some to the point of martyrdom. Many of these women were well-educated, especially by the standard of their time. They read theology books, especially the Bible, and anything they could get their hands on from the reformers. Their inner circles of friends were part of long and frequent Bible studies. Most were wives and mothers. Some were also authors, apologists, ex-nuns, and queens. All were faithful servants of Jesus.
GERMANY
Katherine von Bora was a former nun who married Martin Luther. They were married for 21 years and had six children. Her quick tongue, humor, and stubbornness matched Martin's—no small feat. She managed their home (which was frequently full of students), had a large garden and livestock, fished and farmed, and ran a brewery. She also managed their money and took care of their extended household. Martin called her "My Lord Katie."
Katharina Schutz Zell was married to Matthew Zell of Strasbourg and ministered as a team with her husband. She developed women's ministries and published a book of Psalms for women to sing. She took a leading role in organizing relief for 150 men exiled from their town for their faith, and wrote scriptural encouragements to the wives and children left behind. During the Peasants' War, she organized Strasbourg to deal with 3,000 refugees for a period of six months.
Ursula von Münsterberg (1491? – 1534) was the granddaughter of King Georg Podiebrad of Bohemia. Ursala was a nun at a convent in Freiberg, Saxony. She spearheaded an effort to bring in a chaplain who was familiar with Luther and had Luther's books smuggled into the convent. Because of this, she was forced to flee her convent in 1529, after which she stayed with the Luther family.
Argula von Grumbach was a Bavarian noblewoman who vigorously challenged the faculty of the University of Ingolstadt to debate her reformed views. Her letters were widely published.
Anna Rhegius was born in Augsburg in 1505. She had a good education, which included the study of Hebrew, enabling her to discuss biblical writings in great depth.
Elisabeth von Braunschweig married at age 15. After being married for ten years, her mother visited Elisabeth and invited a Lutheran pastor to preach. Within a year, Elisabeth converted and resolved to raise her son as a Lutheran. After the death of her husband she wrote a book attempting to console widows, helping them through the grieving process.
Elisabeth Cruciger was from Pomerania and spent time at the convent in Treptow on Rega. She left the convent in 1522 or 1523 and married Caspar Cruciger in 1524, which marked the first official Protestant wedding. A friend of Katie Luther's, Elizabeth was involved in theological discussions at the Luthers' "table talks" and with Philip Melanchthon, who considered her to be a bright woman. She wrote the first Protestant hymn in 1524, which created a controversy since women were not usually songwriters in her day.
FRANCE & THE LOW COUNTRIES
Jeanne d'Albret was the Queen of Navarre and an influential leader of the Huguenot movement in France. She invited Reformed preachers to speak in her land and publicly declared her adherence to Calvinismin 1560; however, she made it clear that she followed "Beza, Calvin, and others only insofar as they follow Scripture." She attempted to bridge the divide between Catholics and Protestants and tried to bring peace as wars began to break out. In fact, while a Protestant, she continued to allow the Mass to take place in her land, refusing to punish Catholics who did not convert to Protestantism.
Idelette de Bure was a widow with three children when she married John Calvin. One child of theirs died while an infant and she miscarried another. In the process, Calvin, who spoke little of his married life, was deeply touched. Their relationship softened his heart deeply.
Marie Dentière (c. 1495-1561) was of Flemish descent from a family of minor nobility. She was part of an Augustinian monastery in Tournai, which she later left after embracing the teachings of the reformers, a crime against both church and state. She fled to Strasbourg and married Simon Robert, who had had been a priest in Tournai, becoming his assistant in their goal of spreading the reform to the area to the east of Geneva. After her husband's death she married Antione Froment, a follower of reformer William Farel. Marie wrote an anonymous pamphlet intended to convince the Genevans of God's intentions for their city. She also spoke out in public taverns and on street corners. It was a success as Geneva eventually became a Protestant republic. She also wrote a book recounting the history of the Geneva reformation.
ENGLAND
Jane Grey wrote letters to the reformer Heinrich Bullinger at age 14. As queen, Jane fought off intense efforts to convert her to Rome when she was 16. She resisted those efforts with theological reasoning and biblical teaching against a professor of theology twice her age.
Catherine Willoughby became the duchess of Suffolk in 1533 and was related to Jane Grey. She protected the preacher-bishop Hugh Latimer from persecution until things became so unbearable for her that, to save her life, she fled to the Netherlands with her infant. She was forced into exile as a supporter of the Reformation.
ITALY
Olimpia Fulvia Morata was an Italian scholar born in Ferrera as the oldest child of a humanist scholar, who, after being forced to flee his city to northern Italy, lectured on the teachings of Calvin and Luther. Olimpia flourished in her studies, especially in Latin and Greek, exhibiting impeccable scholarship. She wrote Latin dialogues, Greek poems, and letters to both scholars (in Latin) and less educated women (in Italian). In her "Dialogue between Theophilia and Philotima," she encouraged those who feared that their gross sins obstructed their way to God:
• Don't be afraid … No odor of sinners can be so foul that its force cannot be broken and weakened by the sweetest odor that flows from the death of Christ, which alone God can perfume. Therefore seek Christ
All of these women longed to see the Reformation triumph, and the good news of the gospel overcome opposition both within the church and outside it. They served with patience, perseverance, and courage. They were not just observers of the Reformation, but they were also participants. Moreover, each was used mightily by God to maintain the integrity of his church and redeem a fallen humanity.

Justin Holcomb is an Episcopal priest and theology professor at Reformed Theological Seminary and Gordon-Conwell Theological Seminary. He wrote On the Grace of God, Know the Creeds and Councils, and Know the Heretics. Justin also co-authored with his wife, Lindsey, Is It My Fault? and Rid of My Disgrace. You can find him on Facebook, Twitter, and at JustinHolcomb.com.
Further Reading:
• Women and the Reformation, by Kirsi Stjerna
• The "Women of the Reformation" series: In Germany and Italy, In France and England, and From Spain to Scandinavia, all by Roland Bainton
• Five Women of the English Reformation, by Paul F. M. Zahl