You don't need to travel deep into the cosmos to discover otherworldly sights. Here on Earth, curious travelers can find an abundance of strange natural attractions that appear to belong to another planet. Here are seven of the world's most bizarre landforms.
Catedral de Marmol – Patagonia, Chile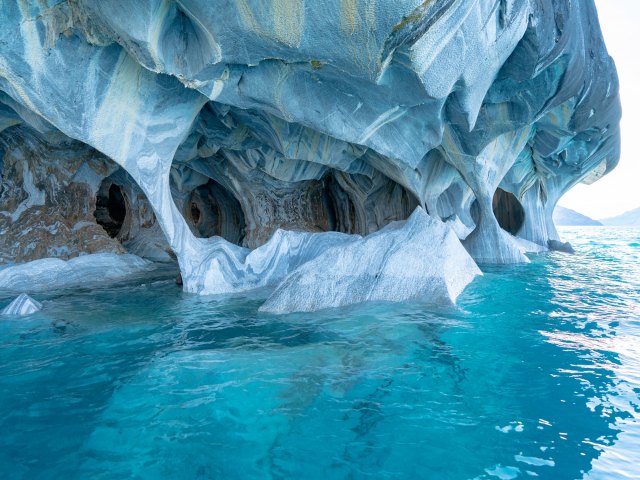 On the western shores of Chile's Lake General Carrera sits a natural wonder consisting of spellbinding caverns, sculpted pillars, and vaulted ceilings. Made of calcium carbonate, the Catedral de Marmol (Marble Cathedral) was carved over millennia by a reaction between the lake's waters, rocks, and glacier movement. In the morning, the caverns give off a celestial blue hue, the result of light reflecting off the lake's deep turquoise color. When water levels recede during winter, lower sections of the caves that are usually hidden come into view.
To experience the beauty and serenity of this natural cathedral, you'll need to hop on a boat or paddle a kayak. Tours depart from the lakeside town of Puerto Rio Tranquilo.
Chocolate Hills – Bohol Island, Philippines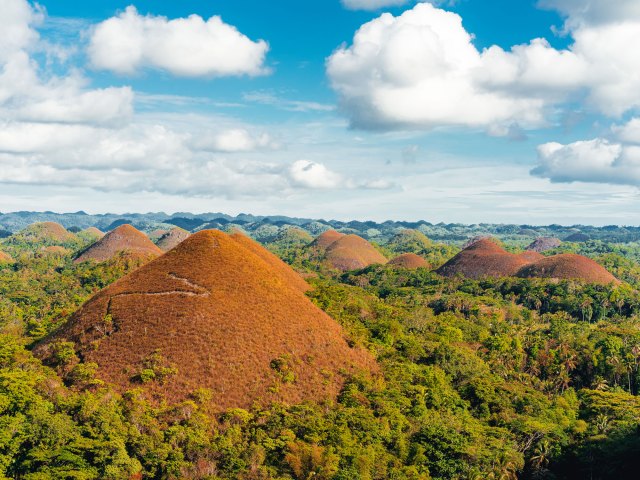 Spreading across the center of Bohol Island, the Chocolate Hills are certain to whet your appetite for adventure. There are estimated to be over 1,200 hills (or more) in this mystical Philippine landscape. Ranging in height from 100 to 395 feet, the hills are actually leftover limestone deposits from a period when the island's rivers flowed above sea level. At the end of the dry season (typically early May), the hills turn brown to resemble oversized truffles, hence their name.
A great place to observe the mounds is to climb the 214 steps to the Chocolate Hills Complex, located between the towns of Batuan and Carmen. At the top, visitors can contemplate the local legends surrounding their formation — one implies that the hills were formed during a brawl between two giants, while another claims that they are the tears of a giant pining for a love interest.
Dallol Volcano – Danakil Depression, Ethiopia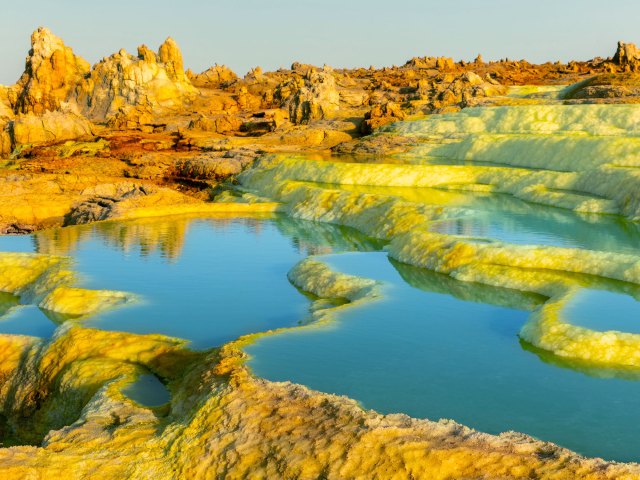 At first sight, you'd be forgiven for thinking that the psychedelic colors, acidic ponds, and hot springs of Dallol Volcano were part of a 1960s album cover. Located in a remote part of northeast Ethiopia, this is the world's lowest subaerial volcano discovered to date, extending 410 feet below sea level. With average daily temperatures exceeding 106 degrees Fahrenheit, it's also one of the hottest places on Earth.
The dramatic landscape is caused by an active volcanic area situated under miles-deep salt deposits. Supersaturated brine pushes through the hot springs, then evaporates to leave a kaleidoscope of salt formations. Guided excursions to Dallol are possible, although they aren't for the faint of heart due to the extreme climate and remote location.
Darvaza Gas Crater – Karakum Desert, Turkmenistan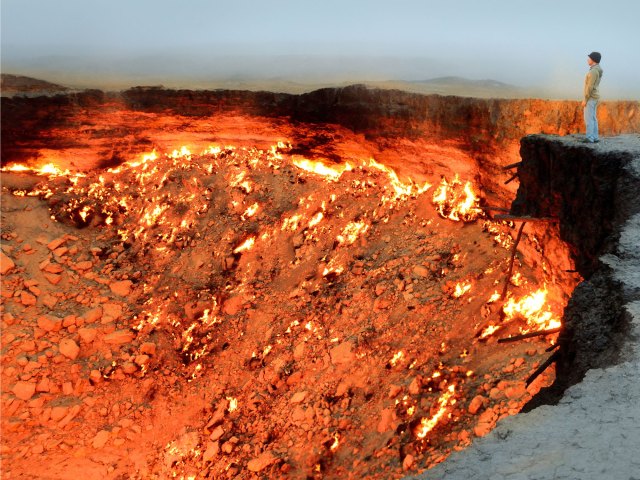 Journey into the heart of Turkmenistan's Karakum Desert, and you'll arrive at what locals like to call the "Door to Hell." Characterized by dancing flames and crackling fire, the Darvaza Gas Crater appears to be a portal into the netherworld. This 226-foot-wide and 98-foot-deep crater was created in 1971 when Soviet geologists arrived in search of gas and oil. They penetrated a subterranean cave, which quickly collapsed, swallowing their equipment with it.
What's left is an eerie depression with flames caused by natural gas escaping from the encircling rock. When the gas rises, it reacts with the oxygen in the atmosphere and bursts into flames. Incredibly, Canadian explorer George Kourounis successfully traversed and descended into the crater. While not recommended to the average tourist, camping at the edge of the phenomenon is allowed.
Fairy Chimneys – Cappadocia, Turkey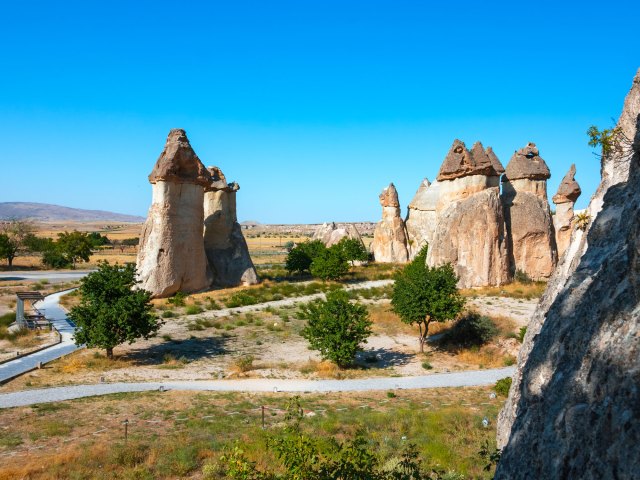 Turkey's semi-arid central region of Cappadocia is famous for its distinctive rock formations known as Fairy Chimneys. The rocks could be a movie set conjured up by Salvador Dalí and Walt Disney, but they are actually pillars eroded over centuries following volcanic eruptions.
This UNESCO World Heritage Site isn't just something spectacular to look at, either. During the Roman occupation, Christians escaped to the Cappadocian town of Göreme to take advantage of the chimneys' soft crust to build homes and churches. Soon, underground cave cities began to form in Derinkuyu and Kaymakli. Nowadays, it's even possible to sleep inside some of the chimneys. Alternatively, a Cappadocia hot air balloon ride promises an unparalleled bird's-eye view.
Giant's Causeway – County Antrim, Northern Ireland
Looking across the Atlantic Ocean from Northern Ireland's northern coastline, Giant's Causeway is a mesmerizing collection of some 40,000 hexagonal basalt columns. According to local legend, Irish giant Finn McCool made the causeway to cross the Irish Sea to face his Scottish rival, Benandonner. A competing legend, as detailed in an 1830 poem by Irish author Mary Anne, claims it was built for love rather than battle.
Scientific evidence, however, tells us that it appeared almost 60 million years ago, when Ireland was still connected to North America. As European lands began to break away from the Americas, huge rifts formed on Earth's surface. Cracks then appeared, through which flowed lava and molten rock. When the lava reached the sea, it cooled and turned into columns. Visitors to the UNESCO-protected site can walk across the columns, follow nature trails, and explore interactive exhibits at the visitor center.
Zhangye Danxia Landform Geological Park – Gansu Province, China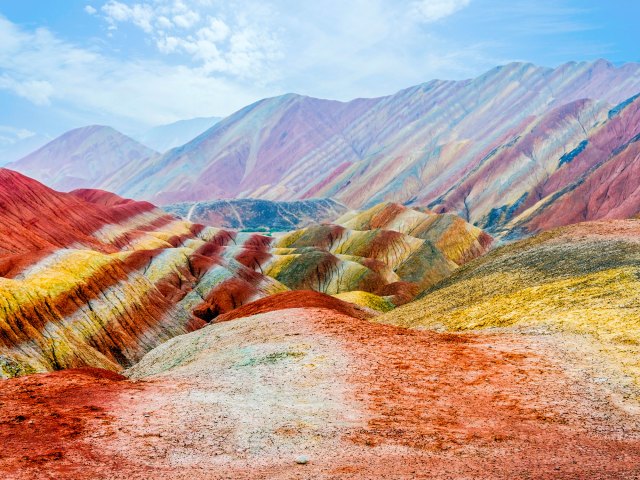 Often called the "Rainbow Mountains," this series of multicolored hills in China's Zhangye Danxia Landform Geological Park come in stunning shades of blues, greens, reds, and yellows. The mesmeric landforms are cretaceous sandstones and siltstones that appeared prior to the formation of the Himalayas. Their striking colors are the result of the iron and other trace minerals found within the sand and silt. Several million years ago, a collision between the Indian Plate and Eurasian plate forced the mountains upwards and thus exposed rock formations once hidden beneath the surface.
Appreciating the mountains is easy via a network of walking paths and viewing platforms. Visitors can admire curiously named mountains, like "A Dragon Playing with Fire", "Monkeys Rush into the Sea of Fire," and "Sleeping Beauty."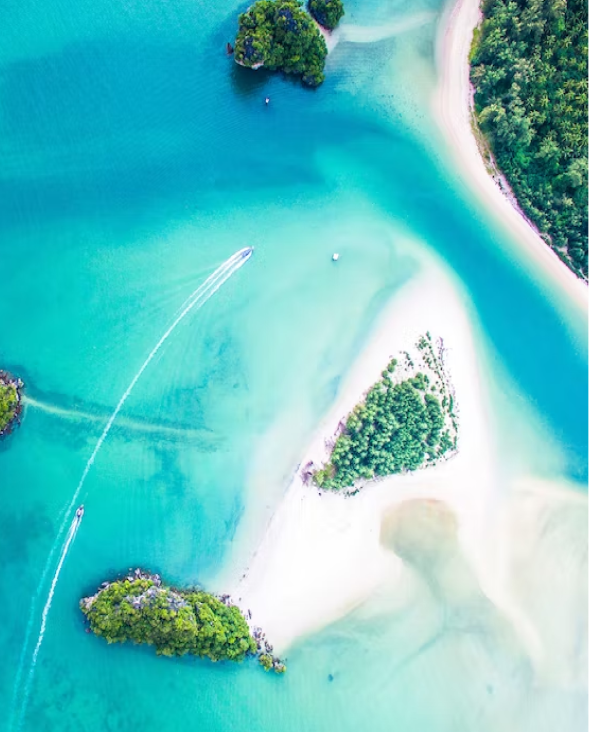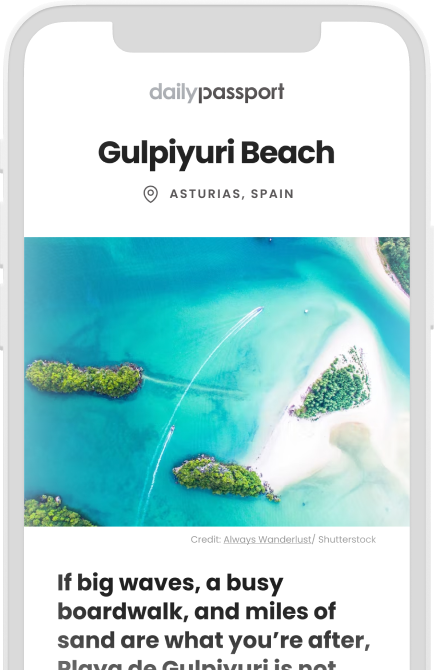 The world is waiting.
Daily Passport is your ticket to the four corners of the earth. Start exploring today.
By subscribing you are agreeing to our Privacy Policy and Terms of Use.
Services Marketplace – Listings, Bookings & Reviews