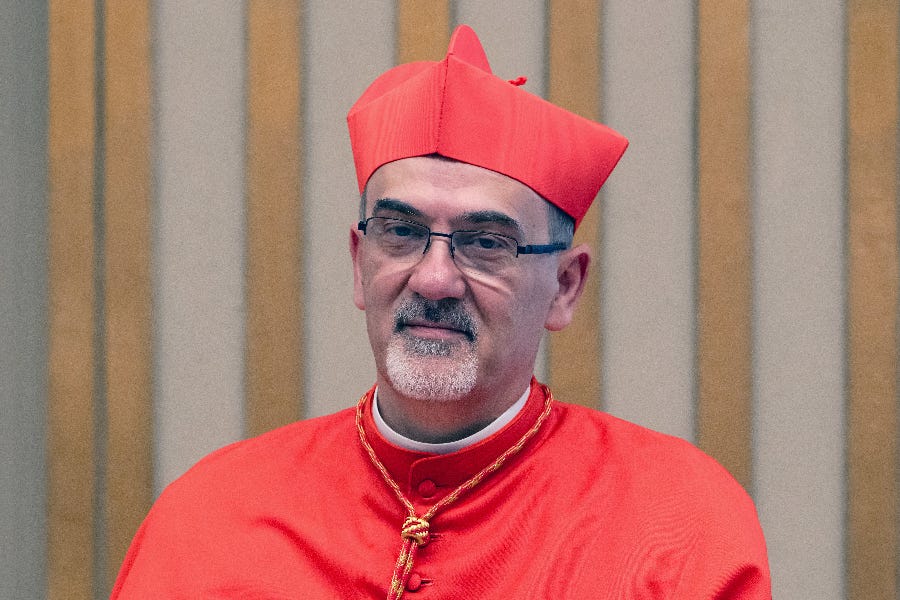 Skip to content
Cardinal Pierbattista Pizzaballa only received the red hat a couple of weeks ago. But he has already become arguably one of the world's most prominent cardinals.
His global visibility increased significantly Monday when he made one of the more striking proposals by a member of the College of Cardinals in recent memory.
The Latin Patriarch of Jerusalem, who serves Latin Rite Catholics in Cyprus, Jordan, Israel, and Palestine, said Oct. 16 that he was willing to be exchanged for Israeli hostages being held in Gaza by the Islamist group Hamas.
During an online briefing with journalists, he said: "If I am ready for an exchange? Anything, if this can lead to freedom and bring those children back home, no problem. On my part, absolute willingness."
The comment generated global headlines, raising his profile instantly both in the Catholic world and beyond.
But who is Cardinal Pizzaballa? Will his hostage exchange offer be accepted? And if not, what difference — if any — will his proposal make?
Who is he?
Pierbattista Pizzaballa was born in 1965 in Cologno al Serio, one of Italy's oldest towns, located in the northern province of Bergamo.
His Christian name is a combination of Piero (Peter) and Battista (Baptist). His surname is said to be specific to the Bergamo region. Sadly, it doesn't seem to be pizza-related. One source suggests it's derived from an archaic term in the Lombard dialect, meaning "someone who is talkative" or "sparks discussions."
At the age of 19, Pizzaballa received the habit of the Order of Friars Minor (Franciscans), making his solemn profession in 1989. He was ordained a priest a year later, by Cardinal Giacomo Biffi of Bologna, and transferred to Jerusalem, where he remained for the next three decades and counting.
Despite initially not knowing the local languages, he oversaw the publication of the Roman Missal in Hebrew just five years after his arrival. He was also the Latin Patriarch of Jerusalem's vicar general for the pastoral care of Hebrew-speaking Catholics in Israel.
In 1999, Pizzaballa formally began serving in the Custody of the Holy Land, the name given to the Franciscans' Jerusalem-based province. Only five years later, at the age of 39, he was appointed Custos of the Holy Land, the major superior of the Friars Minor in the Middle East. He held the post for 12 years, being reappointed twice.
At this point, Pope Francis began to show him considerable favor, naming him first as the apostolic administrator of the Latin Patriarchate of Jerusalem, following the retirement of Patriarch Fouad Twal. At the end of a four-year mandate as apostolic administrator, during which he overhauled the patriarchate's financial management, Pizzaballa was named the Latin Patriarch.
Earlier this month, at the age of 58 (still youthful in ecclesiastical terms), he received the red hat from Pope Francis, becoming the first resident cardinal in Jerusalem's history and the 10th-youngest member of the College of Cardinals.
What are the qualities that have propelled Pizzaballa through the Church hierarchy? Msgr. Tino Scotti, a Bergamo priest who served in the Vatican's Secretariat of State, described him as an "excellent person."
"He is not a flashy type, someone who seeks applause, but he is a fine and respectful man, an intellectual who has a great experience of the Middle Eastern world. Especially the Jewish one," Scotti told the newspaper Prima Bergamo.
"In Israel and Palestine, he is highly appreciated because he has always been up to par, both as Custos and as Patriarch."
While others see his ascent as an acknowledgment of his leadership skills, Pizzaballa himself sees his elevation as "a sign of attention from the Church of Rome toward the Mother Church, the Church of Jerusalem."
Will his offer be accepted?
Is Hamas likely to take up Pizzaballa's offer to be exchanged for children seized from southern Israel?
In the Times of Israel's view, the answer is no. "The offer is unlikely to be considered by Hamas," it said Oct. 16.
The newspaper did not suggest any reasons for its conclusion. One might be that the organization is bracing for an all-out war with Israel and therefore unable or unwilling to consider such an offer.
While Iran has suggested that Hamas would free the roughly 200 hostages in exchange for an end to Israeli airstrikes, it is unclear whether Hamas itself has set any conditions for their release.
In this uncertain and fast-moving situation, Pizzaballa's gesture may simply fail to register with Hamas.
Speaking to journalists Monday, the cardinal noted that neither he nor his office has had any direct contact with the group.
"You can't talk to Hamas. It is very difficult," he said, according to Reuters.
Will the offer make any difference?
While Pizzaballa's proposal is unlikely to be taken up by Hamas, it may be appreciated in Israel.
If so, that would be significant as Israeli diplomats have strongly criticized Pizzaballa for a statement issued on the day of the Hamas attack on Israel by the Patriarchs and Heads of the Churches in Jerusalem, an ecumenical body to which he belongs.
During Monday's briefing with journalists, Pizzaballa reportedly said he was not responsible for drafting the document, which helped to spark a crisis in Vatican-Israel relations.
"The Israeli foreign ministry is very irritated and I understand their reasoning," he commented.
His hostage exchange offer may perhaps contribute to easing tensions.
The diplomatic incident highlights the extremely sensitive conditions in which Pizzaballa operates as Latin Patriarch. That he is widely seen as the pope's representative in the Holy Land amplifies his remarks and means they have an impact on Vatican-Israel relations.
Despite this need to weigh his words, the cardinal remains more accessible to the media than many of his brethren — living up, perhaps, to the alleged etymology of his name as "someone who is talkative" or "sparks discussions."
What's next?
Pizzaballa's emergence as a major Catholic voice on the world stage is a notable development.
As the historian and commentator Massimo Faggioli wrote this week in a Commonweal essay, "The fact that the Patriarch of Jerusalem is now a cardinal means there will be a stronger relationship between Rome and Jerusalem, and more of a voice for the Church of Jerusalem in both Rome and the global Church."
Faggioli said that the Pizzaballa's emergence "couldn't have come at a more delicate moment" — not only because of the Israel-Hamas war but also because of a "shift in historical narratives" that could have a profound impact on Catholic-Jewish relations.
"Though the relationship between Jerusalem and Rome has become stronger, it's happened as the globalization of Catholicism has led to a shrinking of the 'Jewish prism' in the historical and theological understanding of Christianity," he wrote.
As the Latin Patriarch of Jerusalem, Pizzaballa will help to shape the Church's response to this epochal change, while overseeing a divided Catholic community in a global hotspot.
Pizzaballa occupies one of the most strenuous positions in the Catholic Church after that of pope. So, could he ultimately assume that role?
At his current age, he may be considered too young, although John Paul II was 58 when he was elected. Yet the Italian cardinal does have the advantage of being well known to churchmen around the world, many of whom will have met him during visits to the Holy Land (or Rome, where he is a regular visitor).
When the time comes, commentators are likely to be divided over whether his nationality is an asset or a disadvantage. The proportion of Italians among the cardinal electors has shrunk to only 12% under Pope Francis. But it is impossible to rule out that participants in a future conclave will favor an Italian renaissance.
All this is purely hypothetical, but what seems certain is that Pizzaballa is facing the greatest leadership challenge of his life — and when this crisis ends, others surely will be waiting for him.
Comments
7
Services Marketplace
–
Listings
,
Bookings
&
Reviews