"You lead me down the mountain, back into community with other people. May the Light of Your Presence continue to shine on me and make me a blessing to others."
– Jesus Listens, January 25th
---
There's something deeply comforting about a lifelong friend. They fit like a favorite sweatshirt: relaxed, familiar, and safe. Maybe you met when you both still had a lot of growing to do, so you did it together. You've supported each other through breakups and breakthroughs. You're long past the early days of building trust, explaining the backstory, or worrying about formalities. But as easy as seasoned friendships feel, we can't take them for granted—we can't treat them like old sweatshirts. Like all relationships, lifelong friendships need attention and care. Here are three ways to nurture lifelong friendships so they stay healthy for a lifetime:
1. Show grace and trust during seasons of change.
"I'm pregnant." My friend's voice on the phone sounded bewildered, almost apologetic. My feelings were a complex whirlwind: surprise and joy, envy and despair. My friend, who was still writing thank-you notes for her wedding gifts, hadn't planned to start a family yet—but God had other plans. Meanwhile, my husband and I had been begging God for a baby for ages. As we hung up the phone, my friend and I knew our friendship could feel different in the coming months. For the past ten years, we had walked through similar life experiences side by side. Now our paths were diverging; she was moving into motherhood while I was traveling further down the lonely road of infertility. We'd have to fight to remain close through the changes to come.
Just as we live through different seasons in life, so we live through different seasons in friendship. As life changes—and we change—the friendship's closeness may ebb and flow a little. Our individual challenges and joys may affect the friendship: one friend moves, and it's tough to stay connected; one enters a new life stage while the other feels left behind; one goes through a Big Hard Thing while the other is thriving. A sense of disconnection and doubt may creep in.
Insecurity may whisper, Can we make it through this? Is our friendship fading—or dying? But the friendship doesn't have to fade, and it definitely doesn't have to die. We can lean on Paul's wisdom in 1 Corinthians 13:7 NIV: "[Love] always protects, always trusts, always hopes, always perseveres." We protect our friendship by trusting our friend's heart and persevering in our devotion, hopeful that better, easier days are coming. This attitude leaves room for our friendship to renew its closeness in due time.
Speaking of due dates, three years after my friend's unexpected pregnancy, we both gave birth to baby girls one week apart. Our paths converged once more, and the grace and trust we had sown in the interim now allowed us to savor the most joyful of blessings—together.
2. Talk openly and forgive quickly.
"I need to share something I've been feeling." Because I am a peace-loving, sensitive soul (ahem, that's a fancy euphemism for "conflict avoider"), few words are more difficult for me to say—or hear. But sometimes they are necessary. In a long-term friendship, we're going to have a few hiccups and hurts. We may occasionally forget an important date. Give in to selfishness or irritation. Hurt each other's feelings. But none of those missteps have to be friendship-breakers.
When small hurts arise, I've found it helpful to remind myself, Three minutes now can save three hours later. While we don't need to be nitpicky and bring up every minor offense, some feelings need to be aired out. Unspoken hurts can create small fissures of mistrust. Over time, those fissures can widen into chasms of resentment. Many times, a simple conversation is all it takes to prevent further discord. Briefly acknowledging a mistake or misunderstanding can prevent small incidents from growing into larger conflicts.
Anytime we encounter conflict with a friend, let's embrace Peter's words: "Love covers over a multitude of sins" (1 Peter 4:8 NIV). We show love by apologizing thoroughly, forgiving generously, and moving on quickly. When we offer friends as much grace as we need, there's plenty to go around.
3. Don't keep score
I went all out for her birthday—why isn't she doing the same for me?
I initiated our last two get-togethers—now it's her turn!
Every lifelong friendship feels a little lopsided at times, with one friend giving a bit more than the other. That's normal, friendship is rarely fifty-fifty. Certainly, if you're in an imbalanced relationship where you're doing all the initiating and giving, the dynamic needs to change. But when you're in a healthy friendship, keeping score is detrimental. It creates a tit-for-tat relationship that becomes about duty and expectations instead of love and joy. In a healthy friendship, both friends give generously, without keeping score.
Grace and trust, forgiveness and generosity—if we nourish the soil of our friendships with these godly qualities, our friendships will continue to bloom, year after year.
And if the idea of lifelong friendships has you feeling wistful, wishing you'd kept up better with old friends, can I encourage you? It's never too late to make a new for-the-rest-of-your-life friend. I learned this truth from my effervescent grandmother Jane, who was always open to new friendships. When she was eighty-five, Grandma found new friends in a senior aerobics class, ladies she met with for coffee and laughs every week for the next decade—friendships she nurtured until she went to be with the Lord.
Friend, may your existing lifelong friends continue to thrive, and may your eyes—and heart—stay open to the new for-the-rest-of-your-life friends God has prepared for you.
---
About The Author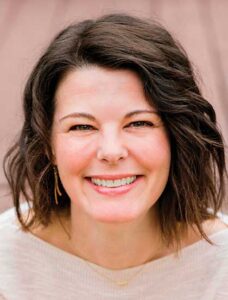 Elizabeth Laing Thompson is the author of many books for women and teens, including All the Feels, All the Feels for Teens, and the When God Says series. She writes at ElizabethLaingThompson.com about clinging to Christ through the chaos of daily life. As a speaker and novelist, Elizabeth loves finding humor in holiness and hope in heartache. She lives in North Carolina with her preacher husband and four spunky kids. Her new book, When a Friendship Falls Apart: Finding God's Path for Healing, Forgiveness, and (Maybe) Help Letting Go, releases in October 2023.
Services Marketplace – Listings, Bookings & Reviews