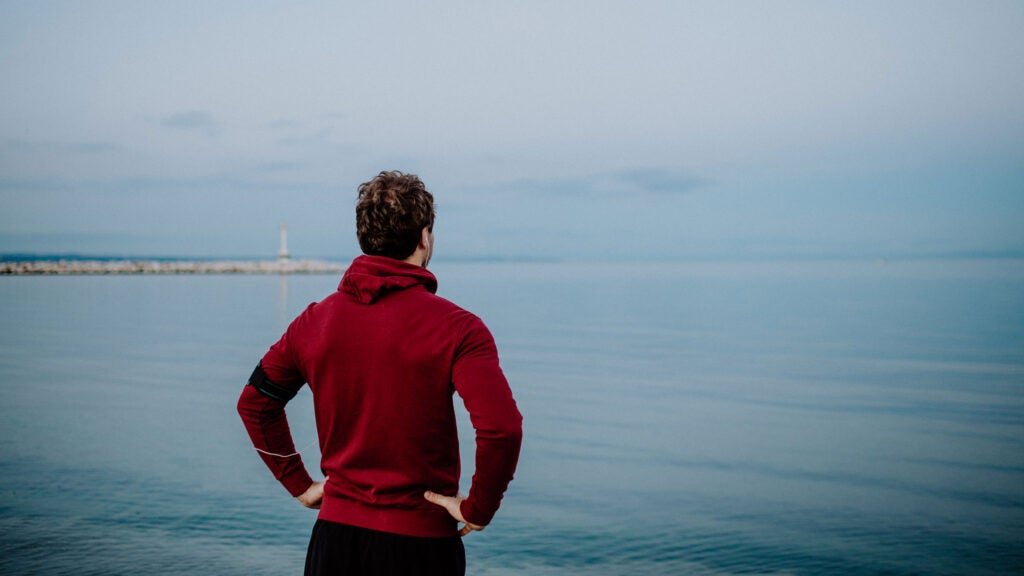 A few years ago, I was out on a run with a friend in New York. It was the first perfect day of the year—60 degrees, partly cloudy. The city seemed new again. As we jogged through the West Village, she suddenly came to a stop in front of a store window. "Let's go in!" she said. I was baffled. But we're in the middle of the run, I thought. How could we possibly interrupt this?
We spent a minute browsing the store and, guess what, the world didn't end. I still got my run in. That day, my friend taught me a lesson that I try to remember whenever I'm taking my sport a little too seriously: One of the great joys of running is that you can go anywhere. Why wouldn't you stop to enjoy all the stores, parks, cafes, and farmer's markets along the way?
As runners, we care about the sport. We track our mileage, time, and progress—and fret when a goal outstrides us. And, yes, there's a time and place for this structured take. Maybe we're training for a marathon or trying to clock a speedy 5K. But as these long, lustrous days of summer roll on, I'm calling for a free-spirited approach to lacing up. What if we used our precious running hours to see our cities, towns, and neighborhoods on foot? What if we acted as a running tourist?
How to Integrate Joy into Your Run
Summer is the perfect season to prioritize fun on your runs, says Jess Paris, a personal trainer and master tread instructor at SLT. "Heat and humidity can add extra stress and fatigue that makes it difficult to achieve pace or mileage goals," she explains. "The summer is a great time to take some pressure off those running goals and just enjoy the movement."
Lately, my boyfriend and I have been channeling this joie de running into our weekend mileage by sprinting to the ocean, jumping in, and jogging home. Sure, we're a little wet on the way back, but who cares? (Need I repeat, it's summer!) Paris has similar priorities. "I think it's a great idea to use your runs as a travel tool to a fun destination or to explore a new place," she says. "For example, there's an ice cream shop in my town that I used to run to with a friend to enjoy a cone and hang around town for a bit before running back."
Paris adds that the middle months of the year are also a great time to prioritize destination running—or taking a road trip and hitting the ground to scope out a new spot. "If you're on vacation, check out some running routes ahead of time to explore the local area or attractions," she says." Just make sure you're wearing the proper sneakers. For example, if you stumble across an unknown trail, you wouldn't want to be caught wearing road shoes.
Rest Is Always Necessary
As you enjoy your summer of casual running, remember that you still need to rest. "Too much of anything is not good, even if you're using running as a fun activity," Paris says. "At the end of the day, it's still exercise, movement, and exertion." Balance out your efforts with plenty of stretching.
Move through dynamic stretches, such as side lunges, before you take your first step, and static stretches, like a forward fold, as you're cooling down. "On the days when you're not running, focus on a restorative or cross-training activity like yoga, pilates, or strength training," Paris says. "All of those types of exercise will make you stronger and help you recover so that you can truly enjoy your fun runs injury-free."
I've been a runner for eight years now, and I still love every part of it—the manic excitement of race day, jogging the sidewalks of my quiet California neighborhood before the world (or, OK, the West Coast) awakes, and the breathless, post-speed run high. It feels like it will never get old. But, to be honest, I think these wandering summer runs are my favorite. There's something about them that lets you see your surroundings through fresh eyes. And, in this case, I get to see my own backyard anew.
As I was wrapping up writing this story, I couldn't help myself. I turned to my boyfriend —who was working just five feet away—and said, "Hey, want to run to Venice and watch the skateboarders on the boardwalk?" Next thing I knew, we were lacing up our sneakers.
5 Ideas for Stops Along Your Next Run
1. Jump into a body of water
Ocean, lake, pond, pool—whatever H2O you have access to, make sure you use it to cool down at least once on today's run.
2. Go to the farmers' market for a mid-run baked good
Refuel with a mid-run snack from the farmer's market. An incredible baker hangs out at my local spot, selling muffins, croissants, and scones. I love to grab one, digest for a few minutes in the sun, and then run home.
3. Browse a new boutique
Let's put an end to all the running window shopping, OK? I dare you to go in and actually poke around. If you're stinky, just give everyone a wide berth and (of course) don't try on any clothes.
4. Run to a local landmark that you've never visited (until now)
Maybe you've lived in your city for years, but still haven't visited the most famous landmark. Take this opportunity to run there, explore, then head home.
5. Catch your breath in your favorite park
Parks are essential to the "run, lounge, repeat" lifecycle I love. Find a greenspace near you and make your way there on foot. Once there, lay down, people watch, or read a book on your phone.
Services Marketplace – Listings, Bookings & Reviews