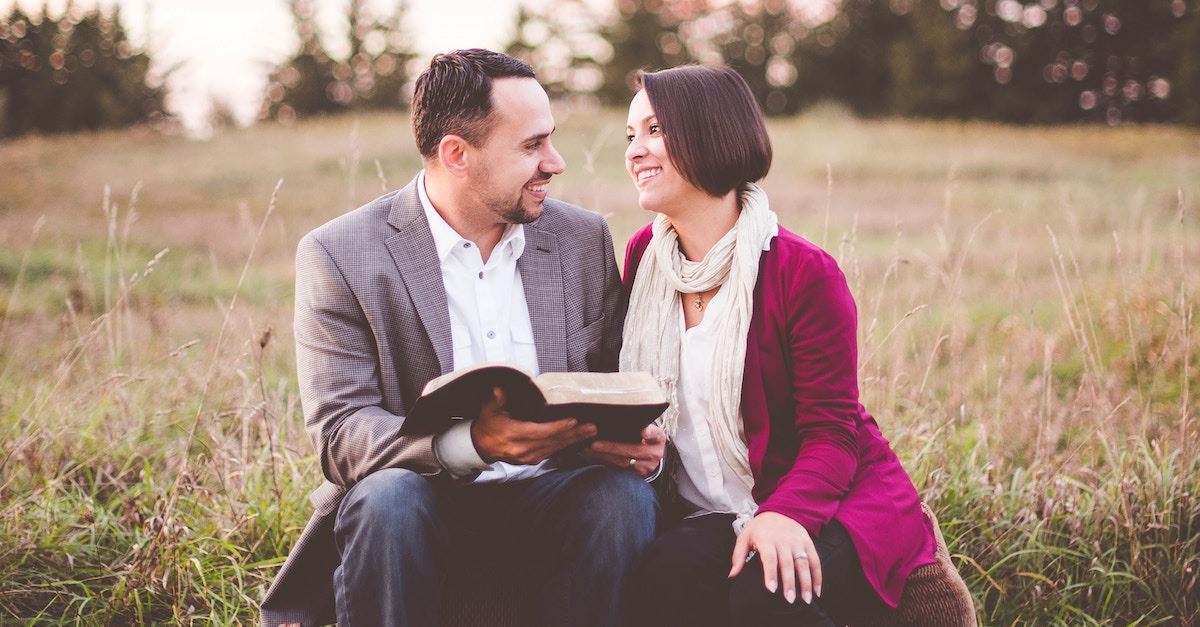 I'm a super busy husband and father of three. Sometimes I feel piled under with all the things on my plate. Praise God he's given my bride as a helpmate; my wife is a superstar! She helps in so many ways, yet, too often I either take it for granted, or – with the weight of everything else – I overlook shepherding and loving her well. This article is not just an admonition to other husbands; it's a reminder for me to prevent love amnesia towards my bride.
Husbands, don't let everything else crowd out love for your wife. Love her well in these three ways.
1. Love Her by Leading Her
When I say lead her, I'm talking about leading like Christ leads the Church.
Christ came into the world, making disciples, teaching them everything he knew, and unleashing them to do his work. He fed them the Word of God and explained it throughout his ministry. In the Gospel of Luke we see this from the onset to the end of his earthly ministry, from the point he returned from the wilderness temptation (Lk. 4:14-15) all the way until just before ascension (Lk. 24:45, 50).
Jesus is the archetypal husband, the one to whom men should look (Rev. 19:7). Just as he led and fed his future Bride, and still is doing so through the Word, a husband, likewise, must lead and feed his bride.
Do you open the Word with yours? Do you pray together? As a family do you come together in devotion and worship? Don't wait for Sunday? Have a little church in your home. When you study your Bible, think of how you might take those gleanings and gift them to your bride.
Then unleash your wife to do noble work just like Christ unleashed the Church. Unleash her to serve her family just like the wife of noble character in Proverbs 31:10-31.
2. Love Her by Serving Her Sacrificially
"Even as the Son of Man came not to be served but to serve, and to give his life as a ransom for many," is the argument Jesus gave to back his admonition that true greatness is found in service (Matt. 20:25-28). Do you want to be a great husband? Great husbands serve like Jesus, and they love sacrificially like Jesus. "Husbands, love your wives, as Christ loved the church and gave himself up for her" (Eph. 5:25). Who's your best friend? I hope it's your wife. Jesus says: "Greater love has no one than this, that someone lay down his life for his friends" (John 15:13).
Every day, through service and sacrifice, you should die a little bit for your wife. You should put to death your ambitions, your plans, and your purposes in order to look out for her holiness. That was the aim of Ephesians 5:25.
Look at the next verse: "That he might sanctify her" (Eph. 5:26a). Interestingly, serving your wife sacrificially not just sanctifies you. It sanctifies her! This action creates a sacred bond between you and your bride. It's not because of what you're doing for her but because of the union that your doing symbolizes about your relationship. It's a bond bound by sacrificial love.
Look for simple ways to serve and be sacrificial. Get off work early and pick up the kids for her. Do the dishes and clean up after dinner. Take the laundry basket out of her hand. You might want to ask her what are the things that would serve her most. Find out and then do those things joyfully.
3. Love Her by Affirming Her
A loving husband dotes on his bride, and God dotes on his. We see this in Isaiah 62:5, "For as a young man marries a young woman, so shall your sons marry you, and as the bridegroom rejoices over the bride, so shall your God rejoice over you."
Praise your wife and affirm her often. Proverbs 31:28 says this is what a husband does: "Her children rise up and call her blessed; her husband also, and he praises her." Children learn to praise their mother by watching their father praise his wife. Your affirmation teaches a legacy of love and affirmation.
Add to that affirmation healthy doses of affection. This includes thoughtful tokens and gifts along with physical affection. Bring her favorite beverage home when you return from work, bring flowers, leave a note of appreciation, and fill her cup with loving physical affection.
Unquenchable and Unfathomably Deep Love
I pray this Scripture often for my wife: "Many waters cannot quench love neither can floods drown it" (Songs 8:7a). That's the kind of love I wish to share with her: unquenchable and unfathomably deep love. You know what quenches love? A relationship devoid of leading, serving, and affirming turns the deep pool of love into a dry cistern. Make it your resolution to avert this tragedy by loving your wife well.
---
Joey Cochran, a ThM graduate of Dallas Seminary, is the church planting intern at Redeemer Fellowship in St. Charles, Illinois under the supervision of Pastor Joe Thorn. You can follow him at jtcochran.com (where this article originally appeared) or @joeycochran.
Photo credit: ©Unsplash/BenWhite