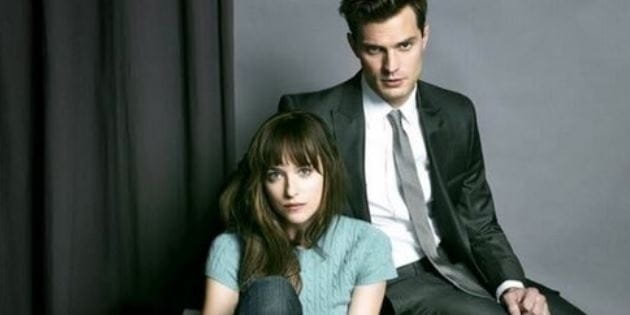 Over at our sister site, Crosswalk.com, Fridays mean movies. Today, several new reviews appeared on the site, as they do every weekend, of films opening in theaters across the country. It's a rare occurrence that we don't review a movie that gets a wide release – especially one everyone is talking about. But today you won't find an official review of the Fifty Shades of Grey film on our website. Here's why.
1. We don't want to watch it (and you can read about it elsewhere)
In order for us to run a review, a film must be watched by a Crosswalk reviewer or a member of our own editorial team. While we love watching movies and sharing our thoughts with you, this is not a movie we wanted to sit through (or even pay a professional movie-goer to sit through). Sometimes the MPAA warning tells you everything you need to know about whether you want to expose yourself to a film, and we knew this one was no exception.
Additionally, we recognize that there are an incredibly vast amount of internet resources at your disposal, for those of you who want to understand more about the film. Many of our own bloggers have been covering the film, including Dr. James Emery White, Paul Tautges, Brenda Rodgers, Melanie Moore, and our Editorial trending blog. Websites like Rotten Tomatoes give curious audience members dozens of reviews to read, content information, and cautions. And for anyone wanting the biblical perspective of someone who has watched the film, you can read the Plugged-In review (and Paul Asay's article on why they chose to review it).
2. Fifty Shades of Grey doesn't deserve our time and money
Sure, spending $10 on a movie ticket doesn't seem like much. But it does if you care deeply what you're supporting with that $10. As Christians and lovers of film, it's our desire to support media that enriches, edifies, and provokes. We try to be faithful stewards of the resources God has given us.
Ticket sales have been so high for Fifty Shades of Grey that two sequels have already been officially announced. Someday when we look back on the choices of today, we'll be glad we weren't a part of that. When we stand before God and our fellow man, we want to be proud of the projects we supported and the causes we spent money on. That's something we'll never be ashamed of.
3. Fifty Shades of Grey is not a piece of art to be critiqued
One very simple reason we're not reviewing this film is that there is no solid artistic foundation from which it stems. Everybody remembers Twilight, the controversial and problematic teen series about a girl who falls in love with a vampire. E.L. James, author of Fifty Shades of Grey, is a fan of Twilight and an avid reader of erotica. Sometime after Twilight, James (under the pseudonym Snowqueens Icedragon) wrote a pornographic fanfiction involving Twilight characters and called it Master of the Universe. Though many fanfiction creations are enjoyable and unique, this one was poorly written, featuring unrealistic characters, an almost nonexistent plot, and an obvious ignorance of many topics included in the story.
With apparently very little editing (as all of these negative qualities ended up in the final version) the fanfiction was later picked up for publishing and evolved into the 3-part Fifty Shades of Grey series. (Read here for a study comparing the published Fifty Shades work with the original Twilight fanfiction – and you'll see that diagnostics show an 89% similarity rate. Parental discretion advised, as the page does contain some language)
Even after the mild editing done to Master of the Universe, Fifty Shades of Grey still fell squarely into not the fiction, drama, or romance genre, but the "erotica" genre, one specifically featuring pornographic stories meant to arouse readers. Though there is no shortage of pornographic films in the world, we at Crosswalk don't cover such films or encourage our audience to watch them. And even though the Fifty Shades film underwent a lot of sanitizing in its conversion from book to screen (a realistic film adaptation would have been beyond NC-17) and the movie isn't an explicit pornography, there's no escaping the roots of the story.
4. Fifty Shades of Grey doesn't call abuse abuse
It takes very little research to realize that this glorified erotica is little more than a treatise on misogyny, manipulation, and abuse masquerading as a romance. Christian Grey,
regularly stalks Ana
tracks her cell phone without permission
manipulates her emotionally into giving him what he desires
gaslights her
explodes at her for using their "safe word" when she felt unsafe (and then again later for not using it)
purchases her place of employment so as to become her boss
coerces her into sexual practices she neither understands nor desires
routinely forbids her from seeing others, making phone calls, wearing certain items of clothing, and asking others for help or advice
Excerpts from the text include lines such as:
"No," I protest, trying to kick him off me.

[Christian] stops. "If you struggle, I'll tie your feet too. If you make a noise, Anastasia, I will gag you."
And
"Alaska is very cold and no place to run. I would find you. I can track your cell phone – remember?"
Instead of labelled "abusive," these traits are portrayed as aspects of Grey's "kinky" BDSM lifestyle. And because Christian and Ana end up married and "happy" by the end of the third installment, it becomes yet another story perpetuating the dangerous myth that women can "change" violent men. Many have latched onto the story as some sort of redemptive tale of a man trapped in darkness coming into the light. Unfortunately, the text clearly shows that Grey's abuse remains consistent throughout the series, and Ana remains an eerie portrait of a battered woman who believes that her issues are caused by her own stubbornness or inadequacy.
Christians and non-Christians alike should be outraged and baffled by the success and adoration of this series. Its harmful qualities vastly outweigh any potential good it might include, especially for Christians who believe that true love is patient, kind, not envious, and not harming.
Just because something calls itself something (like "love," "art," or "romance") doesn't make it so.
"Do not be surprised, my brothers, if the world hates you. We know that we have passed from death to life, because we love our brothers… This is how we know what love is: Jesus Christ laid down his life for us. And we ought to lay down our lives for our brothers… Dear children, let us not love with words or tongue but with actions and in truth" (1 John 3:13-18).
Debbie Holloway is the Family Life Editor at Crosswalk.com.
Publication date: February 13, 2015