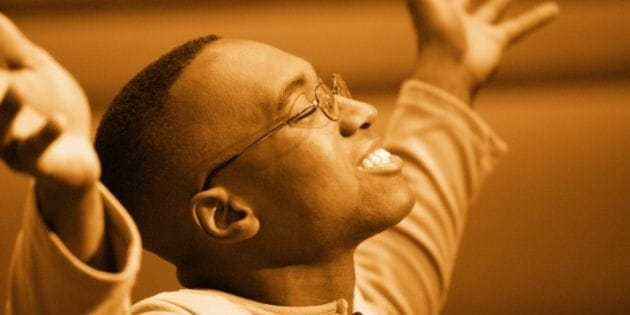 "Cast all your anxiety on Him because He cares for you."
(1 Peter 5:7)
That's Peter's direct and simple instruction to a church of "pilgrims" or "sojourners" scattered throughout the world, suffering persecution for righteousness' sake.
"Cast all your anxiety on him because he cares for you."
The Action
Cast all your anxiety. Anxiety is not meant to be held onto. It's not a treasure or a keep-sake. Anxiety is not a bosom friend or a comfort toy. Anxiety is an enemy. It's an enemy to a sober mind. It's an enemy to peace. It's an enemy to faith. Anxiety chews at the roots of the plant of faith and life until, having eaten away the root system completely, it leaves us like stalks stuffed into fertile soil but with no way of gathering nourishment and nutrients.
Dishonest Christians pretend their is no anxiety in life. They "keep a stiff upper lip" and don plastic masks. Inside they're twisted into a pretzel of worry, but their dishonesty and hypocrisy keeps them from telling others. The text simply assumes that faithful Christians living for the Lord Jesus will know anxiety in this world. All those who live godly lives in Christ Jesus will be persecuted. And that persecution will give rise to anxiety, worry, and fear.
But, we are to throw or cast anxiety away.
The Target
But we're not to throw our anxiety in any direction or at any target. How often do we make this mistake? We grow anxious, full of worry, doubt, and fear, so we hurl that anxiety in every direction and at every target in sight. We cast our anxieties on our families. We cast our anxieties on our friends. We cast our anxieties on our churches. We cast our anxiety on politicians. Indiscriminately casting our anxiety around only means we fill our world with more anxiety-producing people and circumstances.
The text says we are to cast our anxiety to One who is big enough to handle them. We are to cast our anxiety to One who can resolve them. There is only One who is big enough, wise enough, and powerful enough to handle all the anxieties of all God's people at once.
It is "Him." It is Jesus, the Lord, the Savior, the Shield of His people. We cast our anxiety to Him who is able to keep us from falling and to present us faultless before the throne of God. What peace would fill our homes, our workplaces, our churches if God's pilgrims all cast their anxiety to the resurrected King and let Him handle them?
The Reason
The reason we cast our care to Jesus is not just because He is big enough, strong enough, wise enough to handle them. For we can think of presidents, kings, potentates, rulers and people of authority who could give us some measure of peace, who could perhaps address many of our anxieties. And if the truth is told, don't we often seek care-free, anxiety-free lives from those around us we think can help?
But we're often frustrated when we do that because (a) we find the limits of their ability to help–they can't really settle our hearts; and (b) we find the limits of their motivation–they may or may not care anything about us, powerful though they are.
But here is the Savior, full of wisdom, power, and mercy, who also "loves us." We go to Jesus "because he cares for us." And may we never forget that no one cares for us the way Jesus cares for us. No one.
It is not true to say in our anxiety that "no one cares for us." There Jesus is, full of compassion, full of care, intimately aware of our sufferings and fully able to identify with us. There is our Great High Priest who ever lives to intercede for us, carrying our groaning and travails right to the Throne of Heaven, never slumbering, never sleeping.
How our anxieties lie! In a thousand voices with ten thousand sentences our anxiety whispers and yells, "You are alone; no one cares." Don't listen! You are not alone! You arenot abandoned! Jesus cares for His people. The Son of God cares for you!
The cross is the proof. "God demonstrated His own love for us in this: while we were still sinners, Christ died for us" (Rom. 5:8). "This is how we know what love is: Jesus Christ laid down His life for us" (1 John 3:16a).
So now there is an exchange of care. We cast all our cares upon Jesus, and He returns to us divine care and love. We give Him anxiety, He gives us peace. He does it because He cares for us.
We may live an anxiety-free Christian life. That is not to say we may live a life with no suffering or hardship. The people Peter wrote to were experiencing great suffering and struggling to understand it all. This word of comfort comes to the suffering and the worried, people with reason (humanly speaking) to be anxious. And it says simply, "Cast all your anxieties upon Him because He cares for you." Trade your worries for God's care through Christ.

Thabiti Anyabwile is Senior Pastor of First Baptist Church, Cayman Islands. Pastor Thabiti is the author of What Is a Healthy Church Member?, The Decline of African American Theology: From Biblical Faith to Cultural Captivity, and The Faithful Preacher: Recapturing the Vision of Three Pioneering African-American Pastors. He also blogs regularly at Pure Church.