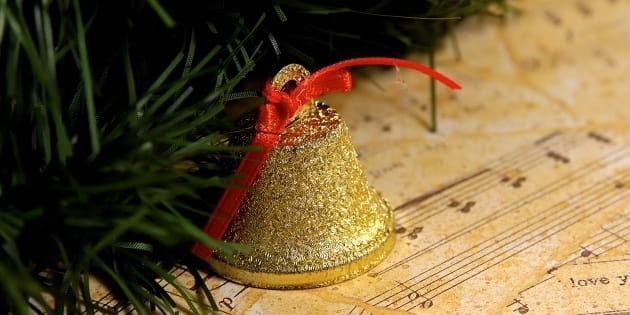 One of my U.S. history students recently asked me what my favorite Christmas song was. There are many that I love, and I told him that I couldn't possibly choose just one, but as a historian—and a specialist on the American Civil War, particularly—I have always been deeply moved by I Heard the Bells on Christmas Day. In its original form it's not heard too much these days, although several contemporary Christian groups (Casting Crowns for example) have performed variations on it.
The carol is based on a poem written at the height of the Civil War by the renowned American poet Henry Wadsworth Longfellow. A native of Maine and long-time resident of Cambridge, Massachusetts, the fifty-six-year-old Longfellow was an American celebrity by that time, famous for works such as The Song of Hiawatha, The Courtship of Miles Standish, and most recently, Paul Revere's Ride. (At his death in 1884 he would become the first American to be memorialized by a bust in Poet's Corner in Westminster Abbey in London.) The glow of celebrity was offset by personal tragedy, however. In 1861 Longfellow's wife died in a fire, and in the fall of 1863 the poet's oldest son, Charles—a lieutenant in the Union Army—was severely wounded in fighting in northern Virginia. Still mourning for his wife, and far from certain of his son's recovery, Longfellow sat down at his desk on Christmas morning, 1863, and penned a seven-stanza poem he called "The Christmas Bells." Seven years later his poem would be set to music, although in its carol version several of the original verses are rarely sung.
"The Christmas Bells" opens with the now familiar passage from which the carol takes its name:
I heard the bells on Christmas day

Their old familiar carols play,

And wild and sweet the words repeat

Of peace on earth, good- will to men!
In verses 2-3 the poet reflects on how the angels' message would repeatedly resound around the globe as the "world revolved from night to day." But then in verses 4-5 the chaos and heartache of contemporary events crashes in. Few modern hymnals include these verses, which refer directly to the war raging a few hundred miles away:
Then from each black, accursed mouth

The cannon thundered in the South,

And with the sound the carols drowned

Of peace on earth, good-will to men!
It was as if an earthquake rent

The hearthstones of a continent,

And made forlorn the households born

Of peace on earth, good-will to men!
In December 1863 the American Civil War had already lasted far longer and exacted a far greater price than almost anyone had anticipated two and a half years earlier. After the fall of Fort Sumter in April 1861, President Abraham Lincoln had issued a call for volunteers to serve for only ninety days, and yet northern newspapers had castigated the president for his pessimism. Everyone "knew" that the dust-up down South could not possibly last that long. Zeal and a heart-wrenching naivete were the order of the day, and all across the land young men donned uniforms of blue and gray and rushed to the front, fearing that the war would be over before they could experience its glory.
Thirty-two months later all such innocence was gone, bloodily obliterated on battlefields with names like Bull Run, Shiloh, Antietam, Gettysburg, and Chickamauga. Each casualty statistic on a regimental return represented a husband, son, brother, father, or friend and—as Longfellow knew from experience—a household "made forlorn." The poet's anguish in verse 6 is palpable:
And in despair I bowed my head

"There is no peace on earth," I said,

"For hate is strong and mocks the song

Of peace on earth, good will to men!"
But the poem doesn't end there, of course. In the poem's seventh and final verse, Henry Wadsworth Longfellow preaches the gospel to himself—and to us:
Then pealed the bells more loud and deep:

"God is not dead, nor doth He sleep;

The Wrong shall fail, the Right prevail,

With peace on earth, good-will to men."
In these final lines we find not a cry born of wishful thinking, a blind insistence that all is right with the world when that is palpably untrue. We hear instead a faithful declaration from one who sees the reality of hatred and the pervasiveness of suffering and yet finds hope in a Redeemer who would leave the glory of heaven to dwell among us.
May that hope be ours this Christmas.

Robert Tracy McKenzie is professor and chair of the History Department at Wheaton College and president of the Conference on Faith and History, a national organization of Christian historians. He is the author of The First Thanksgiving: What the Real Story Tells Us about Loving God and Learning from History (IVP). McKenzie blogs at http://faithandamericanhistory.wordpress.com.