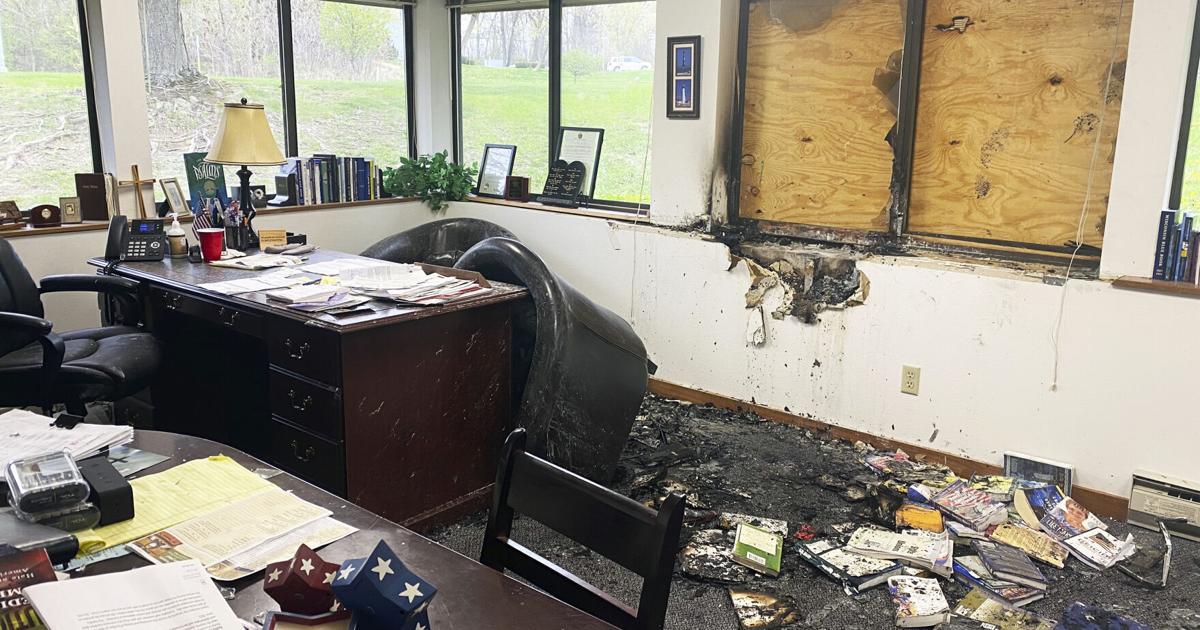 Hridindu Sankar Roychowdhury, 29, was arrested at Boston Logan International Airport with a one-way ticket to Guatemala City, according to Timothy M. O'Shea, U.S. attorney for the Western District of Wisconsin. Roychowdhury was charged with attempting to cause damage by means of an explosive.
He made an initial appearance in federal court in Boston on Tuesday, where U.S. Magistrate Judge Donald L. Cabell set a detention hearing for Thursday.
Roychowdhury's attorney, Brendan O. Kelley, who is listed in online court records as a federal public defender, declined comment when reached by phone by The Associated Press after Tuesday's hearing.
If convicted, Roychowdhury would face a minimum of five years in prison. The charge carries a maximum sentence of 20 years.
Prosecutors identified Roychowdhury with the help of DNA evidence found on a partially eaten burrito thrown away in a fast-food bag in March. Police had been tracking his movements on security cameras since January after tying two people, one of whom was later identified as Roychowdhury, to visually similar cursive-writing graffiti on the grounds of the state Capitol in January.
Madison Police Chief Shon Barnes said detectives were committed to finding the person responsible for the arson, even when tips and leads were limited.
"Their persistence is proof that hateful acts do not have a place in Madison," Barnes said in a statement Tuesday. "I applaud their work and want to thank our federal partners for all of their help leading up to this arrest."
Failed to ignite
In the early hours of May 8, 2022, someone attempted to throw a Molotov cocktail through the window of Wisconsin Family Action's office at 2801 International Lane near Dane County Regional Airport, authorities said at the time.
The improvised explosive failed to ignite, but a separate fire was started. The incident came days after a leaked U.S. Supreme Court decision that presaged the overturning of the landmark abortion case Roe v. Wade.
The outside of the building also was sprayed with graffiti depicting an anarchy symbol, a coded anti-police slogan and the phrase, "If abortions aren't safe then you aren't either."
In November, after six months with no arrests, Wisconsin Family Action President Juliane Appling questioned whether the Madison Police Department had slowed the pace of its investigation because of the group's anti-abortion stance. At the time, Madison police spokesperson Hunter Lisko said the department was working on the case with the FBI and the Bureau of Alcohol, Tobacco, Firearms and Explosives (ATF), and rushing the investigative process could potentially jeopardize future legal proceedings.
Appling did not immediately return a voicemail message Tuesday.
"I'm very proud of the tireless and determined efforts the combined federal, state and local team put in to identify and arrest this individual," ATF Special Agent in Charge William McCrary said. "I can assure you, our ATF Certified Fire Investigator invested long hours into this case. It is very satisfying to me to see that this alleged perpetrator has been placed in custody."
DNA and graffiti
According to an investigator's affidavit filed with a criminal complaint:
Roychowdhury was identified as a person of interest in March. Forensic biologists matched Roychowdhury's DNA, which was present on the Molotov cocktail, the cloth used in it and a lighter left at the scene in May 2022, to the DNA on the burrito and fast-food bag in mid-March.
Two months earlier, police noticed the similarity in the cursive-style handwriting featured in the Capitol graffiti, which said "We will get revenge," and the writing on the Wisconsin Family Action office building. While reviewing video footage from nearby parking ramps in an attempt to identify the two people seen on Capitol security cameras, police spotted them in the Tenney Plaza parking ramp and later leaving in a white Toyota pickup truck.
Police later tied the vehicle to Roychowdhury after running the rear license plate number, visible on parking ramp cameras, and linked it to his Madison residence.
In early March, police saw Roychowdhury park his truck in a park-and-ride lot on Madison's Southeast Side. Officers watched for about 15 minutes from 100 feet away as Roychowdhury sat alone in the truck. They then watched him get out of the truck to throw out a brown fast-food bag before driving out of the parking lot.
Police then retrieved the bag from the trash, which was the only thing that had been thrown away in the time police had been observing Roychowdhury. The discarded bag included a half-eaten burrito, which police swabbed for DNA, crumpled and used napkins and four unopened hot sauce packets, all of which were then shipped off the ATF lab.
Federal Election Commission records show Roychowdhury donated $27 to ActBlue, a software company that hosts fundraisers for Democratic political candidates and left-leaning causes, in 2020.
The Associated Press contributed to this report.
Fave 5: Reporter Lucas Robinson's top stories of 2022
For me, 2022 was a year full of investigative stories, the midterm election and of course, the Dane County Jail project.
Among the animal welfare accusations: a penguin that had been "decapitated" by a racoon, a hornbill eaten by meerkats and a capybara that died…
The first-term Democrat says lame-duck laws passed in 2018 have cost his office resources, which Republicans are now using to criticize him.
The investigation found a "hostile or unprofessional working environment" may have contributed to the suicide of another high-ranking civilian…
Dane County supervisors rejected a scaled-backed version of the jail pushed by its Black Caucus and criminal justice reform groups only to not…
"In this case, Dane County has failed to protect our youth from this ever happening to them," said one of David Henzie-Skogen's accusers.
#lee-rev-content { margin:0 -5px; } #lee-rev-content h3 { font-family: inherit!important; font-weight: 700!important; border-left: 8px solid var(–lee-blox-link-color); text-indent: 7px; font-size: 24px!important; line-height: 24px; } #lee-rev-content .rc-provider { font-family: inherit!important; } #lee-rev-content h4 { line-height: 24px!important; font-family: "serif-ds",Times,"Times New Roman",serif!important; margin-top: 10px!important; } @media (max-width: 991px) { #lee-rev-content h3 { font-size: 18px!important; line-height: 18px; } } #pu-email-form-crime-email-article { clear: both; background-color: #fff; color: #222; background-position: bottom; background-repeat: no-repeat; padding: 15px 0 20px; margin-bottom: 40px; border-top: 4px solid rgba(0,0,0,.8); border-bottom: 1px solid rgba(0,0,0,.2); display: none; } #pu-email-form-crime-email-article, #pu-email-form-crime-email-article p { font-family: -apple-system, BlinkMacSystemFont, "Segoe UI", Helvetica, Arial, sans-serif, "Apple Color Emoji", "Segoe UI Emoji", "Segoe UI Symbol"; } #pu-email-form-crime-email-article h2 { font-size: 24px; margin: 15px 0 5px 0; font-family: "serif-ds", Times, "Times New Roman", serif; } #pu-email-form-crime-email-article .lead { margin-bottom: 5px; } #pu-email-form-crime-email-article .email-desc { font-size: 16px; line-height: 20px; margin-bottom: 5px; opacity: 0.7; } #pu-email-form-crime-email-article form { padding: 10px 30px 5px 30px; } #pu-email-form-crime-email-article .disclaimer { opacity: 0.5; margin-bottom: 0; line-height: 100%; } #pu-email-form-crime-email-article .disclaimer a { color: #222; text-decoration: underline; } #pu-email-form-crime-email-article .email-hammer { border-bottom: 3px solid #222; opacity: .5; display: inline-block; padding: 0 10px 5px 10px; margin-bottom: -5px; font-size: 16px; } @media (max-width: 991px) { #pu-email-form-crime-email-article form { padding: 10px 0 5px 0; } } .grecaptcha-badge { visibility: hidden; }
Services Marketplace – Listings, Bookings & Reviews