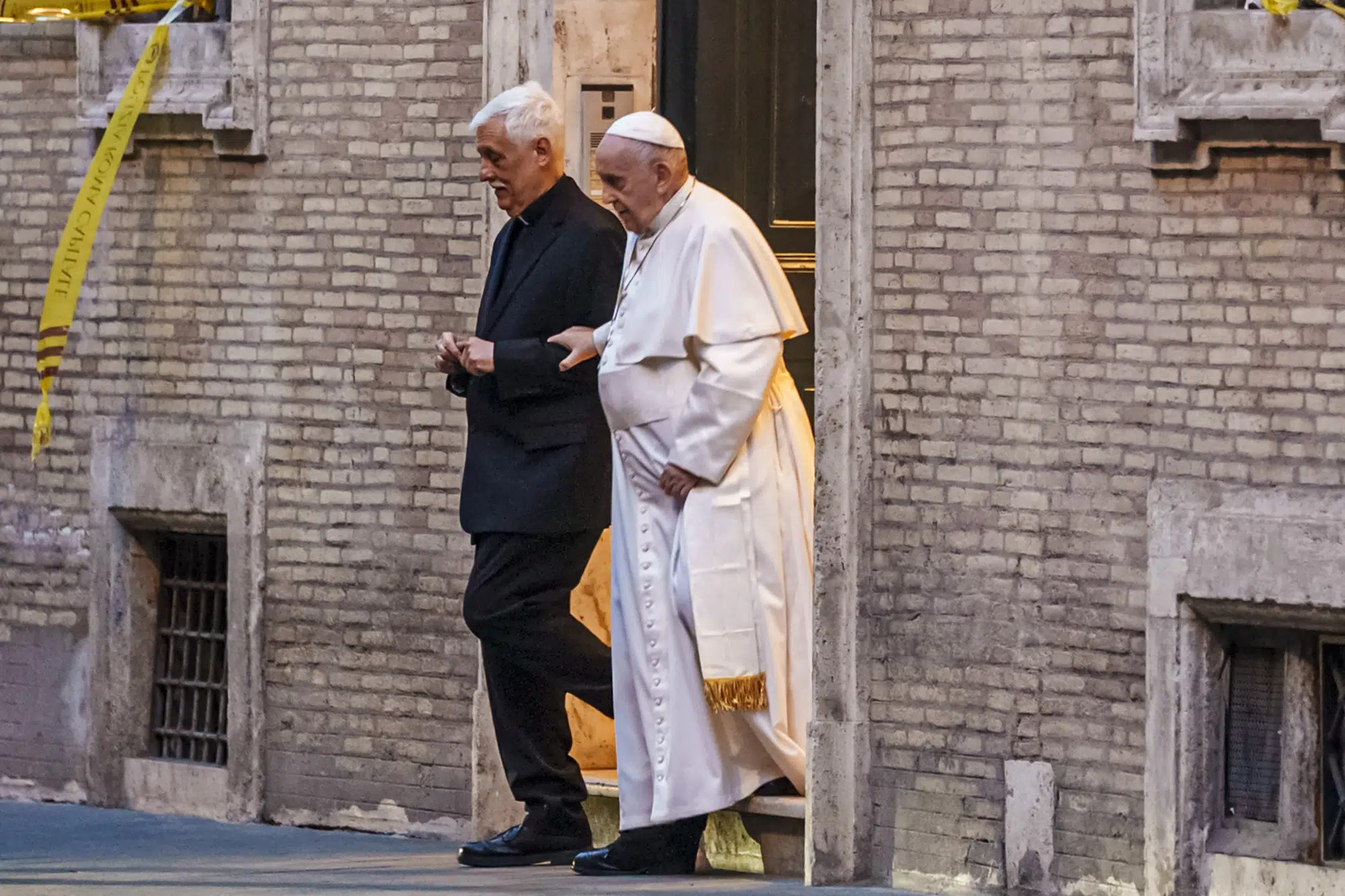 ROME (AP) — Pope Francis' Jesuit religious order has decided to prohibit a prominent Jesuit artist whose mosaics decorate churches around the globe from pursuing his artistic activity after 15 more people came forward with fresh accusations against him of spiritual, sexual and psychological abuse.
The Jesuits told The Associated Press that they are weighing further disciplinary measures against the Rev. Marko Ivan Rupnik following a third church investigation into allegations he used his exalted status as one of the Catholic Church's preeminent religious artists to manipulate adult women into sexual activity.
While defrocking technically remains an option, alternative measures could include removing him from the art community he founded in Rome and isolating him in a monk-like life of penance and prayer so he is no longer a threat to women, said Rupnik's superior, the Rev. Johan Verschueren.
"Naturally the first thing for me to be vigilant about is to do everything to prevent similar things from happening in the future," Verschueren said, adding that he nevertheless hoped that Rupnik would assume responsibility for his actions.
The Rupnik scandal exploded in December when Italian blogs and websites reported that consecrated women had complained for years about abuse only to have their claims discredited or covered up by Rupnik's superiors. The case has remained a problem for the Vatican and the Jesuits because of suspicions that the charismatic Slovene priest received preferential treatment by the Holy See, where a Jesuit pope reigns and Jesuit priests help run the sex abuse office.
Verschueren briefed AP and La Repubblica newspaper ahead of the release Tuesday of conclusions of a new investigation into Rupnik opened in December, after the Jesuits reluctantly admitted Rupnik had been declared excommunicated in 2020 for having committed one of the gravest crimes in church law — using the confessional to absolve a woman with whom he had engaged in sexual activity — but had repented and had the sanction quickly removed.
The next year, Rupnik was accused by nine women of having sexually, psychologically and spiritually abused them in the 1990s at a community he co-founded in Slovenia. Even though the Jesuits recommended a church trial, the Vatican's sex abuse office refused to waive the statute of limitations and declared the crimes too old to prosecute.
The outcome underscored how the Catholic hierarchy routinely refuses to consider spiritual and sexual abuse of adult women as a crime that must be punished, but rather a mere lapse of priestly chastity that can be forgiven, without considering the trauma it causes victims.
Amid the scandal, the Jesuits invited anyone with other claims against Rupnik to come forward and 15 people did: 14 women and one man, Verschueren told AP and La Repubblica. The Jesuits' investigative team determined their claims, which date from 1985-2018, were credible and confirmed a "pattern" of psychological, sexual and spiritual abuse, and abuse of conscience.
Based on the 15 new claims, Verschueren said he reaffirmed previous bans on hearing confessions or giving spiritual direction, and on leaving the Rome area without permission. But additionally, Rupnik will now be prohibited from exercising his artistic activity, Verschueren said, suggesting that his interactions with people in creating his mosaics became a source of abusive relationships.
"I only take measures when there are reasons for risk," he said.
Rupnik hasn't responded to the latest allegations: He hasn't responded to requests for interviews, declined to speak with the investigative team and Verschueren said his next task would be to meet with Rupnik to hear his side, insisting that he be given the right to defend himself.
Verschueren said he would decide on definitive disciplinary measures based on how Rupnik responds, expressing hope that he assumes responsibility for his actions and agrees to undergo psychological therapy.
"I believe, I hope we can still arrive at a process of finding the truth," he said. "Only when we enter into the truth with all those involved can we really resolve the problem — the problem of the victims and entering into a process of reparation with them, but also for him."
He acknowledged there are some who want Rupnik removed from the priesthood, given the serial nature of his abuse and more than two dozen victims already identified. But Verschueren noted that kicking Rupnik out of the Jesuits would remove all controls on him, increasing chances that he could continue to be a threat.
The new accusations don't concern sacramental abuse that would justify forwarding the case to the Vatican's sex abuse office, known as the Dicastery for the Doctrine of the Faith. Verschueren said he was "relieved" that the Dicastery wouldn't be involved, given its previous decision to not waive the statute of limitations on the 2021 case.
In a Jan. 24 interview with AP, Pope Francis acknowledged he always waives the statute of limitations for abuse of children cases, but not those involving adults. In that same interview, Francis denied he had anything to do with the Rupnik case other than to intervene on a procedural note.
In addition to the abuse investigation, a theologian was brought in to study Rupnik's writings and found some potentially "transgressive" problems with conferences Rupnik gave on sexuality in the 1980s and 1990s, Verschueren said.
"The theologian I consulted didn't want to call it a heresy, but said it gave an opening to legitimize certain actions that aren't correct," he said.
He denied Rupnik's art was irrevocably tainted, likening it to authors who write great books but are themselves flawed.
"I asked myself, Johan, is it hard to pray before these mosaics? My response is no," he said of Rupnik's chapel mosaics at the Jesuit headquarters. "In a way, I've been able to separate the art from the artist."
Services Marketplace – Listings, Bookings & Reviews