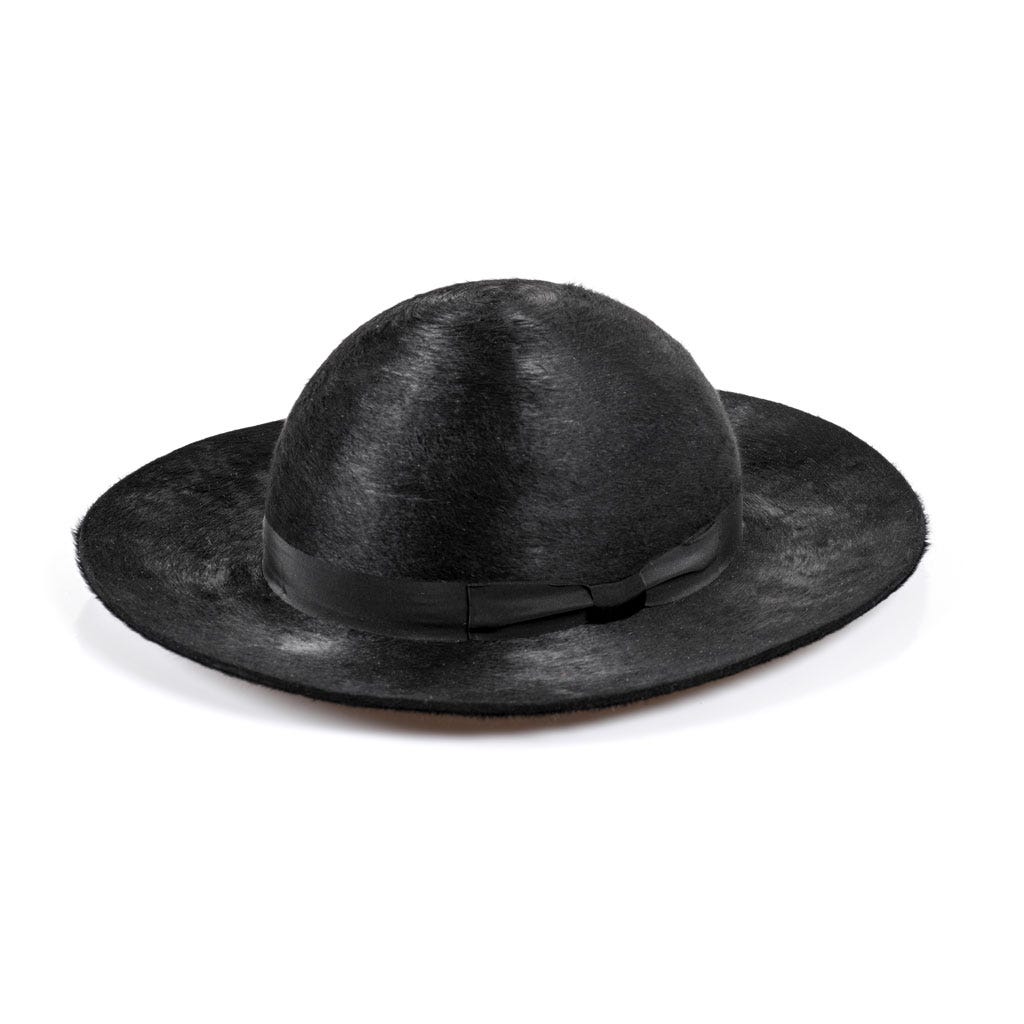 Skip to content
Happy Friday friends,
JD's in Rome this week and bringing us some seriously important reporting, which we'll get to presently. I'm back at my desk after a retreat, as I mentioned last Friday. And I'd like to start by saying a few things about that. It was a very fruitful three days for me, for my marriage, and by extension, for my family.
I'm grateful I was able to go, and I am thus grateful to JD for picking up the slack at the synod, and to all of you who sent me some deeply kind and often touchingly personal notes of encouragement — I prayed for you all while I was away.
As most of you know, self-disclosure isn't really my thing, and I have an aversion to too much "feelings talk." But I know too well that the community of readers and subscribers here at The Pillar made it possible for me to go on retreat instead of going to work, so it would be churlish of me to share nothing of what I received.
The general theme of the retreat was praying the Our Father with sincerity, and what it means to call God our Father. As I am sure you can imagine, it was a rich seam for reflection.
One of the things I was invited to consider was the example of Bl. Franz Jägerstätter, an Austrian conscientious objector who was executed for refusing to fight for the Nazi regime in World War II.
What brought him into my retreat was his last letter to his wife and daughters, written in prison and with the knowledge that he would soon be executed for the crime of "sedition."
"My greatest request is the one that I have already conveyed to you: raise the children to be devout Catholics as much as it is possible for you," Franz wrote to his wife in crayon on a scrap of card.
"Out of my own experience, I can say that life is painful when one lives as a lukewarm Christian. To exist in this way is to have more the existence of a vegetable than truly to live. If a person were to possess all of this world's wisdom and be able to claim half of the earth as his own, he could and would still be less fortunate than a poor person who can claim nothing in this world as his own other than a deep Catholic faith. I would not exchange my small, dirty cell for a king's palace if I was required to give up even a small part of my faith."
It is a strikingly clear-eyed vision of faith at the point of death, and was for me a strong reminder of why I was there on retreat. The temptation to a lukewarm faith is ever-present for me, most especially when I allow myself to give into cynicism and sarcasm as we cover often deeply troubling, not to say enraging, stories in the life of the Church, as we have this week.
But that wasn't the line that struck me hardest. The words of Franz that really hit home were these, which I turned over in my mind while thinking about my own daughter:
"I can assure you that if you—in the state of grace—would merely pray with reverence the Our Father for the children, you would give them a greater gift than if you could give them the greatest wedding gift that a millionaire could give his daughter. Many people would laugh at these words. But they are true."
Have I ever, I have asked myself all week, managed to pray one Our Father with true reverence — free of hurry, or distraction, or my own demands and plans — for the sake of my child? And if I did, what graces would our Father surely pour out on my little family?
I don't know if I have managed it yet, but it has been the focus of my daily prayers this week to truly approach God as the loving Father he is, to really trust that my daily bread comes from Him alone, and to pray with sincerity, just once, that His will be done, not mine.
Now, that's all the personal talk you're getting out of me. Here's the news.
The News
The Nigerian Diocese of Ilorin is grieving the murder of a monk who was abducted from his monastery at Eruku earlier this month.
Br. Godwin Eze's death was confirmed by two other monks who were kidnapped with him, Anthony Eze and Peter Olarewaju. The other two monks were recently released and are currently hospitalized.
Most of the news you will read this week is coming out of Rome and about the ongoing synod on synodality. Much of what is going on in that meeting, frankly, doesn't matter a bent penny next to what the Church in Nigeria is suffering, or could hold a candle to the witness to the faith being offered in blood by the people there.
Our Nigeria correspondent ,Fr. Justine Dyikuk, spoke with priests and laity in the Ilorindiocese about what is happening there. Their voices should be heard.
—
Tomorrow, the final version of the synodal assembly's interim report will be released.
Delegates are debating more than 1,000 amendments to the draft text, which was written by committee and, like all things connected to the synodal sessions, classed as confidential and not to be distributed to the press.
Many of the synodal delegates have questions about the text, and have been proposing amendments to it.
So The Pillar got hold of draft copies, which we reported on yesterday — and you won't read advance reporting on the text anywhere else.
You can read about the draft text, and the passages most likely to prove controversial, here.
We will see tomorrow how many changes are proposed by the synod's members and accepted by the committee.
—
The Church in Poland has reported another year of steady decline in priestly vocations.
Poland's Conference of Rectors of Diocesan and Religious Major Seminaries announced Oct. 23 that 280 men had entered the country's diocesan, religious, and missionary seminaries in the new academic year.
The decline is a big deal for the Church far beyond Poland's borders: According to a 2020 report, one in four ordinations to the diocesan priesthood in Europe took place in Poland, and almost 1,700 Polish missionaries — many of them priests — serve in 99 countries worldwide, mainly in Latin America and Africa.
These numbers matter. Read the whole story here.
—
Pope Francis appointed Cardinal Víctor Manuel Fernández as a member of the Dicastery for Legislative Texts, the Vatican department charged with authoritatively interpreting canon law.
Fernández's appointment is curious, but not because he is the prefect of the Dicastery for the Doctrine of the Faith or because he is not a canon lawyer — most of his recent predecessors were named to the legislative department despite not being trained canonists.
What is odd about Fernández's new assignment is that the pope made it despite both Francis and the cardinal apparently agreeing that he isn't up to the job of handling his own department's most sensitive canonical work.
Despite this, he's now a member of the Vatican department charged with "formulating the authentic interpretation of the Church's laws."
As I said, it's a curious appointment.
—
As the month-long session of the synod on synodality wraps up this weekend, delegates have turned to the task of issuing their interim documents before departing on a year's recess.
First off the press from the Paul VI Hall was a "Letter to the People of God" from the synodal delegates recommending, if you can believe it, more synodality.
In 2012, a synod on the new evangelization wrote a similar kind of letter, though that was signed by "we, the Bishops of the whole world gathered at the invitation of the Bishop of Rome."
This week's text made no qualifications about its authors, and made no reference to its dependence on the pope for their legitimacy.
It seems to me, as I wrote in an analysis the other day, that the assembly's decision to address the whole Church on its own behalf is remarkable — as was the letter's presumption to speak of "what the Church absolutely needs to do."
By all means, read the whole analysis and tell me I'm wrong. But I don't think I am.
This week's Pillar Post is brought to you by Thomason Arts. We create original art and affordable limited edition reproductions for contemporary beauty to flourish in community and culture. As working artists we witness to the reality of the Holy Spirit inspiring people today. Use the code "beauty" at checkout and save 15%.
Father Rupnik
Undoubtedly the biggest story of this week is that of Fr. Marko Rupnik — and his story has had a lot of ups-and-downs over the past few days.
First, we learned Wednesday that the disgraced artist and former Jesuit has been accepted as a priest of the Slovenian Diocese Koper for an ad experimentum period, which is normal canonical practice for a diocese accepting a priest on transfer.
Of course, there was little normal about Rupnik's transfer. The priest was drummed out of the Society of Jesus earlier this year for serial disobedience to his superiors. He had previously been excommunicated (albeit briefly) for the crime of attempting to sacramentally absolve a sexual partner of a sin against the sixth commandment.
And, following an investigation by the Jesuits into accusations from multiple religious sisters, dating back decades, it was found to a "high degree of probability" that Rupnik used his artistic process to groom and abuse dozens of women spiritually and sexually — with allegations including using the Mass and sacred Eucharistic vessels in his sexual acts.
Those alleged crimes were not canonically prosecuted, not for lack of evidence, but because the Dicastery for the Doctrine of the Faith (DDF) declined to waive the canonical statute of limitations — which it has done for other cases of this nature, even cases in which there is far less evidence publicly available.
That's all changed this morning, with the Holy See press office putting out a brief statement saying that Pope Francis has now waived the statute of limitations, allowing the DDF to press ahead with Rupnik's prosecution.
According to the Vatican press statement, last month the Pontifical Commission for the Protection of Minors made the pope aware of "serious problems in the handling of the Fr. Marko Rupnik case," so, in the name of synodality, Francis has decided to waive prescription and allowed the DDF to press charges.
As screeching U-turns go, this one likely ruined the tires on the Vatican press office.
On Wednesday — the same day the Rupnik story broke — Cardinal Robert Francis Prevost, head of the Dicastery for Bishops, was asked during a synodal press conference if attendees had spent any time discussing victims' experiences, as the Pontifical Commission for the Protection of Minors (PCPM) had urged them to do.
Prevost responded by saying that while there had been some discussion of the topic, abuse "was not meant to be the central topic of the synod. And so I'm not prepared to say that became the focus of the synod because that was not the synod's purpose."
Then, Pope Francis addressed the synodal assembly on the scourge of clericalism in the Church, though he concerned himself not with the scandal of a notorious and unrepentant sexual abuser being reinstated to ministry in his own diocese, but with "the scandal of young priests trying on cassocks and hats, or albs and lace robes" in Roman tailor shops.
The pope's comments were not well received outside of the synod hall, given the other news of the day.
As Michelle La Rosa wrote in an analysis this week, on the same day that Rupnik's new incardination was reported, the synodal press conference was told that "a synodal Church must be willing to sit at the foot of women."
Michelle noted this: "As Church leaders inside the synod consider what it means to really listen to women — in the words of Ghanaian theologian Nora Kofognotera Nonterah, to 'sit at the feet of women' — many outside the synodal halls would suggest they start with the women who say Rupnik raped and manipulated them."
No matter how much Church leaders may wish to focus on other subjects, the question of the Church's response to cases like Rupnik's isn't going away, Michelle argued. In fact, it could threaten the credibility of the entire synod, now three years in the making.
Well, fast forward to this morning and it seems the pope has come to agree with Michelle. And, let me be clear about this, that's what happened.
"The Pope is firmly convinced that if there is one thing the Church must learn from the Synod it is to listen attentively and compassionately to those who are suffering, especially those who feel marginalized from the Church," the Vatican statement said this morning.
I don't think there is much room for reasonable doubt that it wasn't the PCPM's representations to the pope last month which convinced him, but instead the instant, international outrage which greeted the news Wednesday that Marko Rupnik was back in ministry.
The concerns raised by the PCPM in September were by that time well-known and well-voiced. They had also been dismissed, even criticized, by the diocesan curia in Rome, among others.
I understand the reflexive desire to try to frame the last 48 hours' events in the most charitable light, but it is important to keep the actual facts clear in our mind if we are going to make any sense of what happened.
It is not true, as I've seen some already suggest, that Rupnik's incardination in his home diocese in Slovenia was some necessary legal step to allow him to face new charges.
The DDF has always been legally competent to waive the statute of limitations and to prosecute Rupnik for crimes under its purview, whether he was incardinated as a Jesuit, a diocesan priest, or nowhere at all. And the pope has always had the power to instruct them to do so.
To that point, friends close to the DDF have told me it is fanciful in the extreme to imagine Francis was only asked to consider waiving prescription in September.
Despite the number of accusations and accusers lined up against him, and their "high degree of credibility," Rupnik has never lacked for defenders — including those supposedly close to the papal orbit.
It has looked to me all along like a simple case of the hierarchy circling the wagons to protect a friend — and Rupnik is a man with a lot of friends and admirers.
His attempted rehabilitation this week has seemed to many clerics a prime example of the kind of selective and arbitrary justice that holds "for my friends, everything; for everyone else, the law."
Consider, for example, what would have happened to an ordinary parish priest accused of even one tenth of what Rupnik is said to have done, on even a fraction of the witness testimony — such a priest would have been removed from ministry immediately, and the statute of limitation waived as a matter of course.
In Rupnik's case, though, we seemed to see the same operating philosophy that was exposed and abhorred with the surfacing of the McCarrick scandal five years ago.
Like McCarrick before him, Rupnik was first protected by friends in high places, then finally abandoned when the public scandal became too great. And I fully expect that, again like McCarrick, Rupnik will now be subject to an accelerated canonical process about which we will be told almost nothing, until one day it is announced he has been laicized after being found guilty of an unknown number of unspecified crimes.
In this sense, Rupnik is an illustration of a long-existing problem, cast in imagery as disturbing and soulless as his artwork.
The case of Fr. Marko Rupnik doesn't reveal anything new, it just confirms how little has actually changed.
This is how you get demons
As a rule, when I see people doing obviously stupid things that will hurt them, I tend not to get too worked up about it.
Our culture has long demonstrated that when people are too well-off and materially comfortable, they'll turn to reckless idiocy to relieve the tedium of middle-class existence. Whether it's swallowing ghost chilies, snorting lines of cinnamon, chewing Tide pods, or whatever the latest viral TikTok cry for attention may be, I tend to just smile and think to myself "Darwinism in action."
But one particularly evil way we've invented to excite ourselves remains perennially popular, especially at this time of year, and there's nothing remotely funny about it.
I'm speaking of Ouija boards, of course, which were invested to titillate the American bourgeois in the late 19th century, for whom old-fashioned seances just moved too slow.
You don't have to know priests who've dealt with the all-too-real fallout of these demonic inventions (though I do) to understand how serious this stuff is, but unfortunately our society remains enthralled.
The damned things are currently on sale at my local Target, and clearly they've laid in a bumper stock for Halloween.
Ouija boards are just the most extreme edge of our secular society's enduring fascination with the demonic — possession and exorcism-themed horror films have become the most steadily bankable franchises in cinema.
And it's paradoxical: No one seems to believe in God anymore, at least according to the pollsters, but everyone remains deeply interested in playing chicken with the devil.
Part of this is, I am sure, a rotten fruit of demonic deception.
Satan hoodwinking humanity into thinking there's nothing really to fear is as old as the apple in the garden.
But the real paradox for me is that people go in for all this stuff because, even if they don't believe in it, it still scares them — and they still want to be scared of it. In that sense, it is a horrific disordering of the desire to believe, and a reaching out for something to help their unbelief, though in the worst way imaginable.
That should matter to us all, and not just in an outraged-at-how-the-world-is-quite-literally-going-to-hell kind of way. This is a world blinded by sin and enveloped in darkness, but if we know that we must know too that the mission of every Christian is to bring the light of the Gospel.
Spiritual warfare is all too real, and the battle is all too fierce this time of year. Proclaiming the reality of the Resurrection, the fact of Christ as Kyrios, the absolute truth of God's love is a matter of spiritual life and death — especially for those who think it's all a game.
See you next week,
Ed. Condon
Editor
The Pillar
This week's Pillar Post is brought to you by Thomason Arts. We create original art and affordable limited edition reproductions for contemporary beauty to flourish in community and culture. As working artists we witness to the reality of the Holy Spirit inspiring people today. Use the code "beauty" at checkout and save 15%.
Comments
31
Services Marketplace
–
Listings
,
Bookings
&
Reviews