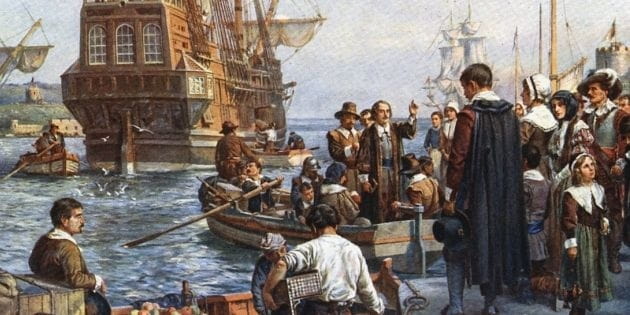 By all appearances, we Americans still cling to the Thanksgiving holiday, setting aside a few hours for a special meal with family and friends before turning on the football game or heading to the mall for a deal on electronics. But we have long since abandoned any idea of a Thanksgiving season, an extended period in which to anticipate the holiday, reflect on its significance, and live out its meaning. Christmas decorations go up in the stores as the Halloween decorations come down. The calendar page turns to November and the Hallmark Channel begins its "Countdown to Christmas" programming. With admirable candor, Amazon.com simply trumpets the "Countdown to Black Friday." Sigh.
This is sad for any number of reasons, not the least of which is the fact that, if we have ears to hear them, the Pilgrims might have much to say that we need to take to heart. To begin with, meditating on the Pilgrims' story might show us our worldliness. "Do not love the world or the things in the world," John the Apostle warned, referring to the hollow rewards held out to us by a moral order at enmity with God (1 John 2:15).
From our privileged perspective the Pilgrims lived in abject poverty, and imagining ourselves in their circumstances may help us to see more clearly, not only the sheer magnitude of pleasure and possessions that we take for granted, but also the power that they hold over our lives. In Holland the Pilgrims had lived in homes that were ridiculously small by our standards, some with no more than a couple hundred square feet of floor space. Although they looked forward to greater prosperity in New England, upon their arrival they had immediately encountered almost unimaginable hardships, and by spring fully one half of their original number was dead. When they celebrated God's provision of an adequate harvest that fall, the survivors consisted largely of widowers and orphans. That the Pilgrims could celebrate at all in such circumstances should humble us.
But what was the source of such resilience and gratitude? The answer, I believe, lies in the Pilgrim's theology, the heart of which lies hidden in plain sight. We have referred to the passengers of the Mayflower as "Pilgrims" for so long that the term has lost all significance to us. Literally, the word "pilgrim" refers to a person on a journey, often, but not always, to a place of particular religious significance.
When the Pilgrims thought of themselves as "pilgrims," they meant that they were temporary travelers in a world that was not their home. This is clear from the context in which Governor William Bradford used the term in his famous history of the colony, Of Plymouth Plantation. Toward the middle of book one, Bradford movingly described the departure from Holland, as the members of the Leiden congregation who were leaving for America said goodbye to the friends and loved ones remaining behind. With "an abundance of tears," Bradford wrote, the group left "that goodly and pleasant city which had been their resting place near twelve years; but they knew they were pilgrims, and looked not much on those things, but lift up their eyes to the heavens, their dearest country, and quieted their spirits." As he penned these words, Bradford was almost certainly thinking of the eleventh chapter of the book of Hebrews, that great survey of Old Testament heroes of the faith. There, in the text of the 1596 edition Geneva Bible that Bradford brought with him to Plymouth, we read that these men and women "confessed that they were strangers and pilgrims on earth."
In the world as the Pilgrims knew it, material comforts were scarce, daily existence was arduous, starvation was possible, and death was always near. Readily might they echo the apostle Paul: "If in this life only we have hope in Christ, we are of all men the most pitiable" (1 Corinthians 15:19). What a consolation to believe that, when their "earthly house" had returned to the dust, they would inherit "a building from God, a house not made with hands, eternal in the heavens" (2 Corinthians 5:1). What a help, in time of heartache, to "lift up their eyes to the heavens, their dearest country." What a balm to their souls, to quote Bradford's poignant prose, that "they knew they were pilgrims."
May this may be said of us as well.

Robert Tracy McKenzie is professor and chair of the History Department at Wheaton College and president of the Conference on Faith and History, a national organization of Christian historians. He is the author of The First Thanksgiving: What the Real Story Tells Us about Loving God and Learning from History (IVP). McKenzie blogs at http://faithandamericanhistory.wordpress.com.