My last post focused on saints who converted from Protestantism. This post looks at another angle on the saints, modern saints from the Benedictine tradition.
November 13th is the feast of All Benedictine Saints. The Benedictines have more Saints and Doctors of the Church than any other order, largely because their history stretches back to the 6th century. The number of saints begins to thin out in the latter part of the Middle Ages, as the emphasis shifts to more active orders, and then dries up almost altogether in the modern period, apart from the martyrs of the Reformation and French Revolution.
The only Benedictine saints from recent centuries, to my knowledge, are St. Benedetta Cambiagio Frassinello (1791-1858), foundress of a teaching order, the Benedictine Sisters of Providence, canonized in 2002, and St. Rafael Arnáiz Barón (1911-38), a conventual oblate with the Trappists in Spain, canonized in 2009. Otherwise, we have to go back to St. Frances of Rome (d. 1440). Needless to say, in the last five hundred years the other major religious orders have very many more canonized saints. This may be starting to change with a good number of Benedictines on the path to canonization, showing the enduring power of the Benedictine charism. Here is a list of those Benedictines (including Cistercians/Trappists as part of the Benedictine family, and including priest and lay oblates) who have been beatified, declared venerable, or whose cause has been opened on the diocesan level with the title Servant of God. If you know of any others, please put their names in the comment box
Blesseds
Bl. Eustochium of Padua, Nun of St. Prosdocimo, Padua (1444-1469)
Bl. Raffaelo di Barletta, Monk (d. 1566)
Bl. Giovanna Maria Bonomo, Nun at Bassano, Italy, mystic (1606-70)
Bl. Gertrude Prosperi, Nun, mystic (1799-1847)
Bl. Maria Adeodata Pisani, Nun on the island of Malta (1806-55)
Bl. Guissepe Benedetto Dusmet, Abbot, Cardinal Archbishop of Catania (1818-94)
Bl. Pierre-Joseph Cassant, Trappist Monk (1878-1903)
Bl. Placidio (Tomasso) Riccardi, Monk at St. Paul outside the Walls (1844-1915)
Bl. Fortunata Viti, Lay Sister at Santa Maria de Franconi (1827-1922)
Bl. Columba Marmion, Abbot of Maredsous, Belgium, though from Dublin (1858-1923)
Bl. Colomba Gabriel, Foundress of the Benedictine Sisters of Charity (1858-1926)
Bl. Maria Gabriella Sagheddu, Trappist Nun (1914-39)
Bl. Ildefonso Schuster, Abbot, Cardinal Archbishop of Milan (1880-1954)
Bl. Itala Mela (Maria della Trinità), Oblate, mystic (1904-57)
Bl. Cyprian Michael Tansi, Nigerian Trappist Monk (1903-64)
Bl. Hanna Helena Chrzanowska, Oblate, nurse (1902-73)
Venerables
Ven. Maria Crocifissa Tommasi, Nun at Palma, Sicily (1644-99)
Ven. Pope Pius VII, Abbot, Bishop, Pope (1742-1823)
Ven. Jean-Baptist Muard, Abbot, Founder of a Missionary Congregation (1809-54)
Ven. Dom Prosper Guéranger, Abbot of Solesmes, great restorer of Benedictine life in 19th century (1837-75)
Ven. Felix Mary Ghebreamlak, Eritrean Cistercian Monk (1895-1934)
Servants of God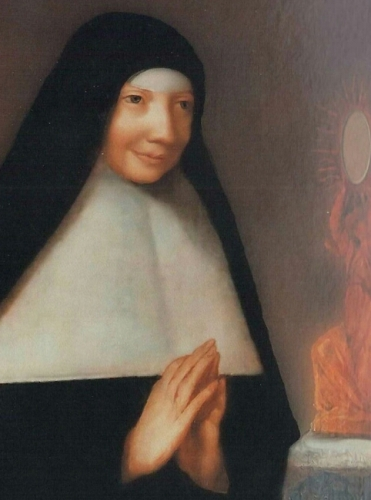 Servant of God Mother Mechtilde of the Blessed Sacrament (Catherine de Barr), Foundress of nuns dedicated to adoration (1614-98)
Servant of God Dorothy Day, Oblate at St. Procopius Abbey (1897-1980)
Servant of God Marinus LaRue, Korean War Hero, Monk at St. Paul's Abbey, New Jersey (1914-2001)
Martyrs
English Reformation: Bl. Richard Whiting, Abbot of Glastonbury (1461-1539); Bl. John Beche, Abbot of Colcheste (d. 1539); Bl. Hugh Faringdon, Abbot of Reading (d. 1539); Bl. John Rugg, Monk (d. 1539); Bl. John Thorne, Monk (d. 1539); Bl. William Eynon, Monk (d. 1539); Bl. Gelasius Ó Cuileanáin, Cistercian Abbot of Boyle, Ireland (d. 1580); Bl. Mark Barkworth, Priest-oblate (1572-1601); Bl. George Gervase, Monk (d. 1608); St. John Roberts, Monk (1577-1610); Bl. Maurus Scott, Monk (1579-1612); Bl. Thomas Tunstall, Priest-oblate (d. 1616); Bl. Ambrose Barlow, Monk (1585-1641); St. Alban Bartholomew Roe, Monk (d. 1642); Bl. Philip Powell, Monk (1594-1646); Bl. Thomas Pickering, Monk (1621-79); St. Oliver Plunkett, Archbishop of Armagh, Oblate (1625-81)
French Revolution: Martyrs of September: Bl. Augustin Ambrose Chevreux, Last Abbot of the Maurists (1728-92); Blessed René-Julien Massey, Prior (1732-92); Bl. Louis Barreau de La Touche, Monk (1753-92) – more than 200 Benedictines were martyred in the French Revolution; Martyrs of Orange: Two Cistercian nuns and one Benedictine nun beatified (among thirty-two woman religious, d. 1794); 64 Martyrs of Rochefort: Four Trappists and two Benedictine monks beatified (d. 1794)
Martyrs of Casamari: Simeon Cardon and 5 companions beatified, Cistercian Monks, Martyrs (d. 1799)
Spanish Civil War: Eighteen monks beatified from the Abbey of Pueyo (d. 1936); Eighteen Trappists beatified from San Bernardo Abbey (d. 1936); Four monks beatified from Silos Abbey (d. 1936); Twenty-three monks beatified from Montserrat Abbey (d. 1936)
Communist Martyrs: Trappist monks at Yangjiaping Abbey, China (d. 1947); Cause beginning for 36 Benedictine monks killed between 1949-52 in Korea, including Abbot Bonifacio Sauer and Dom Benedict Kim; Bl. János Brenner, Cistercian priest in Hungary (1931-57)
Algerian Martyrs: Seven Trappist monks beatified from Our Lady of the Atlas Monastery, Tibhirine, Algeria (d. 1996)
Other Revered Benedictines (although I could not confirm the status of their cult)
Ven. Garcias de Cisneros, Abbot of Montserrat (d. 1510)
Ven. Maria Caterina Brugora (d. 1529)
Ven. Gregory Cortese, Abbot and Cardinal (1483-1548)
Ven. Louis de Blois, known as Blosius, Abbot of Liessies (1506-1566)
Bl. Ann Toschel, Abbess at Riga (d. 1582)
Ven. Sebastian de Villoslada, Abbot of Valvanera (d. 1599)
Ven. Rupert of Weingarten (d. 1632)
Ven. Placid Christopher Aresti, Archbishop of Buenos Aires (d. 1636)
Ven. Joseph of St. Benedict, Belgian lay brother of Montserrat (d. 1723)
Ven. Dom Hyppolitus Pugnetti, Monk of Subiaco (d. 1749)
Ven. Dom Constans Rousseau, Monk (d. 1830)
Close associates:
Perhaps we could also include Blessed, and soon to be Saint, Charles de Faucaud, who spent a number of years as a Trappist before being released from his vows to live as a hermit. St. Ignazia Verzeri (1801-52) was also a Benedictine nun before founding the Daughters of the Sacred Heart of Jesus.
Honorary mention should also go to Bl. Luigi and Maria Quattrocchi for giving us three Benedictine vocations with their son Don Tarcisio becoming a Benedictine monk, their daughter Suor Cecilia a Benedictine nun, and their son Father Paolino a Trappist monk.
Join Our Telegram Group : Salvation & Prosperity