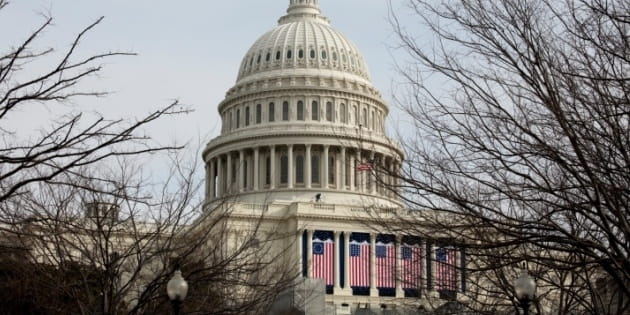 The statement, "Jesus is Lord!" is a declaration of faith as well as allegiance. Not only is it thoroughly biblical, it is also highly political. Though Christians have an ultimate allegiance to Christ, Paul calls Christians to "be subject to the governing authorities." (Rom 13:1). Earthly rulers derive their authority from God, and hence Christians are called to exhibit good conduct, pay taxes, and show honor and respect to those in power (Rom 13:2-7). We are spiritual foreigners, but we do have a call to reflect on and participate in the governing processes of our earthly homeland. We must do this respectfully from a distinctly Christian point of view. Christians, out of reverence for God and respect for man, do not avoid political engagement even if it's as simple as a conversation over a cup of coffee.
In his 2015 State of the Union Address, President Barack Obama presented a grand vision for America. There is much to commend, and all Christians should honor President Obama for his service. That being said, what can Christians take away from the President's vision for America? What is valuable and virtuous, and what is potentially dangerous and destructive? Here are five takeaways from the State of the Union address and why they are important for Christians.
1) Childcare, Maternity Leave and Working Families– President Obama presented a vision for guaranteed paid sick leave and increased maternity leave to American workers. According to the President, having no guaranteed paid sick leave "forces too many parents to make the gut-wrenching choice between a paycheck and a sick kid at home." Should Christians care? Absolutely. Commitment to family, including family health and proper parenting, are biblical priorities. Christians should champion these commitments, though government mandated assistance is not necessarily the logical conclusion. The answer may be rethinking work and non-essential financial commitments. Or perhaps Christians have the opportunity to help neighbors through babysitting, meal preparation, or other creative ways. Christians should applaud the President in recognizing this issue, but it's also an implicit call to Christian service and care.
2) Parties, Politics and the Point of Debate– President Obama invited politicians to a vision of "better politics…where we appeal to each other's basic decency instead of our basest fears." Like hoping for a Chicago Cubs World Series win, many people likely thought, "Sounds great, but it'll never happen." Debate and disagreement are fundamental to the human experience, and are actually quite biblical. In Acts 17, both in the synagogue and in the Areopagus, Paul debated others in arguing for Jesus as the Christ. Similarly in Acts 15, we see a disagreement between Paul and Barnabas over the qualifications of Mark. They decided to part ways, yet both were able to serve the Lord and advance the gospel as a result of their disagreement. Christians can agree with the President in this vision, even if we might know better when it comes to real life American politics.
3) Immigrants and Racial Reconciliation– Scores of pages are necessary to effectively address these topics, yet it's important to put these issues in theological perspective. Christians should be sensitive to "aliens and strangers" among us, even if legal concerns still abound. In the book of Leviticus, God provided numerous means for care of the "sojourner" within Israel's borders, and Christians should be cognizant of their own status as spiritual "sojourners," graciously chosen by God (1 Peter 2:9-11). As such, Christians should have a posture of care, recognizing others as image bearers of God. In the wake of ongoing injustices, we are reminded that racial reconciliation remains an issue not just for America, but for the church. Russell Moore, president of the Ethics and Religious Liberty Commission of the Southern Baptist Convention, has been at the forefront of this issue, pleading for a church-wide focus on racial reconciliation. These issues should remind us that all have been made in the image of God and are not beyond the reach of the saving blood of Jesus Christ.
4) Abortion and the American Government– President Obama declared, "We still may not agree on a woman's right to choose, but surely we can agree it's a good thing that teen pregnancies and abortions are nearing all-time lows." Yes we should applaud the decrease in teen pregnancies and abortions, but this misses the point of the issue. Sanctity of life is a vital biblical matter, stemming not only from the creation mandate to be fruitful and multiply, but from the fact that Christians worship a God who became man and was "born of the virgin Mary," as the creed goes. God cherishes life, including the entire process of conception to birth. Abortion remains a legal reality in this country and 40% of unintended pregnancies end in abortion. Christians cannot be silent on this issue.
5) Hope and Vision for the Future– President Obama's address was notably hopeful and visionary. At the core, many of President Obama's ideas are worthy goals, even if disagreement exists on the execution of those goals. Even if good leaders should present visions for hope and change, Christians must recognize that hope can not ultimately be found in presidential promises or government guarantees—hope is found in Christ alone. The answer for the inevitable woes of life is faith in Christ. Paul declares, "For the Scripture says, 'Everyone who believes in him will not be put to shame.'For there is no distinction between Jew and Greek; for the same Lord is Lord of all, bestowing his riches on all who call on him. For 'everyone who calls on the name of the Lord will be saved.'" (Romans 10:11-13). No matter how good the economy or low the rate of employment, man's final hope is eternal life with God through Jesus Christ.
Certainly much more could be said about President Obama's State of the Union address from a Christian perspective. In the end, Christians should not avoid the call to engage culture, including culture's politics. Even so, may we heed the words of Peter as we seek to advance the cause of Christ within the public square: "[In] your hearts honor Christ the Lord as holy, always being prepared to make a defense to anyone who asks you for a reason for the hope that is in you; yet do it with gentleness and respect,having a good conscience, so that, when you are slandered, those who revile your good behavior in Christ may be put to shame." (1 Peter 3:15-16)

Coleman M. Ford is a PhD student in Church History and Ethics. He resides in Louisville, Kentucky with his wife, Alex where they love the city, love their church, and love the coffee. You can follow Coleman on Twitter @colemanford.