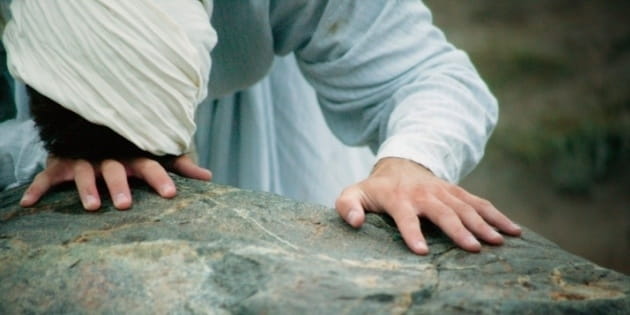 "I'm praying for you."
"I'll pray for that."
"My prayers are with you."
Christians throw statements like this out all the time, don't they? The most cynical among us might wonder, "Is he really praying for me?" And yet, whatever the quality of someone's follow-through, he tells us he's praying because he believes prayer matters. It's effective. J.I. Packer got it precisely right, "If you are a Christian, you pray; and the recognition of God's sovereignty is the basis of your prayers."[1] Convinced that God is powerful and in control, believers go to him in prayer, entrusting the nuts and bolts of their daily lives into his omnipotent hands.
But do we talk about prayer more than we actually pray? That's the chink in the armor of our sanctification that I'd like you to think about for a moment. I'm convinced a lot of us talk and read about prayer much more than we pray. It shouldn't be this way. I don't want to induce you to pray by making you feel bad for not praying (it wouldn't work—not for long, anyway). Instead, I'd like you to reflect for a few moments on the life of Jesus. I'm hopeful that his example and ultimately his sacrifice will motivate you to be more faithful in prayer.
In Luke 6:12 we encounter something extraordinary. Jesus prayed: "In these days he went out to the mountain to pray, and all night he continued in prayer to God."
It appears that Jesus was praying for wisdom to know whom to select as his twelve apostles. This is a reasonable conclusion. The first thing Jesus does after praying is gather together his disciples and choose the twelve (Luke 6:13-14). Not only that, in Matthew's account, before settling on his apostles, Jesus exhorted the disciples to pray. And notice what he told them to pray for: "The harvest is plentiful, but the laborers are few; therefore pray earnestly to the Lord of the harvest to send out laborers into his harvest" (Matt. 9:37). Given that Jesus told his disciples to pray for workers, it seems likely that Jesus was praying for workers, too, specifically, the workers who would be his apostles.
If prayer is simply talking to God, it shouldn't surprise us that Jesus prayed. In John 11:41 we see Jesus thanking his Father for hearing him. In Mark 14:36 we find Jesus praying for a way out of the cross. Clearly it was Jesus' custom to pray. But this raises an interesting question: why did Jesus pray?
The answer is found in the fact that Jesus is both God and man. As the eternal Son of God, Jesus prayed out of his divinity—serving as a display of communion with his Father (John 10:30). Being one with the Father, there is no reason to be surprised that the Son communicated with the Father. In that sense, Jesus' prayer life is rooted in his divinity. But not only that, Jesus prayed out of his humanity as well—serving as a model for us of what dependence on the Father looks like. This opens a door into some fascinating questions: Did Jesus know which disciples would be his apostles before he prayed to the Father? Did Jesus need to pray in order to make the right decision? Suffice it to say that the implications of the incarnation are too numerous and deep for our small minds to grasp. But this much is clear, Jesus lived a life of trust in and dependence on his Father to lead him—including leading him to the twelve men preordained by God to represent Jesus on earth.
Regardless of why Jesus prayed, there is much to learn from his example. Let's focus on five lessons we learn from Jesus on prayer.
First, prayer is necessary. We are never too busy to pray. Most of us, much of the time, feel as if we are too busy to pray. We have to sleep, after all. We have to work. We have to take care of the kids. We have to have some down time, don't we? And when all those things we have to do are done, there is hardly any time for prayer! At least that's what we tell ourselves. And yet, the truth is that we need prayer as surely as we need sleep and food and rest. Each of us relies on God, and we demonstrate this reliance by praying. Jesus had the weight of the world on his shoulders, and yet he prayed. How much more should we?
Second, prayer demands solitude. It is striking in Luke 6:12 that Jesus got away from the crowd in order to pray. He sought a place of quiet. There is no command in Scripture to pray in solitude, and yet we should take to heart the model of our Savior. We should make it a personal discipline to unplug from the world before we speak to the One who made the world. I'm reminded of Susanna Wesley who had no place of escape from her numerous children. She found solitude in the corner of the kitchen with her apron pulled over her head to allow her just a few moments to think and pray.
Third, prayer will often be strenuous. On that mountainside Jesus continued to pray all night. He once rebuked his disciples for failing to stay awake and pray (Mark 14:37). Because he is fully man Jesus felt the need to sleep and rest. Yet he believed it was more important for him to stay alert and pray. What makes us think that our prayer life should be easy? Persistence ought to be the hallmark of every believer's prayers. We are to plead with God faithfully, fervently, and passionately (see Luke 18:1-18).
Fourth, prayer has a purpose. Jesus had real work to do. Apostles must be chosen. These apostles would go on to preach and write the words the Spirit would use to build the church (Eph. 2:20). Jesus had a church to establish, and so he prayed. When we pray, we ought to know what needs to be accomplished. I like the well-worn acronym, A.C.T.S. We pray to adore the Father because he is worthy of all adoration. We pray to confess our sin because we are to be aware, daily, of our need for forgiveness. We pray to thank God because an attitude of thanksgiving is a mark of every true believer. Finally, we pray supplication, asking God to provide because we know he cares about what we need. This is what it looks like for us to pray with a purpose.
Fifth, prayer is effective. Having stayed up all night talking to his heavenly Father, Jesus was ready to pick twelve men to serve him on earth. Jesus prayed, the Father answered, and Jesus chose the twelve. Perhaps it's not a stretch to say that in Luke 6:12 we see something of divine sovereignty and human responsibility. Jesus prayed because he knew no decision is outside the will of the Lord. But having prayed, Jesus acted. He stepped out and selected the men he believed best suited to do the work he needed. And so it is with us. We pray, because we know that God is sovereign. And then we act, trusting that God will guide our steps (see James 5:13-18).
In these five ways, Jesus is a tremendous model for us in prayer. But we must be careful not to see Jesus only as our example in prayer. Graeme Goldsworthy warns us that to see Jesus merely as an example may be counterproductive. Seeing how spectacularly well Jesus prayed may be demoralizing for some of us, reminding us of the many ways we fall short. Though I'm convinced we must hold Jesus out as a model to follow, if he is only a model we will surely fail. Though prayer is a discipline we must improve on for the Lord, it is also, as Goldsworthy argued, "the fruit of what Christ has done for us."[2]
In short, the path to better prayer is not fundamentally praying because Jesus prayed, but praying because Jesus died and rose again. It is through this death and resurrection that we find more than an example, we find a Savior who bore the wrath of God that we deserved, took the debt of sin that we accrued, and declared us righteous. That is grace. And having received such plentiful grace, we pray. Not merely because Jesus prayed, but because Jesus died to give us hearts that long to pray.
So, as you look to the life and ministry of Jesus, by all means be encouraged to pray better. But do remember that the basis of prayer is not your desire to pray more! If you are a Christian, the basis of prayer is the fact that through Jesus' atoning death and resurrection you have adopted as a son or daughter into the family of God. This will change your view of prayer. I love how Goldsworthy put it:
How we view that relationship will determine, in turn, how we come to God in prayer and with what confidence. Prayer will never again be a sentimental excursion or an instinctive hitting of the panic button. Nor will it be the presumption of an innate right to demand God's attention. Rather it will be the expression of our entry into God's heavenly sanctuary, which has been procured for us by our Great High Priest.[3]
We need more than lessons to pray better. We need the gospel. So let us go back to the throne of grace (Heb. 4:14-16; 10:19-23) where we find an inexhaustible source of power to pray.

Aaron Menikoff (PhD, The Southern Baptist Theological Seminary) is Senior Pastor of Mt. Vernon Baptist Church in Atlanta, GA. He blogs at "Free to Serve" and is the author of Politics and Piety (Pickwick).
---
[1]J. I. Packer, Evangelism and the Sovereignty of God (IVP, 1961), 11.
[2]Graeme Goldsworthy, Prayer and the Knowledge of God (IVP, 2003), 13.