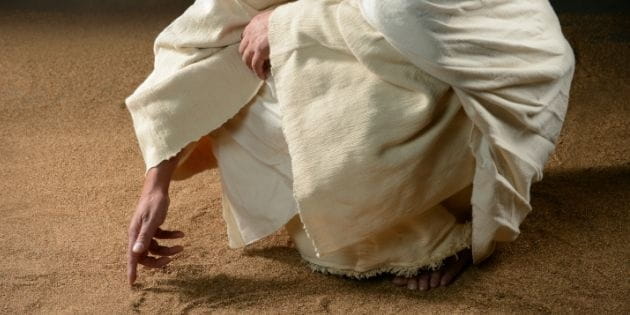 I remember when I graduated from seminary my dad said, "You know, you're still in school, it's just a different kind of school than you've been in the last three years. Pay attention and learn your lessons well." Dad was right; we're all being schooled every day. So it's appropriate to ask in the never ending learning center that's human life, who is schooling you? There's never a day that passes without you being taken to school in some way. Life is really all about teaching and learning. And there's a way in which neither stops from the first day until the last day of your life. So perhaps one of the most important diagnostic questions that each of us should be asking is this: "Do I approach life as a student?"
If you're committed to know and understand; if you're committed to journey from ignorance to knowledge and from foolishness to wisdom; if you're interested in more than your own plan and perspective, then it only makes sense to learn at the feet of the world's best Teacher. Who could know more or be wiser than the One who put the universe into motion; who presently holds it together, and who controls its destiny? Who could know more about the true meaning and purpose of life? Who could know more about your identity? Who could know more about the environment in which you live? Who could know more about the foundational questions of life?
The Proverbs say it very well: "The fear of the LORD is the beginning of wisdom." I like John Calvin's paraphrase of that: "There is no knowing that does not begin with knowing God." There can be no better place to go to school than to the University of the Lord and there could be no better course of study than the way of the Lord.
His way is wisdom, and wisdom requires understanding his way. So where are you going for wisdom? Whose school have you been attending? Who shapes your definition of the meaning and purpose of life? Who tells you who you are and what you should be doing? Who crafts the way you look at the surrounding world? Who defines your problems? Who instructs you as to how they will be solved? Who helps you to determine your life's direction? Who tells you what's functionally important and what isn't? Who shapes your relationships? Who clarifies your thinking in moments of difficulty? Are you really a faithful student in the school of the Lord, or do you just audit now and then when it's convenient? Let me suggest the characteristics of a student in the school of the Lord.
A healthy cynicism toward your own wisdom. Sin reduces all of us to fools; but it does something else that's even more insidious; it makes us believe that we are wise. Independent wisdom was both the seductive temptation and the delusional desire behind the fall. One of the primary reasons Adam and Eve were attracted to the fruit was that it was "to be desired to make one wise." But eating the fruit didn't result in wisdom; no, it opened the floodgates of foolishness, and we've been drowning in its waters ever since.
You and I were never created with the autonomous capacity to be wise. Wisdom doesn't come through research, experience, and study. Wisdom comes by revelation and relationship. You only get wisdom from the One who is its ultimate source, the Lord.
A humble sense of need. We all get lulled to sleep by feelings of arrival, by feeling satisfied with our character, our knowledge, and our behavior. We have little desire for further growth. You know what it's like. We all have the capacity to be too easily satisfied. Because we know more today than we did yesterday, we quit working to know more tomorrow. Rather than gratitude for what God has taught us, motivating us to learn more, we get smug and lazy, quite content to consider ourselves God's graduates.
A willing and open heart. Willingness and openness are the essential characteristics of any good student. Why, you may ask? Because learning not only shows me what I didn't know, but it points out the places where what I thought I knew was, in fact, wrong. I can't tell you how many defensive students I've met in my many years of teaching. "Defensive student" is actually an oxymoron, like jumbo shrimp or low-fat butter. You can't be defensive and be a student. You have to open up your heart. You have to be willing to be told that you're wrong. You have to submit yourself to someone who knows better and knows more. Defending what you know won't lead to either further or corrected understanding. Willingness to listen, consider, and change are in the heart of every good student.
Discernment, focus, and determination. Discernment means that you have to make sure you're submitting yourself to qualified teachers. Paul says in Colossians 2:8: "See to it that no one takes you captive by philosophy and empty deceit, according to human tradition, according to the elemental spirits of the world, and not according to Christ." Once you're sitting at the feet of those who represent the Teacher of teachers, then continued learning takes focus.
You live in a world of many, many voices. All of them are interpreting your world and all of them are vying for the allegiance of your heart. And you have to remember that learning is a process, not an event. One truth opens the doorway to another truth. One truth functions as an interpreter of a truth previously introduced but now understood more fully. Learning is a lifelong process, and because it is, it requires perseverance.
Commitment to act on what you are learning. Any seasoned teacher will tell you that real learning takes place after the students leave the classroom and practice what they've been taught. The God who's your teacher will orchestrate events, situations, and relationships for the purpose of causing you to live what you've been learning. Life is his classroom, and in every new location on each new day, provides a rich and God-given environment to understand more deeply and to live more wisely. So good students always carry with them the commitment to look for ways to apply what they've been learning, and they know that as they do, their learning will continue.
By God's grace we haven't been left to our own wisdom. We've been brought into personal communion with the One who is the source of everything that's wise and true. So these questions remain: Are you a committed student? Whose school are you attending?
Perhaps the psalmist's prayer should be a daily plea for all of us:
"Teach me your way, O LORD,
and lead me on a level path
because of my enemies."
Psalm 27:11
Paul Tripp is the president of Paul Tripp Ministries, a nonprofit organization whose mission statement is "Connecting the transforming power of Jesus Christ to everyday life." Tripp has written many books on Christian living that are read and distributed internationally. He has been married for many years to Luella, and they have four grown children. For more information, visit www.paultrippministries.org.