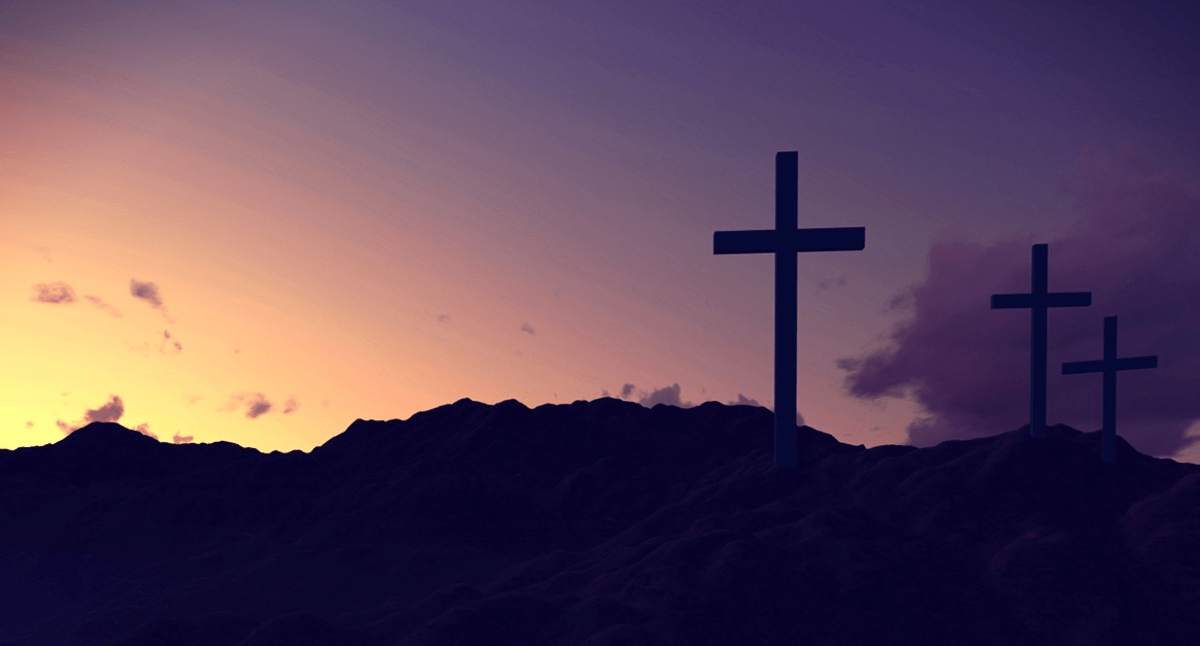 As we dive into the details of what Jesus experienced on the cross, it's natural to wonder why he would willing do such a painful thing. Let's first look at three reasons from the Bible to remember why Jesus died on the cross and then take a look at what Jesus actually experienced during his crucifixion.
Why Did Jesus Die on the Cross?
1. Because our sin required a payment but disqualified us from ever fulfilling it.
Romans 3:23 is an important place to start: "All have sinned and fall short of the glory of God." Then later in Romans 6:23 we find that "the wages of sin is death, but the gift of God is eternal life in Christ Jesus our Lord." These two verses show that each person has sinned, and that sin comes with a high price. God understands this price better than we do, so in love, he came to pay the price on our behalf. Before Jesus, spotless animals were required to sacrifice for atonement (Leviticus 22:21). When Jesus died on the cross, he became the ultimate and perfect atonement sacrifice – once and for all (1 Peter 1:19-20).
2. Because our sin separated us from God.
2 Corinthians 5:17 talks about the fresh, new identity those who believe in Christ enjoy. Then where it comes from: "All this is from God, who reconciled us to himself through Christ and gave us the ministry of reconciliation: that God was reconciling the world to himself in Christ, not counting people's sins against them." (2 Corinthians 5:18-19). People who sin (which is everyone) are separated from the holy God. But God loved us and wanted relationship with us. So Jesus died on the cross, taking on our sin and paying the price to reconcile us to God (2 Corinthians 5:21).
3. Because he loved us.
John 3:16-17 shows us that God came to rescue a condemned world because of his love, so that whoever believes will be rescued.
"For God so loved the world that he gave his one and only Son, that whoever believes in him shall not perish but have eternal life. For God did not send his Son into the world to condemn the world, but to save the world through him."
What Did Jesus Experience on the Cross?
Artists and poets have speculated over the centuries about hell (consider Dante's "Inferno"), but the clearest revelation of hell is given at the cross. The Apostle's Creed affirms that Christ descended into hell. While this has often been taken to refer to a journey Christ made after his death, the Reformers understood it to refer to what Christ experienced in the hours of darkness when he bore our sins and became our sacrifice.
Hell has six dimensions and Christ experienced all of them on the cross.
1. He was in conscious suffering. Jesus experienced great physical suffering—the scourging, the nailing and the mocking—all at the hands of men. He felt in his body all the pain of torture and crucifixion. Hell is a place of "weeping and gnashing of teeth" (Luke 13:28; Matthew 13:50), and Jesus entered into all of its pains and torments when he was suffering on the cross.
2. He was in blackest darkness. "From the sixth hour [midday] until the ninth hour [3 in the afternoon], darkness came over all the land" (Matthew 27:45). The sudden darkness tells us that something entirely new was happening. Up to this point it had all been about physical suffering. Now Jesus was entering into the heart of his atoning work as our sin-bearer, drinking the cup of God's wrath.
3. He was surrounded by demonic powers. Scripture speaks of these dark forces when it tells us that "having disarmed the powers and authorities, he made a public spectacle of them, triumphing over them by the cross," (Colossians 2:15). A full picture of this conflict has not been given to us, but we can be sure that the demonic powers were present at Calvary, adding their taunts and venom to the human hatred that was poured out on Christ.
4. He was bearing sin. 1 Peter 2:24 says, "He himself bore our sins in his body on the tree." God made him who had no sin to be sin for us (2 Corinthians 5:21). In the darkness, the Lord laid on Jesus the iniquity of us all (Isaiah 53:6). To be our sin-bearer, Christ received in himself the hell that our sins deserve. Klass Schilder says God was "directly sending the torments of hell against the Christ." This is the deepest mystery in the darkness of the cross.
5. He was under judgment. Jesus endured hell on the cross because hell is the punishment for sin. All that hell is, he experienced right there during these hours of darkness in which he bore our sin and endured our punishment. The wrath of God was poured out on him, and he became the propitiation for our sins (Romans 3:25, 1 John 2:2).
6. He was separated from the knowledge of God's love of God. This abandoning of Christ meant that the love the Son had enjoyed with his Father for all eternity was now beyond his reach. It also meant that the terrors of the Father's judgment were poured out on the Savior. 2 Thessalonians 1:9 says that "those who do not obey the gospel of our Lord Jesus…will suffer the punishment of eternal destruction, away from the presence of the Lord and from the glory of his might."
That is hell.
Hell is conscious suffering in blackest darkness, surrounded by demonic powers. It is bearing the guilt of your sin and coming under the righteous judgment of God. But the hell of hell for the sinner will be to know that there is a God of love and that he or she could have known this is love, but that now it is beyond their reach.
When people talk about hell, the discussion is often about whether or not it is real. Hell is as real as the cross. Jesus entered all of hell's dimensions on the cross, and he endured them so that you would never know what hell is like.
If someone should say, "There is no hell," I ask, "Then what was the cross about? Why did Christ have to suffer? Why the darkness? Why the forsakenness? These things happened because there is there is Divine wrath, there is judgment and there is hell. All of this was poured out on Jesus, and he absorbed it in himself to save us from it. But as Richard Sibbes says, "Whatsoever was done to Christ…shall be done to all that are out[side] of him."
That is as plain a statement as you can get, and it is faithful to the Scriptures. It is why every person must come to Jesus Christ and be in him, because we cannot be saved without him.
Colin Smith is senior pastor of The Orchard in the Chicago area, and he teaches on the nationally broadcast daily radio program, "Unlocking the Bible." His most recent book, Heaven, How I Got Here: The Story of the Thief on the Cross (Christian Focus Publications) points to the gift of eternal life through faith in Jesus Christ. For more from Colin, visit www.unlockingthebible.org.
Updated date: February 13, 2019
Publication date: March 27, 2015
Originally published March 27, 2015.