Europe is a treasure trove of castles that appear straight out of a fairy tale — ones that have even inspired Walt Disney himself. From rise-from-the-ashes comeback tales to surprising histories and elaborate designs, European castles tick all the boxes for travelers interested in history, architecture, and culture. Discover six of Europe's most famous castles and the compelling stories behind their façades.
Neuschwanstein Castle – Germany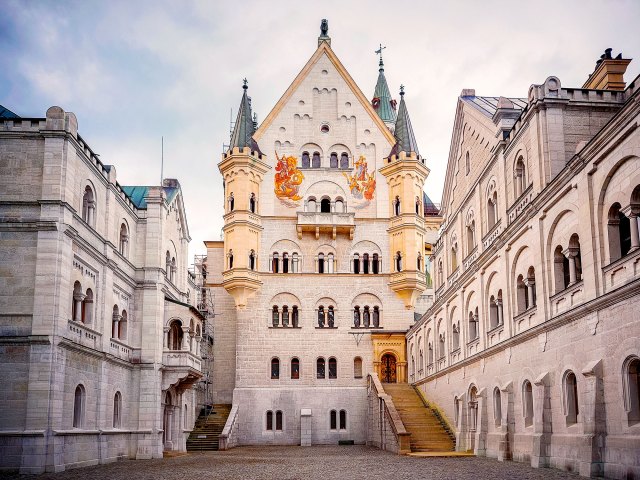 Having famously inspired the design of Disneyland's Cinderella castle, this German showstopper has drawn attention since even before it was finished in 1892. Neuschwanstein Castle, commissioned by King Ludwig II, was predicted to take three years to build, but it ultimately took 24 to complete construction. Workers ran into difficulties with its cliffside location, the scope of the project, and the monarch's changing demands. Sadly, the king never saw his masterpiece completed before his death in 1886.
To reconcile the massive debt Ludwig II accumulated during the castle's construction, local authorities opened Neuschwanstein as a museum to recoup the losses — just seven weeks after he died. Neuschwanstein possessed advanced technology for its time — such as hot and cold water, a central air system, and telephones — but concerted efforts are required today to keep the castle in tip-top shape (and from toppling off its cliffside locale).
Pena Palace – Portugal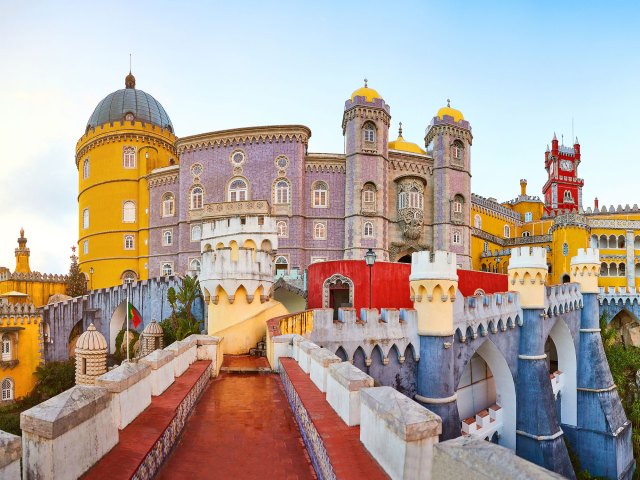 Sintra has become one of Portugal's most popular tourist destinations, thanks to a generous smattering of whimsical castles built amongst its scenic hills. With so many castles to admire, standing out in Sintra takes effort, and commanding attention with its bright yellow and red exterior and Romanticist architecture is the Pena Palace. The palace, which sits atop a 1,500-foot-high hill, the second-highest in the area, is even visible from Lisbon, located 16 miles away.
The palace was originally a chapel constructed in the Middle Ages after a report that the Virgin Mary had appeared on the hill. The chapel was devastated in an 18th-century earthquake, and it didn't reach its current grandeur until King Ferdinand inherited and transformed the property in 1838. Not to be outdone, the surrounding gardens — which extend for over 200 acres — host a collection of international plant species and are considered some of the most beautiful in Europe.
Alcázar of Segovia – Spain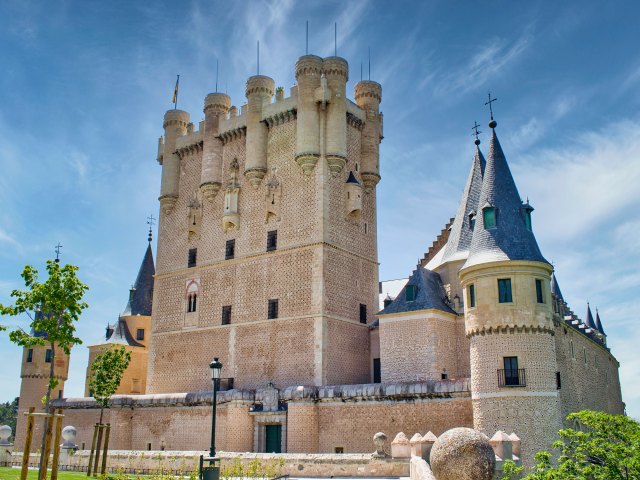 The storied history of this medieval castle in Segovia, Spain, is told through its eclectic architectural style, to which many monarchs have contributed. Perched atop a craggy cliff, the Alcázar of Segovia was built in the 12th century as a fortified palace for the Kingdom of Castile, but the structure has served many purposes throughout its lifetime. Not only was it used as a royal palace for centuries, but it was also a prison, House of Parliament, artillery college, military academy, film set, and today, a museum.
Aesthetically built to look like a bow of a ship, its towers and spires are part of what inspired Walt Disney's iconic castle logo. Part of a UNESCO World Heritage Site, the Alcázar is a colorful blend of Christian and Moorish architecture featuring ornate ceilings, azulejos, and carved archways.
Château de Chambord – France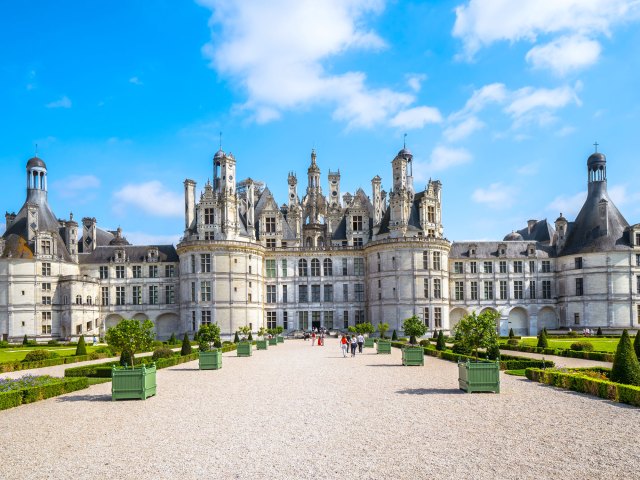 This imposing chateau — built by King Francis I in 1519 — is the largest in Loire Valley and remains one of its most splendid architectural wonders. The castle and its connecting grounds sprawl over 33,300 acres — roughly encompassing the same area as inner Paris — and houses 440 rooms, 282 fireplaces, and 84 staircases. The double helix staircase located in the core of the structure is particularly noteworthy, designed so the king would never run into his servants on the stairs.
Though great efforts were taken to ensure the Château de Chambord dazzled its visitors, the purpose of its construction was primarily as a hunting lodge, and not for defense like most Renaissance castles. Though King Francis I was known to show off his palace to visiting royals and ambassadors, he only used the castle as a temporary residence during hunting season, reportedly only spending a total of 72 days there.
Windsor Castle – England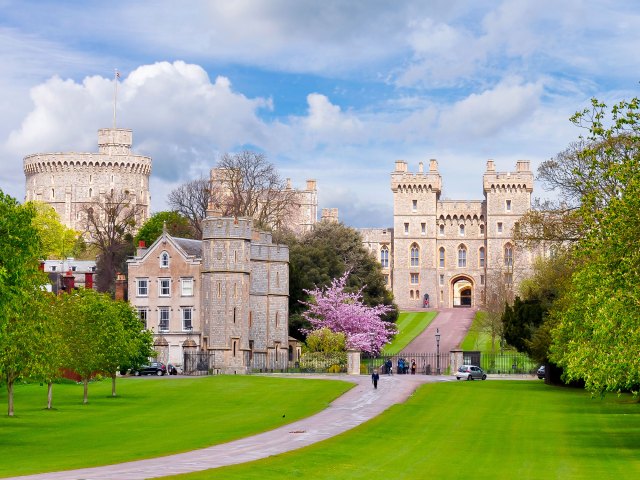 As the oldest and largest inhabited castle in the world, England's Windsor Castle has housed British royalty since the 11th century. Today, the palace serves as the official residence to the monarch and another 150 people who work there. The grandiose palace walls are built to impress, but it's what's on the inside that's remarkable — 300 fireplaces, 400 historic clocks, 1,000 rooms, and an extensive art collection. Perhaps the most impressive room, however, is St. George's Chapel, which houses the tombs of 10 British monarchs. And there's one unexpected room that Queen Elizabeth II spent the night in during a bomb scare at Windsor: the dungeon!
Edinburgh Castle – Scotland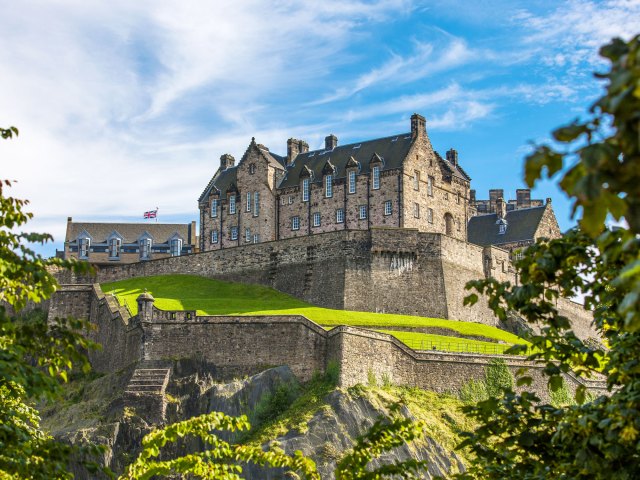 One of Scotland's most famous landmarks, Edinburgh Castle sits high atop an emerald green hill and dominates the capital's skyline. But what many visitors may not know is that the castle's hilly perch is actually a dormant volcano, known as Castle Rock.
With buildings dating to the 11th century, Edinburgh Castle has quite the tumultuous history, witnessing the invasion of hostile forces a whopping 23 times to make it the most-besieged castle in Europe. Despite that fact, the castle managed to keep a few things under wraps, including a hidden tower built by King David II that later served as an ideal hiding spot for the Crown Jewels of Scotland — which were forgotten about for over a century, until they were rediscovered in 1818.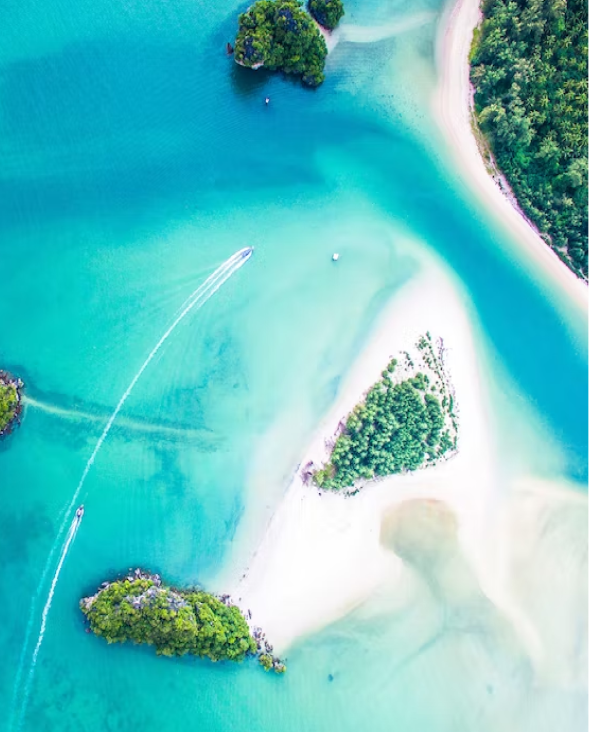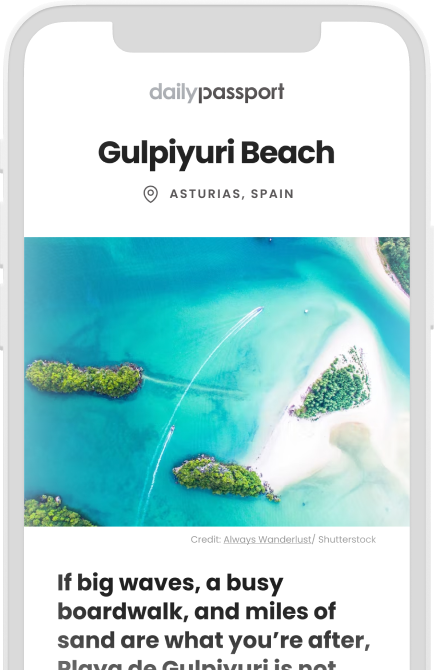 The world is waiting.
Daily Passport is your ticket to the four corners of the earth. Start exploring today.
By subscribing you are agreeing to our Privacy Policy and Terms of Use.
Services Marketplace – Listings, Bookings & Reviews